Global Perspective
Center Welcomes Scott MacLochlainn, Visiting Scholar in Philippine Studies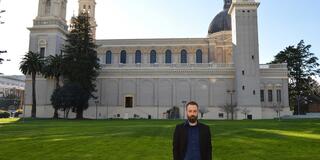 A native of Ireland, Dr. Scott MacLochlainn received his B.A. and M.A. at the National University of Ireland in History and Anthropology. While there, he cultivated an interest in the Philippines through a research project on world's fairs in the 19th century.
He was driven to further pursue his interest in the Philippines by receiving his Ph.D. in sociocultural anthropology at the University of Michigan.  He spent two years living in the Mindoro prefecture of the Philippines to complete fieldwork for his dissertation. During his time in Mindoro, he analyzed the coexistence of regional Christian denominations over the past 10-15 years.
Dr. MacLochlainn is currently the 2016 Visiting Scholar in Philippine Studies at the USF Center for Asia Pacific Studies. He is teaching the course "Language and Culture in the Philippines" this spring. The course examines how language in the Philippines encompasses colonial history, modernity, the use of social media, and culture within the country. Dr. MacLochainn is fluent in standard Tagalog, Tagalog sign language, and the Mangyan dialect.