Global Perspective
Center Welcomes New Kiriyama Professor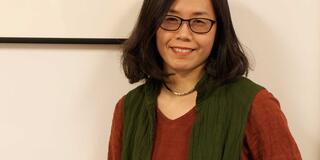 Born and raised in Taipei, Taiwan, Dr. Chia-ju Chang's background is unique, diverse, and highly interdisciplinary. After earning her B.A. in English, she moved to the United States to work on a M.F.A. degree in painting at Rutgers University.
While there, she discovered the Japanese art form Zen meditation. She then went on to receive a Ph.D. in Comparative Literature with an emphasis on folklore, mythology, and Jungian psychology. She developed an interest in ecocriticism discourse while writing her dissertation on the Chinese legend of the Snake Woman.  It was then she began to see the interconnections between the environment and living organisms.
The global notoriety of the University of San Francisco's Center for Asia Pacific Studies is what drew Dr. Chang to the position of Kiriyama Professor for Asian Studies.  Her work in ecocritical studies focuses on the etymology of garbage, animal rights, and pollution.  Dr. Chang is currently working on the rise of "Smog Culture" in China and how it is coming to define the daily lives of Chinese citizens.  She will be discussing this further in her upcoming lecture "Smog Naturecultural Phenomena in China" this May. Dr. Chang has taught courses such as Religions of the Eastern World, World Mythology and Folklore, and World Literature, among others. While at the Center for Asia Pacific Studies this spring, she will lead two workshops on Asian waste matter - garbage/landfills and animal materiality. These workshops will examine imbalance and excess of consumption through the medium of documentaries. View workshop photos here.