Global Perspective
Center Hosts Weekly Mandarin and Japanese Conversation Groups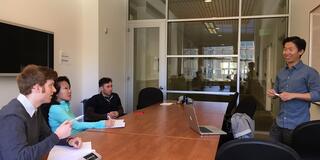 The Center for Asia Pacific Studies hosts weekly Mandarin and Japanese conversation groups throughout each semester.
The goal is to engage in conversation and help participants improve their understanding of culture and contemporary events while meeting people with similar interests in a casual atmosphere. "The Mandarin conversation group is a fun and stimulating group, " participant Ivy Lee explains. "The topic changes from week to week. It covers a wide range of subjects, from Chinese history, culture, geography, music, etc. to the most current trends and fads of the Chinese youth."
Groups focus on practical everyday topics to increase confidence in speaking abilities and maintain a level of basic fluency. Benj Martson remarked, "I was very excited to find a convenient and consistent group to practice Chinese with. The members are all very kind and accepting of mine and others varying degrees of language proficiency. The host is also very patient and diligent about writing new words on the board or guiding the discussion when it becomes slow. I am very pleased to have found the group and look forward to continuing to attend in the future." Ivy affirmed, "It's often accompanied by a lot of humor. We often laugh a lot and feel completely ourselves in a congenial group. It is learning in a no pressure, non-competitive atmosphere. Best of all: no homework!"
Above all the meetups afford additional opportunities for language development and practice outside of the classroom. Japanese conversation group attendee Shuting Li stated, "In addition to my regular classes and tutoring sessions, the opportunity to converse weekly with a native speaker further adds to my language comprehension and has improved my conversation skills."
Groups meet every Tuesday during dead hour 11:45am - 12:45pm (Chinese KA 165 and Japanese KA 209). Open to USF students, faculty/staff, and the public. Please join us!