Center Affiliated Scholars Represent USF at Largest Asian Studies Conference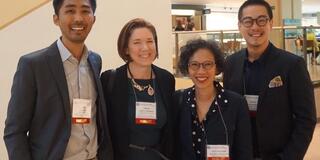 USF Center for Asia Pacific Studies affiliated scholars made a strong showing at the annual meeting of the Association for Asian Studies (AAS) Meeting held in Seattle (March 31-April 3, 2016).
As the largest Asian Studies conference worldwide dedicated exclusively to Asian Studies research, the AAS annual conference brings together approximately 3,000 University faculty and staff to share the latest research in the field and to network. Four USF faculty and staff represented USF at this year's conference.
Center Executive Director and Assistant Professor, Melissa S. Dale, organized "The End of Empire: Resistance, Nostalgia & Reinvention Among 'Feudal Remnants' in Post 1911 China," a panel that brought together four scholars seeking to provide a more nuanced understanding of the fall of the Qing dynasty (1644-1911) by shifting the conversation to how the end of empire affected those who had been closely aligned with the Qing. Dale's paper, "Surviving the Fall of the Qing: Chinese Eunuchs Post 1911," chronicled the last days of the Qing palace eunuch system from the fall of the Qing in 1911 until the last eunuchs were evicted from the palace along with the former emperor in November 1924. Dale shared the experiences and the fate of eunuchs in the early 1920s and 30s and society's suggestions for how eunuchs should remake themselves for the new society. Jonathan Tang, graduate student in History (UC Berkeley) and adjunct faculty in the MA in Asia Pacific Studies at USF, also presented his research, "Power, Transformation and Loyalty in Early Republican Hunan" at this panel.
Stephen Roddy, Professor of Modern and Classical Languages, presented his paper "Kaitong: Opening the Sluices to Official Corruption in Late-Qing Fiction," at a panel that aimed ". . . to examine corruption through a range of legal, literary, and autobiographical sources dating from the early Qing to the end of the 19th century." Roddy's paper examined how corruption was portrayed in late-Qing vernacular fiction by juxtaposing corruption with westernization in several representative works of ca. 1895-1910. According to Roddy, "Under the slogan of 'opening up' (kaitong), they conflate their attempts to eat with a fork, shake hands, or mouth a few foreign phrases, with the granting of lucrative concessions to foreign mining companies, publishers, and other interests."
Director of Asian Studies and Associate Professor of History, Taymiya R. Zaman, shared her research on Mughal India at the panel "Conflict and Civility: Theorizing Self and Other in Mughal India." Zaman's paper, "The Trouble with Aurangzeb," examined present-day perceptions of Mughal king, Aurangzeb (d. 1707), who is viewed as either as a valiant hero who defended Islam in a hostile landscape or as a villainous precursor to the Taliban. Reading the account of Bhimsen Saxena, a Hindu soldier who served in Aurangzeb's armies during his Deccan campaigns, Zaman ". . . brings scholarship on religious violence in modern South Asia into conversation with scholarship on pre-modern religious identities by showing how a study of kingship's passing can reveal changing delineations of self and other."
Leslie Woodhouse, Assistant Managing Editor of Asia Pacific Perspectives, organized "Southeast Asian Elite Photographies in an Era of Colonial Anxiety," a panel that examined the adoption of photography in Southeast Asia's early modern period. Viewing photography as more than a "colonial technological transfer process," panelists explored how it was "understood, practiced, mobilized, and negotiated as a [cultural and political] communicative tool." Woodhouse's paper, "Picturing "Siwilai": Representations of Ethnic Difference in Siamese Elite Photography of the Fifth Reign (1868-1910)," demonstrated how the technology was used to construct a "hierarchy of civilizations" in Thai society by comparing images of two court figures: Ethnically Lao royal concubine Dara Rasami (1873-1933), and Semung tribal boy Khanung, who was adopted by King Chulalongkorn in 1905 to be raised as a prince in the palace. She concluded that the different photographic conventions deployed for each individual reinforced notions of Thai ethnic superiority over other nearby groups.