Passion for Justice
Can 'March' Energize the Next Generation?
Congressman & civil rights leader John Lewis calls for student activists to 'speak up'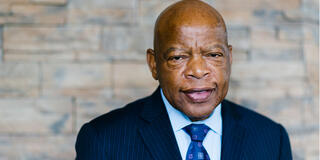 The "Boy From Troy," as Martin Luther King Jr. nicknamed him, Georgia Congressman John Lewis called on a new generation of activists to organize and fight for African Americans' and other minorities' rights, at a speaking event and book signing on campus Aug. 17.
"If you see something that is not right, not fair, not just, you have a moral obligation, a mission, and a mandate to stand up and do something! Speak up. Sit in. Or find a way to make a difference," said Lewis, who was promoting March, a graphic novel trilogy about his life that currently occupies the top three slots on The New York Times bestsellers list for paperback graphic books.
'Good trouble'
March: Book Three was released earlier this month. The series portrays the struggles, sacrifices, and successes of the nonviolent civil rights movement, with Lewis as a main character.
"It's my hope that somehow in some way another generation of young people and people not so young will say something like, 'We're not going to take it anymore,'" Lewis said. "And that we will be prepared to march, be prepared to get in good trouble, necessary trouble, to help redeem the soul of America and create a beloved community."
Lewis, along with his congressional policy adviser and co-author Andrew Aydin and the books' award-winning illustrator Nate Powell, discussed the relevance of the comic series in reaching today's young people. The group is touring the nation, visiting school districts and universities in an effort to have the book adopted as part of civil rights education curriculum.
The 9-word problem
"You know, there's something in this country called the nine-word problem," Aydin said. "Most high school students graduate knowing only nine words about the civil rights movement: 'Rosa Parks,' 'Martin Luther King,' and 'I have a dream.'"
"So today, when the superintendent of San Francisco Unified stood up and said that March was going to be added to every social studies classroom in the district ... Well, I tried not to show it, but I got a little teary," said Aydin, referring to a meeting with the district earlier in the day. "We're changing that problem, one school district at a time."
So far, districts in 40 states, from New York to Michigan to San Francisco, have adopted March as part of their curriculum. So have a growing number of universities, including Michigan State University, Marquette University, and Georgia State University, among others.
Know someone with a powerful USF story? Let us know! usfnews@usfca.edu Twitter @usfcanews