Faculty & Staff Achievements
California Prize Goes to Alice Waters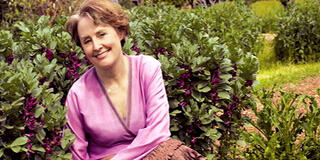 Renowned chef Alice Waters will receive the California Prize for Service and the Common Good for 2009 from the University of San Francisco.
The award – to be handed out in a ceremonial dinner under the stars in a transparent dome tent on the campus lawn Thursday – recognizes service in pursuit of the common good for society-at-large, and comes with a $10,000 purse and handcrafted medal.
Widely known as a champion of food grown locally, Waters is credited with helping found the "slow food" movement that has revolutionized how many Americans think about sustainable and organic agriculture. As owner of the legendary Chez Panisse restaurant in Berkeley, her influence is felt across the country as she raises consciousness about how the food we choose affects our health and our planet.
In 1996, Waters created the Chez Panisse Foundation to support educational programs that use food to nurture, educate, and empower young people. Through The Edible Schoolyard and the School Lunch Initiative, the foundation works toward a public school curriculum that includes hands-on experiences in school kitchens, gardens, and lunchrooms, and provides healthy, freshly prepared meals for students as part of each school day.
Waters' work clearly embodies one of the core values of USF – to "apply knowledge to a world shared by all people and held in trust for future generations," said Anne-Marie Devine, USF director of media relations. Her commitment to bringing nutritional education to those who would normally not receive it corresponds with the way USF encourages our students to channel their intellect and abilities towards changing underserved communities from the inside out.
"I am incredibly honored to receive this year's California Prize for Service and the Common Good from the University of San Francisco," Waters said, upon learning of the honor. "This award recognizes the work of the Chez Panisse Foundation and shows that the university supports a school curriculum that gives students the knowledge and values to build a humane and sustainable future."
"Alice has championed an understanding that raising and preparing what we eat is both an ethical exercise and an acknowledgement that we share the earth's resources and hold it in trust for future generations," said USF President Stephen A. Privett, S.J. "She has worked tirelessly to introduce school children to responsible food production and healthy eating, especially those in underserved communities."
Waters will be honored Thursday at a dinner and cocktail hour on the USF campus beginning at 6:30 p.m.