Global Perspective
CAHL Representatives Meet with Current MPA Students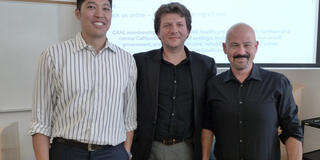 California Association of Healthcare Leaders (CAHL) representatives meet with the current MPA students in the Health Services Administration concentration (HSA).
They discussed emerging issues in the health care sector effecting hospitals, providers, and other entities and forecasted changes in the health care labor market. Michael Ryan, Chairman of the Executive Impact Group in San Francisco and Jason Lee of ECG Management Consultants, Inc. work extensively with various health care organizations and are excited about changes and opportunities in the industry.
Gleb Nikitenko, Director of Program Services, Graduate Management Program, has hosted the session.