Giving
Building Community and Career Pathways Through Mentorship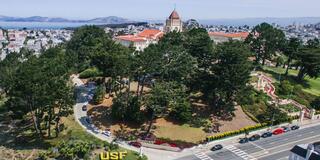 In the fall of 2014, first-generation student Miriam Uribe '17 was navigating new territory at USF and longed for the support of mentors. At the same time, Politics and Journalism alumna Audrey Cortes '09 was also in search of opportunities to connect and give back to USF. 
The Alumni Mentor Program (AMP) emerged as an opportunity for both. The program connects alumni with students and recent graduates for mutually beneficial career advancement and community building.
A Politics and Latin American Studies major, Uribe searched through a directory of alumni for individuals who reflected her professional goals, major, and background. Miriam selected Audrey Cortes '09 because her professional experiences aligned closely with Miriam's goals. The mentorship relationship between Uribe and Cortes clicked right from the start.
Mentor a Student
AMP inspires excellence by providing alumni with an important way to stay connected and by giving students new opportunities to build their networks. The program is designed to support current students and recent graduates with establishing their career goals, paths, and professional networks.
"AMP was a great opportunity for me as an alumna to connect and give back to the USF community that I missed so much," Cortes said.
Throughout their mentorship experience, Cortes helped Uribe navigate various professional avenues, informational interviews, resume-building, and the overwhelming world of job-searching.
Image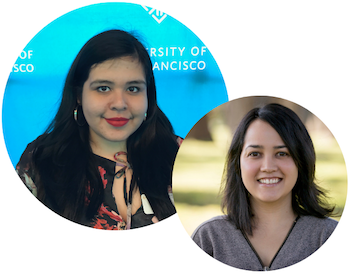 For Uribe, mentorship became a pathway to opportunities.
"The experience was validating in that Audrey was once in my shoes," she said.
For Cortes, the benefit was mutual.
"We were both empowered by the experience and continue to support each other," Cortes said.
In offering advice to new and returning mentors and mentees, both Cortes and Uribe agree that setting goals and expectations at the beginning of the program is essential. It is important for both the mentor and mentee to listen to one another, value each other's time, and continue to invest in their mutually beneficial mentorship.
Mentorship Over the Years
Today, Cortes works at Humanity United on a team dedicated to addressing forced labor and human trafficking. Uribe works at the Urban Justice Center, a social justice advocacy organization serving the most vulnerable of New York City. The two continue to cultivate their relationship which has evolved into exchanges of ideas, advice, and learnings from one another–despite the time difference and distance.
Understanding Uribe's interests in advocating for the Latino community, Cortes recruited Uribe to sit on the Latino Alumni Society Board at USF. Together, they lead and represent the university's Latino alumni community through events, networking, and creation of scholarship opportunities.
Together, Cortes and Uribe continue to invest in their mentorship connection. They are driven to do so because of the power and opportunities they witnessed in the AMP program. Giving back to USF and supporting the program that provided them with meaningful and empowering opportunities inspires them to stay involved.