Engaged Learning
Book Drive Encourages Families to Read Together
USF's chapter of PDK teams up with Booker T. Washington Community Service Center on book drive for annual family literacy night.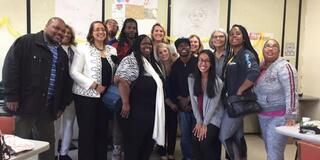 In Spring 2016, the University of San Francisco chapter of Phi Delta Kappa (PDK) partnered with San Francisco's Booker T. Washington Community Service Center to host a book drive and family literacy night.

Since 1919, The Booker T. Washington Community Service Center has provided resources for families throughout San Francisco, with a dedication to supporting immigrant, low-income and African American families. The Center's commitment to nurturing the holistic development of youth through programming for school-aged children has impacted generations. The Center is a gathering place for communities from across San Francisco to learn and grow together.

PDK is an international professional organization for educators that seeks to promote quality education through applied research, service and leadership. USF's PDK chapter, with the mentorship of faculty advisor Dr. Patricia Mitchell (Department of Leadership Studies), holds service to the San Francisco Bay Area as paramount. "Our chapter is committed to acts of service," explains Rebecca Loboschefsky, chapter President. "Specifically, we are committed to giving back to our community in the form of our time, passion, love and dedication to education."

Kelsey Payne, USF's PDK Membership Officer, was instrumental in organizing this spring's book drive and literacy night. "I thought about how [PDK] could leverage our willingness to serve the education community," explains Payne. "It's important that we don't just stay isolated within the USF community. We want to show that we recognize and will respond to community needs."

Payne, who is currently earning her EdD in Organization & Leadership at USF, is also a graduate of USF's Master of Arts in Teaching Reading (MATR) program. The MATR program trains reading specialists and works in partnership with Collective Impact and Schools of the Sacred Heart's Heart-to-Heart program, to offer reading support to families in the Western Addition neighborhood of San Francisco. This partnership includes a five-week summer reading program, literacy workshops, curriculum resources for families, and more. "The community leaders at Booker T. Washington Community Service Center, Prince Hall Learning Center, and Magic Zone have taught me how important it is to partner with those in the community and how powerful your impact can be when you work together," explains Payne.

Working with Lekesha Howard, Booker T. Washington Community Service Center's Day-to-Day Youth Program Manager and Middle School Program Leader, Payne explored opportunities for PDK to partner with the Center. Each spring, teacher education students in USF's Early Literacy course taught by Dr. Helen Maniates, coordinator of the MATR program, work with the Center to host a family literacy night. The event features literacy-based children's games and a parenting workshop facilitated by Dr. Onllwyn Dixon, USF adjunct instructor. Collaborating with Howard, Payne organized PDK members and MATR alumni to volunteer at the event, and facilitated a book drive to collect reading materials for family literacy night attendees.

From April 12 - May 12, USF School of Education students, faculty, staff and alumni donated to the book drive. "By partnering Booker T. Washington Community Service Center and Phi Delta Kappa, we were able to provide a bag full of books to each student that attended family literacy night," explains Payne. "The Literacy night event brought family together to learn ways to make reading fun," adds Howard. "The parents enjoyed seeing their kids interested in reading. The book drive was well attended by students, parents, community organizations, volunteers and staff. The event was inspiring, encouraging, and lots of fun!"

PDK plans to continue the book drive in future years, and explore more opportunities to work in collaboration with the Center.