Diversity
Black Student Union Turns 50
San Francisco mayor commends USF and BSU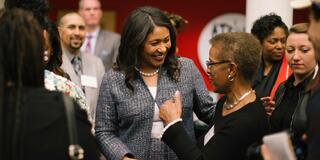 San Francisco Mayor London Breed MPA '13 was the featured speaker at an event Nov. 9 celebrating 50 years of USF's Black Student Union (BSU). She applauded the university and the BSU for opening up opportunities for black students on campus and helping them build community.  
"If we're to continue to promote diversity and promote inclusion, and be the city that we know we are, we have to do a better job of supporting our African American community," said Breed, noting the decline in San Francisco's black population. 
This fall the university launched the Black Achievement Success and Engagement (BASE) initiative, devoted to recruiting and supporting black students. The initiative comes in response to suggestions from the BSU. 
BASE includes the Black Living Learning Community, in which students live together and explore the topic of race and racial identity in classes, and the Black Scholars Program, which provides scholarships to students interested in working with underserved communities, and teaches them how to be leaders. 
Breed spoke to an audience of faculty, staff, alumni, and students at a private reception in the Monihan Atrium in Gleeson Library | Geschke Center. The reception was part of a celebration showcasing the history and impact of USF's BSU. The group has long advocated for more black students and faculty at USF, and its student officers have gone on to become community leaders and activists. 
Combating bias
Earlier in the afternoon, a panel of six former BSU student officers — including Joseph Marshall '68, BSU co-founder and a MacArthur "Genius" Grant winner; Timothy Alan Simon '79, a former state public utilities commissioner; and Sanya Hill Maxion '84, a state judge — gathered in Fromm Hall to speak about BSU's achievements.
In her speech, Breed recognized Marshall for his work helping young black men and women in San Francisco through his nonprofit Alive and Free.
Over the decades, the BSU has brought speakers to campus, including Muhammad Ali and Angela Davis, worked with USF's public safety department to address racial bias, and tutored public school students in the Western Addition, the historically black neighborhood neighboring USF's campus.
Know someone with a powerful USF story? Let us know! usfnews@usfca.edu | Twitter @usfcanews