Research
Another Fulbright-Hays for Asian Studies
For the second year in a row, a University of San Francisco Asian studies student with a Philippines concentration has won admittance to the Advanced Filipino Abroad Program (AFAP), funded by the Fulbright-Hays Group Projects Abroad.
Image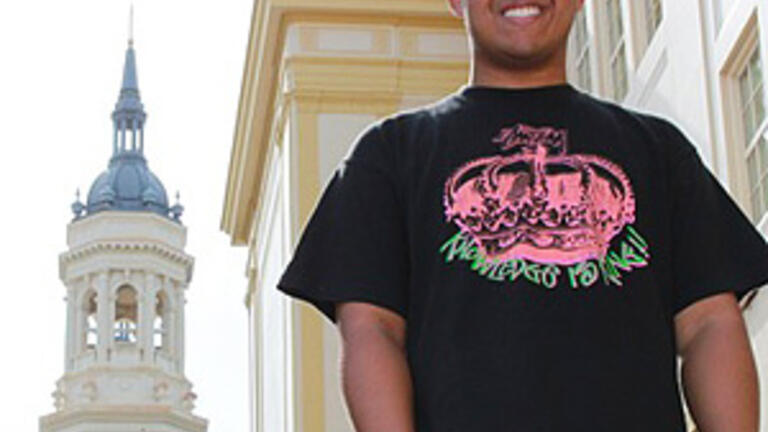 Senior James Binauhan is the second to earn the eight-week, all-expenses paid language immersion and research scholarship. Binauhan's accomplishment comes a year after USF's Charles Daulo '09 won funding from AFAP.
AFAP is held outside of Manila and consists of classroom learning, volunteer work, weekend field trips, and three culminating projects. Each week, the program features a different topical focus on culture, history, literature, arts, economics, politics, and globalization. The program is the equivalent of two semesters of language coursework and "aims to fill a void in the academic community by providing third-year level students a one-of-a-kind opportunity to acquire the linguistic foundation necessary to engage in academic research, professional discourse, and cultural interaction with all segments of Philippine society," according to AFAP.
Binauhan, whose parents immigrated to the U.S. from the Philippines, intends to pursue a diplomatic career at the U.S. embassy in Manila, after graduation. "I really love my cultural background, language, and the Filipino people," Binauhan said. "A career in U.S.-Philippine relations is my goal."
Volunteering part-time at a shelter for street children and juvenile offenders in rural Dasmariñas, outside Manila, Binauhan researched a coffee table book highlighting the best of Filipino culture as one of the program's required final projects.
"It's somewhat of a revolutionary time in this country where the youth are strongly taking action to beat corruption," Binauhan said. "The Philippines is developing into something great, and I would love to contribute as much as I can."
Binauhan was encouraged to apply to AFAP by Jay Gonzalez, associate professor of politics at USF. He is perfect for the program, Gonzalez said of Binauhan. "He's gregarious, attracted to different cultures, speaks advanced English, intermediate Filipino, and introductory Japanese, what more could you ask for?"