Equipped to Lead and Succeed
Anne Kronenberg: To USF and Back Again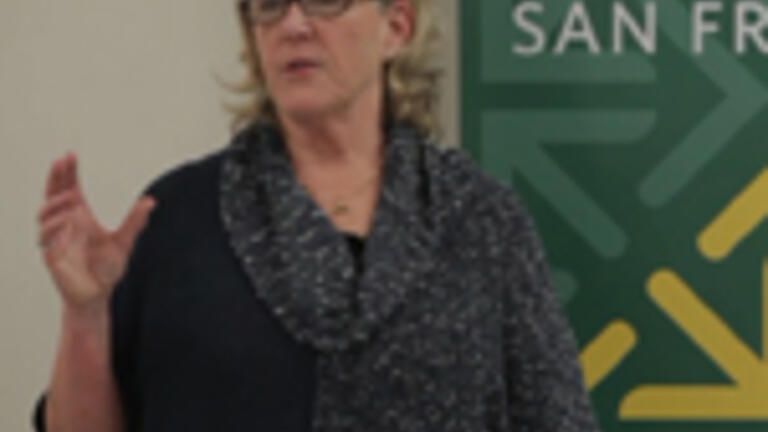 Some of you may know Anne Kronenberg as the former campaign manager for Harvey Milk's successful City Supervisor candidacy or as the current Executive Director of the Department of Emergency Management for the city of San Francisco. What you may not know is that she is a graduate of the University of San Francisco's (USF) Master of Public Administration (MPA) program.
Kronenberg had no idea what she wanted to do with her double major in psychology and anthropology from the University of Washington. "The only thing I knew was that I immediately wanted to return to San Francisco," Kronenberg said. "I got in my car and drove down with no friends, no job, no place to stay but here's where I ended up."
There weren't too many obvious opportunities for a psychology/anthropology undergraduate. Luckily, after a few uncomfortable months working as an administrative assistant at a seafood company in the Financial District, Kronenberg, received a call that would change her life.
One day, she picked up the phone and San Francisco Supervisor of District 5, Harvey Milk, was on the other end. "He said, 'Anne will you come in and work for me? Your friend Ken Lester sent me a campaign contribution and he said you'd be a good campaign worker.' I didn't know him but I knew of him and held him up on a pedestal," Kronenberg said.
Following the call, Kronenberg went over to Castro Camera, Milk's camera shop where he asked her to be his campaign manager. She quit her job and took an unpaid position managing Milk's historic campaign calling it "probably the most fantastic experience in my life up to that point." Her risk paid off. The night he won, Milk took to the podium and announced "I'm taking Anne Kronenberg with me to City Hall."
"It was the most wonderful night to just know I would be part of city government, that I would be part of something where we could actually affect change," Kronenberg said.
Working at City Hall would be very different than the campaign, "It was a lot of difficult work, it was getting to know the right people, developing relationships and learning how to cut through the bureaucracy," Kronenberg said, "These are all skills that I certainly did not have coming in but I learned them, and I learned them the hard way and I learned them making a lot of mistakes. I leaned that trust and integrity and ethics were the bedrock to being respected in your position."
Kronenberg experienced tragedy at the age of twenty-five when Milk, who had been in office for only one year, was assassinated by former San Francisco Supervisor Dan White. "My entire world crumbled, I was given my pink slip the day after Harvey was killed," Kronenberg said. She depended on the support of her network of friends and her "city family" to get through that dark time.
Six months after the assassination, Kronenberg received another life changing call, this time from Dick Sklar head of the Public Utilities Commission asking her to come on as his Administrative Assistant. "He was brilliant," Kronenberg said. Sklar told her that while her soft skills were great, her hard skills needed work and suggested she go back to school. After months of his cajoling, she applied to the University of San Francisco, joining one of the very first cohorts of the MPA program.
"Putting to work what you have practiced in the classroom was incredible and I know it continues to be," Kronenberg said about the MPA program.
"I think much more than just academic learning, when you can mix those two, when you have real life experiences, that's when things really fall into place and you begin to understand the way the process works," Kronenberg said. She left the program before finishing her thesis, but this wouldn't be her last experience with the MPA program at USF.
After a series of successes and disappointments Kronenberg again found herself in her car driving to a new town, with no job, no friends and no prospects, headed to Washington D.C. Thanks to her time with Dan Sklar, she was able to get a job with Ted Kennedy's Nuclear Weapons Freeze Campaign.
Unfortunately, the political environment was very different in Washington. "I wasn't ready to play with the big boys. It was cut throat," Kronenberg said.
Kronenberg yearned to return to San Francisco and eventually landed a role with San Francisco's Department of Public Health. Five years into her fifteen-year tenure at the department, Director Mitch Katz offered her a role as his Chief of Staff. This role required a master's degree and while she had completed the MPA coursework, she had never written her thesis. Enough time had passed that she had to reapply to USF and joked she may be the only student in the history to complete the program twice.
USF gave me those hard skills that my friend and mentor Dick Sklar had talked to me about twenty years before and I'm so appreciative of everything I've learned," Kronenberg said, "I think the program here at USF is excellent because it allows you to go use the skills you learned in class in real life and that is invaluable."