Giving
Alumni and Supporters Contribute $200,000 in 24 Hours
USF alumni and supporters crushed the university's first annual Day of the Dons on April 23, meeting and exceeding the campaign's 300-supporters goal before lunch and more than quadrupling that over the remaining 12 hours of the drive.
More than 1,250 USF supporters joined the cause, contributing amounts from $10 to $10,000 during the 24-hour campaign. In all, Dons contributed more than $220,000 — averaging about $100 each.
Excited about USF's direction
"I'm ecstatic!" said Christopher Anderson '06, MS '09, director of annual and special giving, who was surprised by the level of support for a first-time event. "We exceeded the goal by a factor of four. Our alumni stepped forward in a big, big way."
Reaching the 300 supporters goal, unlocked a $100,000 challenge from a group of trustees, a major accomplishment, Anderson said. Even more impressive, supporters contributed another $120,500 for a total $220,500, he said.
"I think it shows that alumni and supporters are excited about the direction USF is headed and want to ensure that incoming students are able to enjoy the same opportunities they benefited from," Anderson said.
Day of the Dons donors could earmark their support to any part of USF's academic mission, from student scholarships to athletics facilities.
Know someone with a powerful USF story? Let us know! usfnews@usfca.edu | Twitter @usfcanews
These gifts were made in support of Changing the World from Here: Campaign for the University of San Francisco.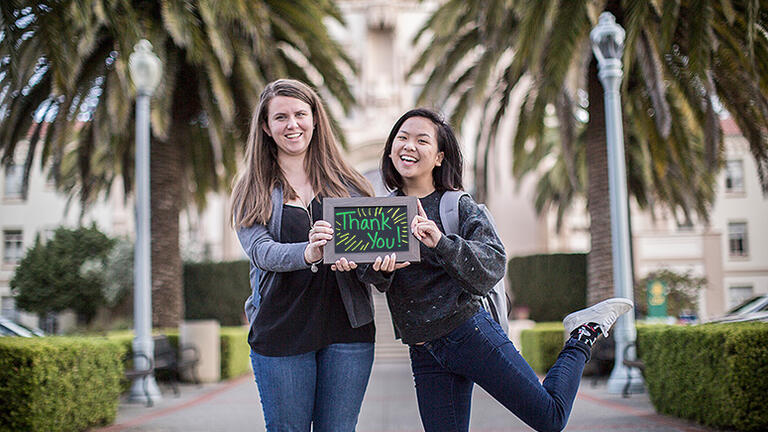 USFers thank contributors for making the first-annual Day of the Dons a huge success.