Our Nursing and Health Professions alumni are busy changing the world from here! Reach out to us to report your alumni accomplishments.
Pres Lorenzo, MSN, RN, CCRN, CSC USF MSN-CNL (Summer '15 alumnus) presented 'Post-operative Nursing Care of a TAVR (transcatheter aortic valve replacement) Patient'. 2014. Presentation. 2014 International Endovascology and Nursing Leadership Conference. TAVR is a state of the art and minimally invasive cardiac surgical procedure in which Stanford is among the pioneering centers.  This knowledge and exchange experience provided him with opportunities to share best practices with international nursing colleagues. Also, gaining an understanding on Chinese culture in relation to health care including their clinical practices and their health care delivery system. As a graduate student at that time, he was very proud to represent USF.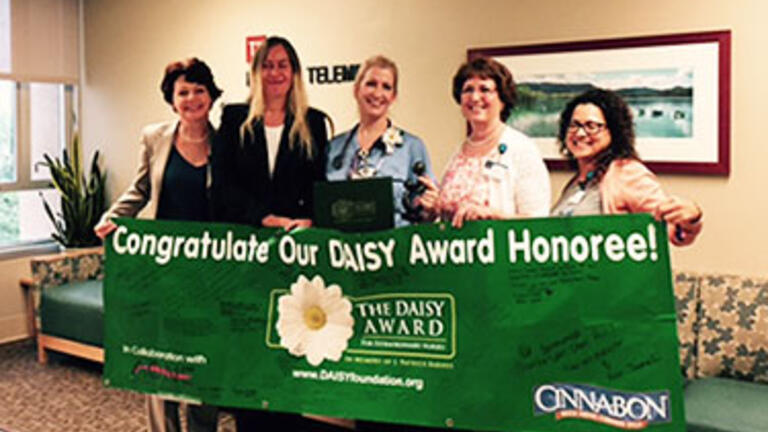 Carole Santos, MSN, RN, CNL, CMSRN (Spring '15 alumnas) was the winner of the Daisy Award. See Carole with her award in the photo (pictured in the center).
Rachel Stone, MPH, RN, CNL (Summer '13 alumnas) completed nursing school in June and will begin an RN position at UCLA.
Berna Villanueva, MPH (Summer '14 alumnus) was hired as Research Team Lead with Pacific Institute of Research and Evaluation in Oakland. In February, Berna moved to Tucson, AZ to work as a Prevention Specialist with the Southern Arizona AIDS Foundation. She also underwent a CDC-sponsored training in Kentucky for the high-impact prevention intervention called CLEAR: Choosing Life Empowerment Actions Results and was certified in QPR Suicide Prevention training.