Equipped to Lead and Succeed
Alum Builds Solar Cookers for Afghan Refugees
It's graduation season, and a new class of USF students will soon launch careers in law, science, nonprofits, business, and more. Almost all of them want to change the world; some already have.
This month, we're celebrating the pioneers who are leading and succeeding with stories about USF students, alumni, and faculty committed to making a difference.
Jack Howell '64 is leading an effort to build and distribute thousands of portable solar cookers for free to refugee families in Afghanistan who live without electricity or running water in tents and mud houses.  
We know we've only scratched the surface. Tell us how you and your fellow Dons are leading and succeeding on social media. Tag it #USFCA, and we might feature you.
What makes Howell's cookers unique is that they're made from a material that's common in the Bay Area but thrown away as trash: Peet's Coffee and Tea wholesale Mylar coffee bean bags.
Clean drinking water for health
Howell and his team cut and staple the reflective Mylar bags to cardboard panels that are arrayed to capture sunlight and redirect it to the cooker's center where the food absorbs the heat. The cookers can heat food and water up to 250 degrees Fahrenheit on a sunny day. And families can cook a whole chicken in 2 hours and pasteurize a gallon of water in 45 minutes.
They help Afghans avoid many of the food and waterborne illnesses that are common in a country where only 27 percent of people have access to clean water, said Howell, who is the solar cooker project director for the nonprofit Trust in Education(TIE). The cookers also allow women, who do the majority of the cooking, often indoors, to avoid breathing in hazardous smoke from open fires (about two million people a year die from inhaling smoke from open, indoor fires worldwide, according to the World Health Organization), and help families stretch their incomes by alleviating the need for costly firewood, Howell said.
Cooking classes for thousands
"The cookers will help them save as much as $12 a month over buying firewood, a lot considering Afghans make only about $30 a month on average," said Howell, who has distributed about 2,000 to villagers outside Kabul, Afghanistan in the past two years. "These families don't have much. They're part of the country's half-million internally displaced people forced from their homes by 30 years of war."
Grace Magney, an American who has spent years doing nonprofit work in Kabul, started teaching solar cooking classes with Howell's cookers last year. She quickly discovered that they were so easy to use and so durable that Afghans want more of them. "The families we've taught are using the cookers and asking if we can provide classes to more people in their villages," Magney said.
Howell plans to build and distribute 5,000 more cookers by the end of the year. And he has recruited Bay Area students from 100 high school Interact-Rotary clubs to help.
"With families averaging 10 members, that's more than 50,000 Afghans who will be exposed to solar cooking this year alone," said Budd MacKenzie, founder of TIE.
What the world needs
The idea for the cookers came to Howell in 2010, when he heard MacKenzie talk about TIE's work, constructing schools and donating thousands of pounds of food, clothes, and school supplies over the past 10 years. "Afterward, I introduced myself and told him that solar cookers were what was really needed," said Howell, a longtime solar cooking enthusiast and pioneering publisher of environmental books who has worked with iconic environmental figures such as David Bower, the first executive director of the Sierra Club.
"Jack was right. Solar cooking is what Afghans and, for that matter, the world needs and TIE will do whatever it takes to help," said MacKenzie, who was recently honored by the Dalai Lama for his organization's work. Each cooker costs about $15 to build and is paid for by TIE. TIE ships them to Afghanistan for free through the U.S. Agency for International Development. Peet's donates tens of thousands of Mylar bags to the effort.
USF values: service and a global perspective
Howell said studying at USF taught him what it means to give back. "Service and a global perspective have always been at the core of USF's values. That's something I carry with me," he said.
He's committed to continuing and hopefully growing the program into the future, Howell said. Of course, that all depends on support from TIE's donors. So far, the feedback has been positive, Howell said.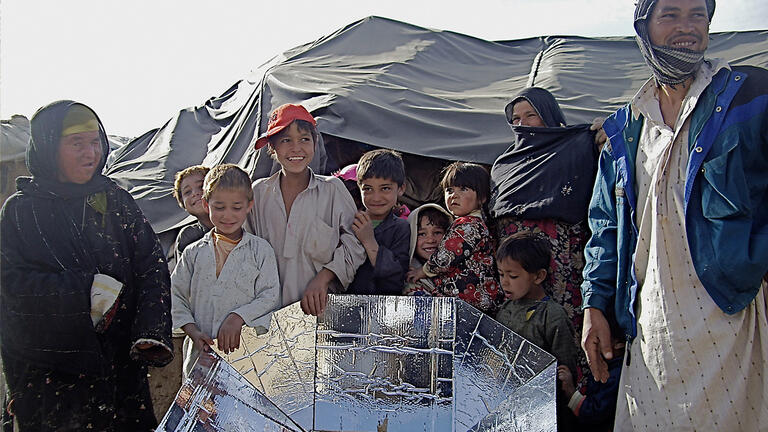 Portable solar cookers for free to refugee families in Afghanistan.