Giving
The Heart of a Don Knows No Borders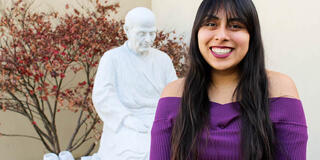 At USF, students live and learn in spaces that are far beyond the average classroom. Through the University Ministry's Arrupe Immersion programs, students are going beyond the Hilltop and connecting with international communities across the globe. 
Alondra Ramos '20, a junior political science major, is one of the many students who is bringing her passion for social justice across international borders.
As she recalled the moments leading up to her college decision, Alondra noted the university's diverse student body, latinx community, and financial assistance as key components that ultimately brought her to the San Francisco campus. However, it was the Arrupe Immersion program that completely elevated Alondra's experiences during her first year as a Don.
"My mentor from the Muscat Scholars Program went to an Arrupe immersion trip. She was encouraging all of [the Muscat scholar mentees] to go," she said. "I really wanted to be a part of that experience."
A Transformational Journey
During her freshman year, she embarked on her first immersion to Puebla, Mexico. The program's theme, "Migration, Borders, and Transnational Communities," had a substantial impact on Alondra because of her personal experiences as a member of a mixed-status family and the presence that migration plays throughout her daily life.
In the moments leading up to the program, Alondra's perception of Mexico was confined by the news she was fed through the media. She wanted to see, first-hand, the political contrasts between the United States and Mexico.
Looking back on the experience, she said, "That was the first time I had been back to Mexico since I was five. I love my culture and I love my people, so that was something that really impacted me because I came back so different."
To students who are interested and passionate about topics like these, Alondra encourages all of them to take the initiative to participate in an immersion experience.
"Oftentimes the message of 'changing the world from here' is spread everywhere, but isn't always applied. Sometimes it's just learned with no opportunity to put [those changes] on campus or make it feel as present," Alondra said. "I feel that the University Ministry is a place that that mission can actually be applied."
Access to Creating Impact
For many students, the cost of the program may seem daunting. However, the University Ministry makes it a priority to ensure that the students' financial status is never a barrier that prevents them from participating. Through scholarships and fundraisers, the program becomes much more accessible to immersion students.
To the individuals who help make these programs possible, Alondra said, "It really helps to get more funds for it. It would open up more opportunities for students who don't have the access to go."
For the upcoming Puebla immersion in Spring 2020, Alondra will be taking a step forward as a student leader for her specific Arrupe team. It's her goal to create a strong support system for fellow students who will be encountering the same physical and emotional journeys that she was part of not long ago.
While the Arrupe Immersion trips each focus on a different topic, they all work towards the same Ignatian principles: "observe, reflect, analyze, act." For Alondra, the immersion program means growth.
"After that trip, I was a different person... I feel like we are not just students at this school. We are community members. So, we should act like it," she said. "The experience made me more of a cognizant person. It made me come closer to who I am and the spaces that I enter."
As more students continue to follow in the footsteps of Alondra and the countless other immersion students, the world can only imagine the change that is yet to come.
The Arrupe Immersion Program is made possible by a gift from Bob and Joan McGrath, as well as other generous donors.
Learn more about supporting immersion programs and study abroad opportunities for students