Alumni
Changing Perspectives: An Interview with Allison Littlefield '13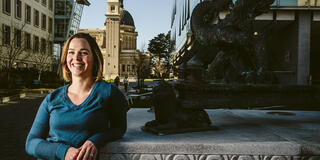 Allison Littlefield '13 has made a three-year pledge to support the University of San Francisco's Global Ambassador's program. This is one of the largest gifts from a young alumna in USF's history. These funds will support global immersion programs for USF and create opportunities for students to study abroad.
You can tell by the way that Allison talks about her travels that these experiences matter a lot to her. Traveling as an adolescent to Africa with her family made an impression on her. She remembers it as one of her first glimpses into observing what life is like for people in other countries.
Later, when Allison was exploring what she wanted out of her college education, opportunities to study abroad ranked high. In fact, Allison would argue that studying abroad was not just an essential part of her academic experience but also her life experience and has greatly shaped the way she sees the world.
She arrived at USF as a third-year transfer student from Clark University in Massachusetts after taking a much-needed gap year. Academically, USF had the learning support and opportunities to study abroad that she sought. On a more personal level, during her campus tour, she was taken by opportunities to join the boxing club — and put her martial arts practice to good use. Catching a glimpse of the grandiose organ in St. Ignatius also felt like an auspicious sign to Allison. It reminded her of her recently passed father who had played the instrument throughout her childhood, helping seal the deal on her enrollment at USF.
The chance to explore the world through USF immersion programs was transformative for Allison. These experiences — and the people she met along the way — have helped define her world perspective. She describes her visit to Peru during spring 2011 as "particularly eye-opening." Spending time talking with children from the streets of Lima who were now receiving program support left her appreciative of what these youth were facing. This program, supporting children's transition from life on the streets through access to education and housing opportunities, as well as learning how to advocate for their rights, made the biggest impression on Allison. Her conclusion after spending time with these kids? "There's no challenge too difficult that you can't overcome with the right support."
While her immersion experiences in college took her to far corners of the world, including Belize, Nicaragua, Peru, Austria, El Salvador and Ecuador, she found her immersion trip to California's Central Valley to be "just as eye-opening as studying abroad." During the trip, Allison spoke with community workers about the damaging effects on the population there from the contaminants and pollution from the huge oil fields and agriculture. She was unprepared for seeing the level of poverty and pollution she saw there that were, in some respects, just as unfamiliar.
Allison comes from a family culture of philanthropy. Observing her parents serve on several boards and her grandparents support various passion projects, she herself feels a strong personal and moral responsibility to give back, too. She credits her mom for instilling in her the value of giving back to educational institutions. She says, "It's important to give to the schools that change you in a fundamental way." Allison's generous gifts to her middle school and to USF exemplify this commitment in action.
And while her own life now takes her abroad on a regular basis, living part of the year with her spouse in Ethiopia, Allison is committed to supporting students at USF as they engage the world abroad. She understands firsthand the importance of getting out of your comfort zone — and your country — to understand and create genuine connections with people from around the world. She maintains, "Everyone should have the ability to study abroad."
At this particular moment in time, Allison's commitment to supporting studying abroad feels particularly salient. She quips, "International travel is a good reminder that there's a whole big world out there. The world doesn't stop at our borders." Indeed.
This gift was made in support of Changing the World from Here: Campaign for the University of San Francisco.