Advice from Herb Schultz, Public Health Policy Leader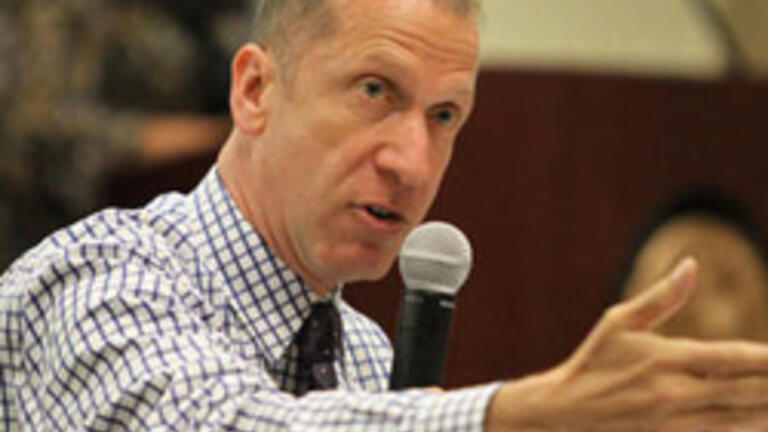 Herb Schultz, former Senior Advisor to Governor Arnold Schwarzenegger and Director of the California Recovery Task Force, is currently the Region IX Director for the U.S. Department of Health and Human Services under the Obama Administration. University of San Francisco professor and Department Chair of the Master of Public Administration (MPA) program, Richard Callahan, invited Schultz to speak to current first and second year MPA students during their regular Saturday class.
Schultz's career exemplifies a lifetime of commitment to social justice. As a person living with HIV for the past twenty-two years, Schultz chose to use his personal condition as a driving force for his professional life. He shared, "The impact my personal life had on my career choice was the most important thing for me. You are who you are. It is a difficult thing to surmount the issues you come into life with and I've learned you can't blank those out. The skills you bring to the table are just as important as your ability to be comfortable and confident in your own skin."
With an extensive background in both the public and private sectors, nonprofits and government bodies, Schultz began his talk by sharing his past experiences as a graduate student during his time in Georgetown's MPA program. "I would love to say my trajectory was planned, but in a lot of ways I was trying to understand the one thing I struggle with every day, which is asking myself, 'What are the skills that I have? Where can I sharpen those skills? And where can I best be of help?'"
MPA students, particularly those who are in Dr. Peter Wright's public policy analysis course, are actively learning how to apply and hone their personal skills to conduct comprehensive research within their field of choice. Students enrolled in this course are gaining a deeper understanding of the stages of the policy process, the role of interest group politics, and the development of practical policy alternatives. When asked about his passions, second-year MPA student Chris Houlemard said "I currently work in finance for the State of California. I'm passionate about keeping, retaining, and growing jobs, but at the very center of it, I, along with Mr. Schultz and many of us in this room, are passionate about helping people."
During Schultz's time as a graduate student, he worked for the corporate healthcare sector. After taking his first class in public health policy, he realized he wanted to be a lobbyist and campaigned within the health policy realm. Shortly thereafter, Schultz became an advocate for people living with AIDS through his work for the AIDS Program Los Angeles (APLA), the leading AIDS/HIV Nonprofit in Los Angeles County.
After his tenure in the nonprofit sector, Schultz became the youngest cabinet member in California History governmental services. In 2006 Schultz was appointed healthcare advisor to Governor Arnold Schwarzenegger. He was responsible for overseeing the implementation of the American Recovery and Reinvestment Act of 2009. In 2010 he was appointed by President Barack Obama to serve as Regional Director of the U.S. Department of Health and Human Services. In this role he works to address the needs of communities and individuals who benefit from health and human services programs and policies.
As many of the USF Master of Public Administration students aspire to a career of the same impressive background and policy experience as Schultz has had, he left the class with the following realization, "There is a thread that runs through all of my experiences that I've unconsciously never recognized until now. There is a thread of liking to work with people, building meaningful relationships with people, and understanding the job that I do. Every job has taught me to develop my core and to do what I really wanted to do."