What's a Gift Officer? Find out with Jennifer Mora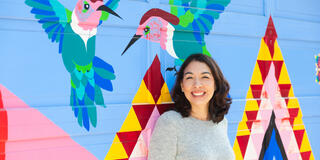 Meet Jennifer Mora, senior director, major gifts, DEI and community initiatives, a values-driven fundraising professional with a passion for equitable educational access. Her role as a gift officer to the university helps raise millions of dollars for students.
What is a gift officer? A gift officer is a fundraising professional who helps to raise money for an organization to advance their mission.
How did your path bring you to the University of San Francisco?
My path to USF is a homecoming. After an informational call with Jayme Burke, associate vice president of development, I knew USF was the place for me. I was inspired to apply for my position for three reasons. One, the mission of the university aligned with my personal values and the fundraising content — Black Achievement Success and Engagement (BASE) and the McCarthy Center — are similar to other programs and initiatives I have supported. They focus on amplifying opportunities for students to have equitable access to programs intended to set them up for success.
Two, my career goal was to lead a team and this role affords me an opportunity to do so. And finally, I was able to come back home to the city where I grew up. It was a dream come true.
What has excited you about a career in fundraising/philanthropy?
A lot! I stumbled into the industry after spending more than a decade in marketing and public relations. My first job in fundraising was serving as a development coordinator and my role at USF is my eighth fundraising position in 16 years.
There are three things about this career path that mean the most to me:
It satisfies my aspirations to be a lifetime learner. Each position I've held has meant a learning curve and professional development opportunities.
There is nothing more rewarding than helping someone to use their money for the greater good. To broker a philanthropic partnership between a donor and the university, and to help them realize their vision for impact is thrilling every single time. Each gift I close is as noteworthy as the first one I closed for student scholarships.
Attending college needs to be a right, not a privilege. I am a first-generation college student who grew up in San Francisco. College was not a given and I had to pave my own path. My role as a fundraiser has allowed me to raise millions of dollars in scholarship funds. My work will provide financial support for students in need for generations to come.
In your opinion, what have been some of the most powerful moments that were driven by philanthropy?
From my perspective, it is historical moments in time that lead to upticks in philanthropy. Recently, it has been the pandemic, and the students in need who were unable to pivot from a university environment to studying at home during the pandemic, and the racial reckoning following the murder of George Floyd.
There was a lack of access to WiFi, equipment, and the hard realization that university housing and meal plans were sometimes better than home environments. The racial justice protests highlighted how students of color, particularly Black students, are not having an equitable experience in college: From sometimes being the only person of color in a classroom, to systemic barriers, the racial reckoning of 2020 sparked a movement to invest in targeted student scholarships, conversations about enrollment practices and processes while some universities began to reimagine the role of campus police.
What are some common misconceptions around fundraising, and the role of being a gift officer at a university?
In my experience a couple of misconceptions are that fundraising is transactional, and that it is difficult to ask for money. However, fundraising is about cultivating relationships.
I understand why it would seem that asking for money is difficult, but asking for money is the result of strategic moves grounded in a meaningful connection. By the time "the ask" takes place, or a proposal is delivered, the person making a donation has been engaging in conversations with the university about the importance of educating students, conducting scholarly research, or having an impact on society.
Where do you see as areas of opportunity for diversity, engagement, and inclusion within higher education philanthropy?
We need to be bold in building our pipeline in higher education leadership. We need more fundraisers of color who can connect with alumni and donors of color.
We need to provide a pathway for early career professionals of color who want to advance in the higher education advancement sector.
Bottom line: we need to hire more diverse teams to engage with our ever-growing diverse students, alumni, and donors, and provide pathways to leadership positions to ensure retention and long-term success.