University of San Francisco Hosts Hundreds of Law Enforcement Professionals
Image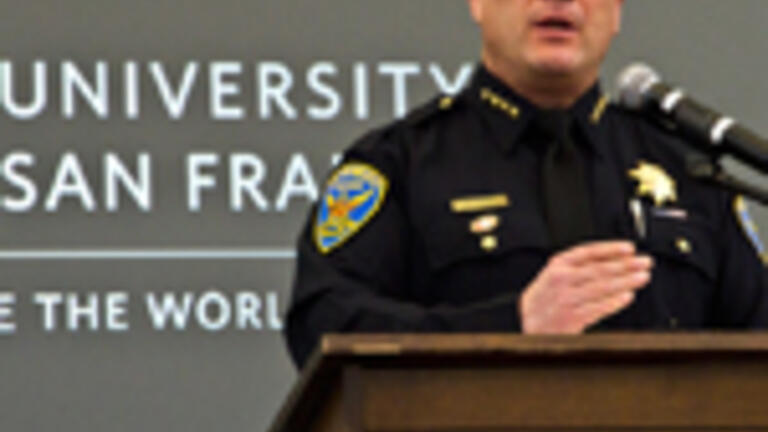 The University of San Francisco (USF), in partnership with the San Francisco Police Department (SFPD), hosted the 18th Annual Law Enforcement Leadership Symposium Monday and Tuesday, Jan. 7-8. "Narcotics: Examining Leadership Strategies", was the theme of this timely event, addressing the crippling combination of drugs and crime in our communities.
"This year's topic of narcotics is a highly contemporary issue that affects our national crime rate, our prison population, and fuels gangs and cartels in our society," said Anthony Ribera, director of the International Institute of Criminal Justice Leadership at USF. "Our attendees were exposed to the magnitude of the problem, effective strategies used by other cities around the nation, and an honest discussion about the core issues law enforcement must grapple with in order to better combat narcotics-related crime."
The two-day forum included panel discussions, individual presentations from nationally recognized experts, and open forums. San Francisco Mayor Ed Lee and Chief of Police Greg Suhr gave opening remarks on Monday morning.
Keynote speakers during the conference included:
Office of National Drug Control Policy Director Gil R. Kerlikowske, the President's top drug policy advisory, spoke on "A 21st Century Approach to Drug Policy," focusing on the importance of treating addiction as a brain disease, expanding alternatives to incarceration and breaking down silos to leverage resources in combating drug use in our communities.
UC Berkeley Professor Frank Zimring, author of "How New York Beat Crime," discussed strategies for addressing drug street dealers. These are the strategies first implemented by Bill Bratton in 1994. Is this the same strategy Bratton will advocate in Oakland?
Drug Enforcement Administration Special Agent in-charge Javier Pena presented "The Rise and Fall of Pablo Escobar."
Dr. Paul Chabot, an expert on Mexican drug cartels, presented, "Cartels and their Impact."
Image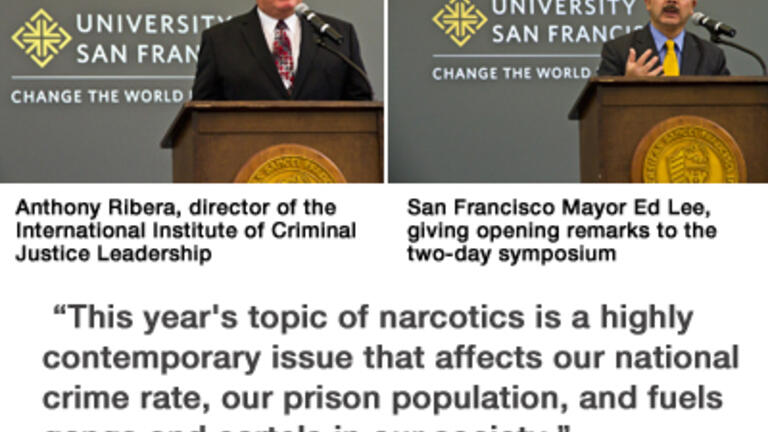 USF has been home to the symposium since 1995, noted Ribera, who served as police chief of the SFPD from 1992 to 1996 before beginning his teaching tenure at the university. Last year, the symposium hosted more than 200 participants. In explaining the details of the symposium, Ribera commented, "USF is honored to be hosting this symposium. Our unique program, the International Institute of Criminal Justice Leadership, is dedicated to ethical leadership training for criminal justice managers, making our campus an appropriate venue for this prestigious event. We look forward to a productive two days of tackling the deep-seeded issues of narcotics and crime."
Police chiefs from across the state had been invited to participate. Registered chiefs include Chris Boyd of Citrus Heights, Susan Manheimer of San Mateo, William Bowen of Galt, Greg Bowman of Rio Vista, Chris Dewey of Ukiah, Nate Johnson of Cal State Universities, Jeff Kermode of Tehachapi, Dan Lawson of USF, Kelly McMillan of Salinas, Gary Newton of LA General Services, Jim Redman of El Cajon, Tricia Seyler of Belvedere, Kathleen Sheehan of Port Hueneme, Jennifer Tejada of Sausalito, Manny Martinez of Daly City, Mike Meehan of Berkeley, Phillip Sanchez of Pasadena, Dave Spiller of Pleasanton, Frank Steenport of Orange Cove, and Greg Suhr of San Francisco.
Proceeds from the symposium go to the Lieutenant Barbara Hammerman Memorial Scholarship, which is awarded to Law Enforcement Leadership students who exemplify positive leadership in their profession and within the USF learning community.
The symposium took place in the McLaren Conference Center on USF's main campus, Monday and Tuesday, January 7-8.