The Rise of the Chinese Yuan: USF Hosted Conference on Chinese Currency
Image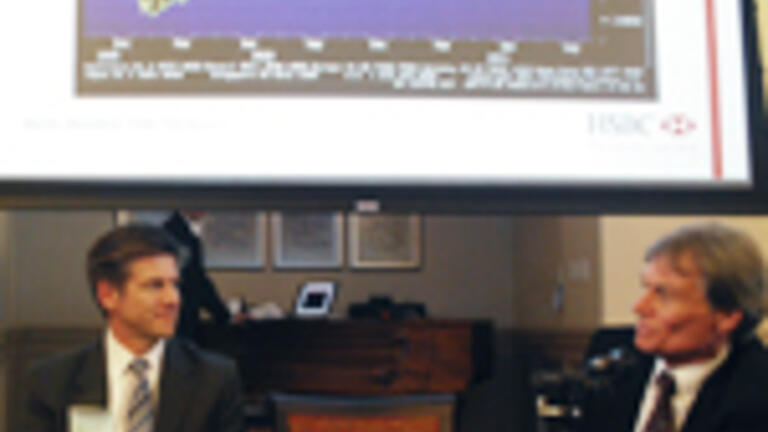 The first California conference on the globalization of the Chinese Yuan (RMB) and its effect on financial markets worldwide was held on October 15 in USF's Lone Mountain Conference Center.
This conference brought together over 130 business leaders, policy makers, USF faculty and students to discuss the internationalization of the Chinese Yuan, China's demand for imported goods, the complex issues of the rising Yuan, the devaluation of the U.S. dollar and its effect on tomorrow's economy.
Executives from some of the largest corporations in the Bay Area were present at this event :  including Merrill Lynch, HSBC, Deloitte, Ernst & Young, KPMG, Morgan Stanley, Pillsbury Winthrop Shaw Pittman, Silicon Valley Bank, IBM, CISCO, and Gallo Family Vineyards. In addition, executives from Chinese enterprises such as Huawei, Neusoft, Vanceinfo, and Tencent were also at this event. .
"This conference was the first of its kind on the West Coast," said Stanley Kwong, managing director of Greater China Programs at USF's School of Management, and event chair. "It was designed to help attending participants achieve a deeper understanding of the key issues and challenges involved with doing business in China. With China rapidly accelerating efforts to elevate its currency, the liberalization of the Yuan is inevitable. The opportunities it creates for the global financial institutions are quite immediate and real."
The focal point of the event was a panel discussion on the accelerated expansion of the Chinese currency, and challenges and opportunities this presents for global financial institutions. Featured panelists included Rebecca Fannin, author and contributor to Forbes, Dr. Jon Haveman, vice president and chief economist of the Bay Area Council's Economic Institute, and Ivan O. Asensio of HSBC Bank, USA. In addition to business executives, the panel included academic commentary from University of San Francisco School of Management professor Robert Mefford, as well as adjunct professor Vincent Zinck.
The seminar was co-sponsored by University of San Francisco, HSBC, Gallo Family Vineyards, Bay Area Council, ChinaSF, and AAMA of Silicon Valley.  The seminar is part of Global Business Forum —China 2021, a series of seminars at the University of San Francisco's School of Management that brings together scholars, business leaders, and policy makers to exchange ideas about one of the most dynamic economic regions in the world.