Global Perspective
The Future Role of Technology in Investing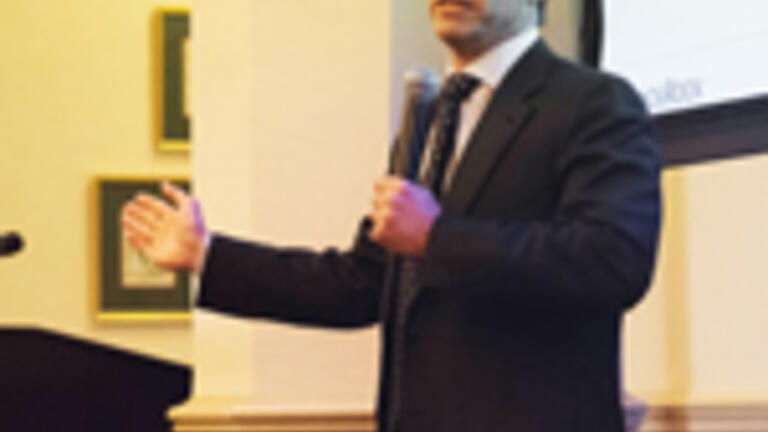 Ken Kroner, Senior Managing Director and Global Head of Multi Asset Strategies at BlackRock, spoke about data and technology and how it will revolutionize investing on April 13, as part of the Business and Finance Speaker Series hosted by the University of San Francisco's School of Management.
"During my twenty-year career in investing, I've seen everything you can imagine in the market," Kroner said. "But I have never seen anything that even comes close to the changes that technology will have on investing. Think about the way technology has affected your everyday life, it has changed everything, except investing."
Kroner predicted the way we invest would change in the immediate future, by taking a more technological turn. "Social media and the internet give new sources of information and new capabilities to allow us to make much better investing decisions than in the past," he said. "If you do it the old way, you're going to start losing the game."
During his presentation, he gave examples of how BlackRock is changing the way the forecasting process happens. "At Blackrock and in San Francisco, we have the advantage of being right next to Silicon Valley and having access to the CEOs of tech companies," he said. "Recently, we brought a bunch of them in to talk about what they were doing, which is quantifying the individual."
Kroner cited companies like Park Cast Network, which targets individual habits on the Internet and then creates a profile about that user to drive trends and predict the success of companies based on data. This can be turned into information for investors to forecast the future of stocks and make decisions about smart investments. "These companies are taking this information and identifying what social networks exist," Kroner said. "With all that information out there, or the datafication of the individual, investors need to be turning that data into information and that information into portfolios."
At Blackrock, Kroner said that is exactly what they are doing.
If you think that the primary value of social media is to monitor the latest life events of Miley Cyrus, then you are naive," Kroner said. "What you post on social media is being turned into information about everything from advertising, to news, to investments. It's more about the long line of investing now more than ever."