School of Management Steps Up and Greatly Increases Volunteer Effort in 2012-2013
Image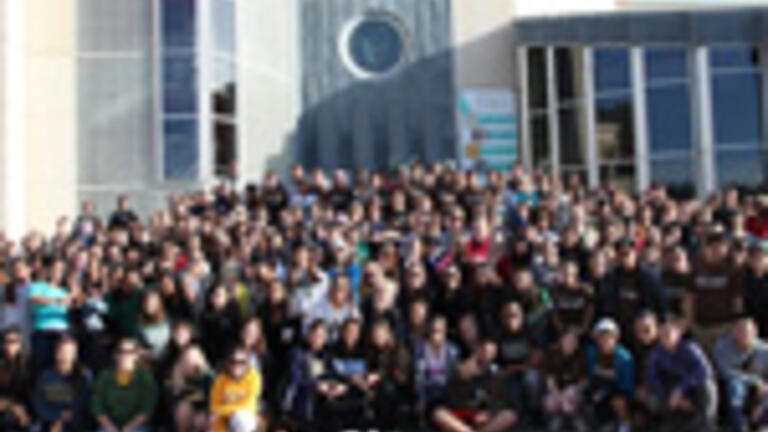 Hundreds of School of Management volunteers got involved in service efforts this past year, with two events counting more than 100 School of Management volunteers and other events counting dozens. Most recently, over 320 USF students, alumni and staff members volunteered in March and April at two service events organized by USF. On Saturday April 13th the extremely successful April Action day took place, with over 300 volunteers contributing to making San Francisco a more humane, just and green place for all. On Saturday, March 15th, more than 20 volunteers from the School of Management and the St. Ignatius Parish returned to a Habitat for Humanity Daly City build site for a second day of service.
April Action volunteers spread out all over San Francisco in a day focused on humane and environmental efforts. They spent the day working at places like the St. Vincent de Paul Homeless Shelter, the Veterans Hospital, Friends of the Urban Forest, Urban Sprouts, Golden Gate Park, Ocean Beach and St. Ignatius Shelter Meals. Most of the roughly fifty School of Management volunteers spent the day on beach cleanup duty at Ocean Beach, with several volunteers planting trees for the day and heading for the St. Ignatius Shelter Meals kitchen, too.
At the Habitat for Humanity Build Day on March 15th, volunteers picked up hammers and paint brushes to the building of affordable housing for the community. The March Build Day was the second of its kind, the first having taken place as part of October Outreach last year with close to 100 volunteers from the School and Parish. The School's involvement in the Volunteer Build Day began with a Jesuit Foundation Grant application by Erin Grogan, interim Senior Director of Finance and Administration for the School of Management. "A lot of this comes down to personal decisions for me," said Erin Grogan. "Society grooms us to want the latest electronics and clothes, but just because you can doesn't mean you should. Service efforts are important to remind us that it's not about possessions, but more about morals, values and personal choices we make." Since the Jesuit Foundation Grant application, a strong joint volunteer effort of St. Ignatius parishioners and USF students has emerged and exemplifies our shared values of service to the community and faith-into-action. It was lauded by USF's President, Father Stephen A. Privett, as a terrific outreach effort. "It was a catalyst for cooperation, collaboration and unity between the University and the Parish," he said.
Both the Habitat for Humanity Build Days and the School's participation in April Action day were led by Erin Grogan. She has spearheaded many others of the School's charitable efforts, such as the Toys for Tots Drive. "My involvement in these service efforts reflects my basic belief that we need to teach the future leaders of the world to be socially responsible," says Erin. She feels that the School of Management carries a particular responsibility to teach social justice to its students. "This is the one school on campus that specializes in teaching people how to make money, essentially," said Erin. "Social justice needs to be important to business leaders. And charity is essentially just financial allocation; where do you put your resources? Business and social responsibility go hand in hand."
If you are interested in participating in the School's service efforts, please join us. Events are announced via email, social media and on the USF School of Management website.