School of Management MBAs Win Entrepreneur's Choice
Image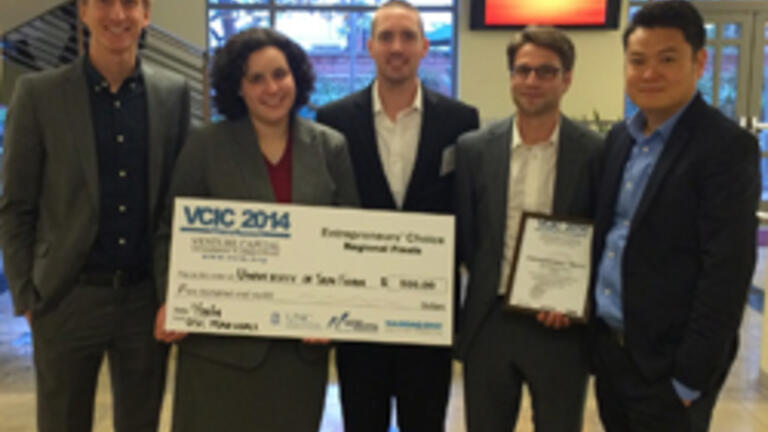 On February 28, 2014, first-year MBA students won the Entrepreneur's Choice award in the 17th annual Venture Capital Investment Competition® (VCIC®). Of the six schools participating in VCIC® that day, five chose to work with the same company and only USF was able to negotiate and close the deal, securing the distinction of Entrepreneur's Choice. USF's team comprised of members Brent Plumbley (Captain), Eric Richardson, Eddie Bin Tang, Milena Price, Jaclyn Anku, and Dylan Goelz.
Founded in 1998 during the height of the dotcom bubble, VCIC® was designed to provide MBAs with experiential learning around venture funding. The competition has since evolved into a marketplace for entrepreneurs seeking investors and a training ground for future venture capitalists.
On competition day, the USF team sat down for negotiations with the company that proved the most realistic business model and was backed by a strong management team. Each student team plays the role of a venture capital firm that must go through the entire VC investment process in an extremely condensed time period.
How it works:
Each team reads real business plans from entrepreneurs currently seeking VC funding
Watches entrepreneurs "road-show" pitches
Sits down one-on-one with each entrepreneur
Chooses a deal (one venture to invest in)
Negotiates a term sheet with that entrepreneur
Sits down one-on-one with VCs for feedback
Under the direction of Professor O'Regan and USF alumnus Goodarz Goodarzi, the USF team was formed based on performance in mock due-diligence sessions. Once selected, the students prepared for the competition with bi-monthly strategy sessions on team dynamics, finance, strategy, negotiations, and research tools. They consulted with industry professionals, venture capitalists, and professors, including David Epstein, CEO of a Swedish solar company, VC, and former USF finance professor, and Tom Klein, startup and IP lawyer in Palo Alto. The team further prepared with mock due-diligence and negotiation sessions in front of a practice judging panel, which consisted of two VC/entrepreneurs and an intellectual property lawyer.
USF's involvement in VCIC® first began under the direction of Professor Mark Cannice in 2005, and he has continued to foster MBA student participation.