Giving
Scholarships are unlocking the world for Bryce
International Business Major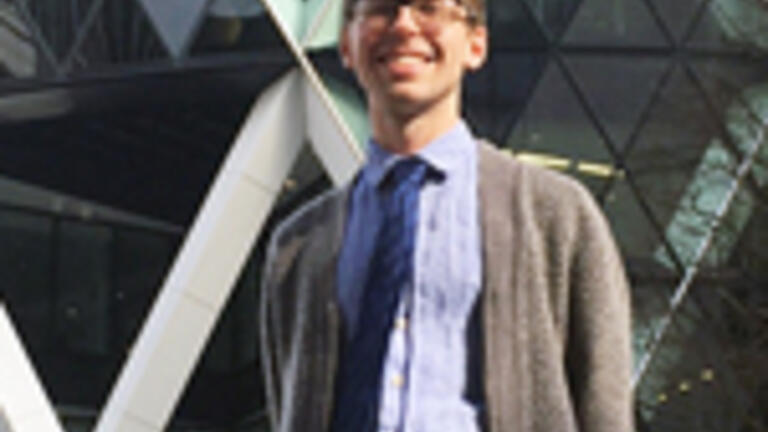 Junior Bryce Prenovost knows the energetic, international character of the University of San Francisco is something special — and he is committed to making the scholarships that helped bring him here count.
People who go here really see themselves as part of a global environment," Prenovost says. "They have really big ideas, and they're driven. I'm definitely not the same person I came to USF as. It's transformed me."
The person who first set foot on the Hilltop three years ago grew up in suburban Auburn, Washington. His parents — dad, a railroad conductor, and mom, a city worker for Seattle's Department of Transportation — didn't attend college. They worked hard and sacrificed to give Bryce opportunities, especially ones, such as a Jesuit high school education, that instill values. They still do.
But thanks to the generosity of USF donors, the family's load is a whole lot lighter. Scholarships, including one from the Pacific Northwest Alumni Regional Council, cover more than half of Bryce's education costs. This has given Bryce freedom from worry over finances and the space to pursue his education with vigor.
"It's a priceless thing, this gift," he says. "It's given me the opportunity to explore everything that USF has to offer."
As an international business major in the School of Management, Bryce has relied on skills learned in the classroom to land a continuous string of prestigious internships, including one at Merrill Lynch. After a winter stint at DHR International's San Francisco office, Bryce asked to stay on — in Shanghai. He flew to Beijing on one of USF's Arrupe Immersion trips in June 2014, and spent the rest of the summer practicing his Chinese language skills while interning for DHR in China. Right now, while taking classes for a USF-sponsored semester abroad in London, Bryce is making time to intern four days a week at Maurice J. Bushell & Co., a London accounting firm.
Inspiring, demanding USF professors supported Bryce at each step, helping him to recognize talents he didn't know he had. He has discovered his surprising passion for accounting and Excel and developed confidence that he possesses the special blend of intuition and common sense necessary to become a business leader.
He has also learned from other students, listening to their dreams and challenges in meetings of the Entrepreneurship Club and Vietnamese Student Association. Bryce is not Vietnamese himself, but found the group very welcoming after a friend invited him to come along.
"I feel a lot more aware of different cultures," Bryce says. "I have so much more understanding now."
There's still plenty of time before Bryce graduates and takes those lessons into the workforce.  But he's sure of a few things. He wants to succeed in business in a way that honors the gifts of others — his parents and USF donors. A corporation that makes sustainability a part of its mission is a likely destination — the dream job might look something like CFO of Whole Foods. Bryce's mother, "a total granola girl," raised him to appreciate wholesome food and the natural beauty of the Pacific Northwest.
"I want to give back to the world, one way or another," Bryce says. "I think everyone should have these opportunities."
Your gifts are changing the world, one student at a time.