Global Perspective
Opportunities and Challenges: China's Financial Reform Conference
Image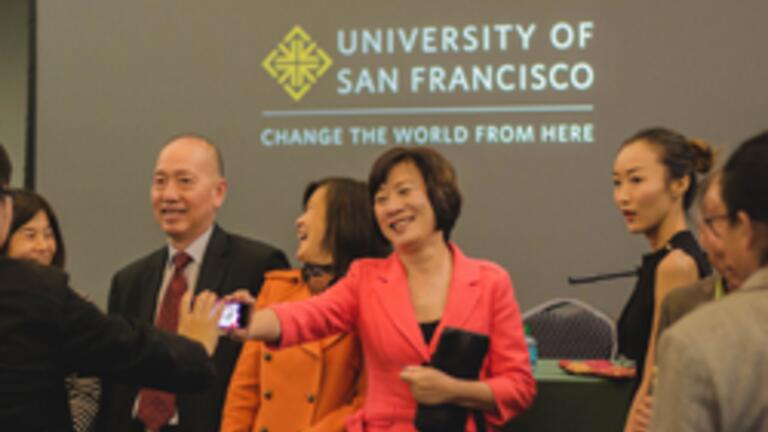 USF's China Business Studies Initiative, a platform for collaboration with the influential China business community and knowledge creation focused on the globalization of China business, hosted the first academic and business conference on China's financial reform. On Saturday, November 2, top industry leaders, policy makers, faculty and students gathered to assess the new wave of financial policy reconstruction in China. The interactive conference aimed to address opportunities and challenges for China's capital markets, cross-border investments, implications of RMB globalization to the development of capital market, and their consequences for the future economy.
The conference showcased the evident relationship between Bay Area and Chinese economies, and confirmed USF's position as a hub between the business communities of the Bay Area and China. Dr. Michael Webber, Dean of the School of Management, acknowledged the bridging of communities. He said, "USF is the center for China's business studies. We are concerned with connecting to the Bay Area but we are also concerned with fostering a global education by using SF as the gateway to Asia and the rest of the world." Anthony Alfidi, MBA Finance '02, stated, "Events like this give me hope for current and future USF students. I will continue to attend events like this high-quality China conference."
Featuring such expert panelists as Chris Cooper, Americas Leader of Deloitte Chinese Services Group (CSG), Del Christensen, Chief of Global Business Development of the Bay Area Council, Dr. Tracey Grose, VP of the Bay Area Council Economic Institute, and Dr. Sibo Feng, Managing Director of China International Capital Corporation, the focus of the day was on immediate reform of China's financial system. With China's economy thriving over the last two decades, panelists expressed the need to sustain strong economic growth, support increasing domestic demand, and to prevent future financial risk.
Image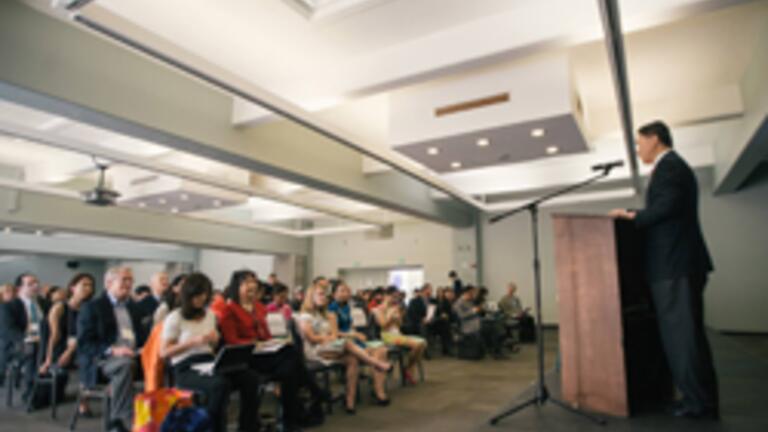 Chris Cooper began his discussion by directly addressing USF's students who were in the audience. "I'm so pleased to see so many students here. This demonstrates the University's devotion to young people and their relations to China." Cooper discussed the need for China to shift from an infrastructure-based economy to a services-based economy and from an export-based economy to a consumption-based economy. He insisted that the aspects he highlighted were not new insights and the question that should be at the forefront of our minds is, "how do we get it done?" Directing his attention back to USF students, Cooper added, "The good news is when any economy or sector of the economy is going through stress and reform it means that there are opportunities for many different players. There are opportunities for us here in the United States and there are opportunities for many of you launching your career in a bicultural way. I see China and its opportunities through all of you."
Del Christensen weighed in, "China Business Review points out overseas investment sees a necessary changing business climate to pursue higher levels of values in supply chain management," The panelists discussed that state-owned enterprises (SOEs) are an element of China's soft power, through which they can invest outside its borders in support of China's foreign policy objectives. Non-Chinese multinationals have traditionally established regional headquarters in Hong Kong and Singapore. With the recent opening of a free-trade zone in Shanghai, however, the panel revealed that China expects to attract regional headquarters of foreign firms away from Hong Kong and Singapore.
"The recent development of the offshore RMB market has played a key role in the RMB internationalization. With an increasing pool of RMB liquidity offshore that includes nearly 1 trillion deposits, and over 2 trillion of sovereign swap lines between PBOC and various central banks globally, the market is now an important one for international players who want to participate in the currency for investment, currency hedging, and funding purposes," said Dr. Sibo Feng, Managing Director of China International Capital Corporation. Dr. Feng also highlighted the fact that the market will grow even more significantly as China's capital controls open up further over time, given the role that China plays in global trade and the wealth effect generated from the country's rapid development. According to Feng and the other panelists, however, San Francisco is quickly becoming an offshore hub for RMB investment.
With members of the conference looking towards China's financial future, Dr. Webber commented on the University's own forthcoming reform, "Over time we hope to develop a center for Chinese Business Studies that will focus on more practical issues like financial and currency reform. But conferences like these, hosting business leaders like you, give our students the skills that will sustain them throughout their careers."