Faculty & Staff Achievements
Mayor Proclaims Anthony Ribera Day
Image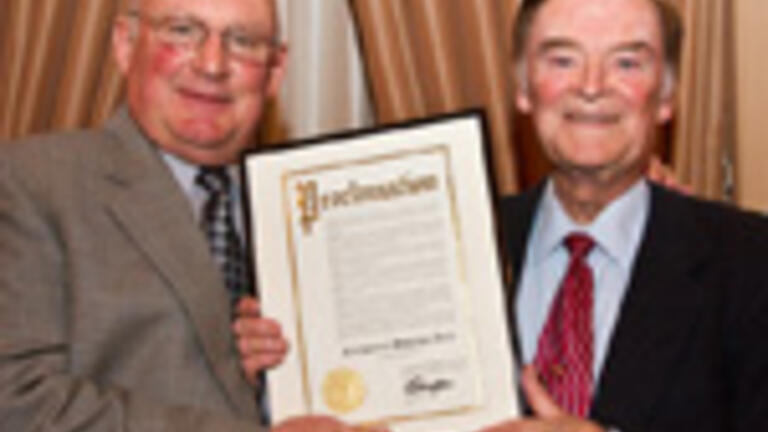 At the Law Enforcement Leadership Symposium held on January 7th and 8th, Professor Anthony Ribera, Director of the School of Management's International Institute of Criminal Justice Leadership, was presented with a proclamation. Mayor Ed Lee declared January 7th to be Anthony Ribera Day, in honor of Dr. Ribera's long history of community involvement, his academic career in terms of instruction, his annual Law Enforcement Leadership Symposium, and his direction of USF's International Institute of Criminal Justice Leadership, which is dedicated to ethical leadership training for criminal justice managers.
Professor Ribera says the honor was unexpected and flattering. Former Mayor Frank Jordan, standing in for Mayor Lee, announced the proclamation during the Symposium's evening banquet. The presentation had special significance for Dr. Ribera because of his long-standing relationship with former mayor Jordan, who appointed Ribera as Chief of Police in 1992.
For seventeen years, Professor Ribera's annual Law Enforcement Leadership Symposium has drawn together law enforcement leaders from across the nation. "This year's topic of narcotics is a highly contemporary issue that affects our national crime rate, our prison population, and fuels gangs and cartels in our society," says Ribera. He continues, "Our attendees were exposed to the magnitude of the problem, effective strategies used by other cities around the nation, and an honest discussion about the core issues law enforcement must grapple with in order to better combat narcotics-related crime."  With past themes such as "Unique Leadership Challenges: Major Events, Disasters, and Terrorism", the symposium annually unites leaders who are often isolated in their individual districts and brings them into conversation to learn from each other's best practices.
In response to the proclamation, Professor Ribera says, "I simply feel honored that the city thought me worthy of the proclamation. I enjoy serving the city and its people, including my students and colleagues. I have forged lasting friendships in San Francisco."
Congratulations, Dr. Ribera, for this much deserved honor.