San Francisco Advantage
Innovative Spirit of San Francisco Inspires USF Student to Start His Own Company
Eight years ago, Sebastian Cabrera moved to the United States from Bogota, Columbia to pursue a quality education, an opportunity his parents dreamed he and his brother would someday be able to accomplish. Cabrera not only received his undergraduate business degree, but also his Masters in Global Entrepreneurship Management (MGEM) from the University of San Francisco. With the tools acquired in the MGEM program, a new network of friends, and his innovative spirit, Cabrera developed the newfound confidence and foundation he needed to launch his own successful online eyeglasses business, OT Sunwear, shortly after graduation.
Image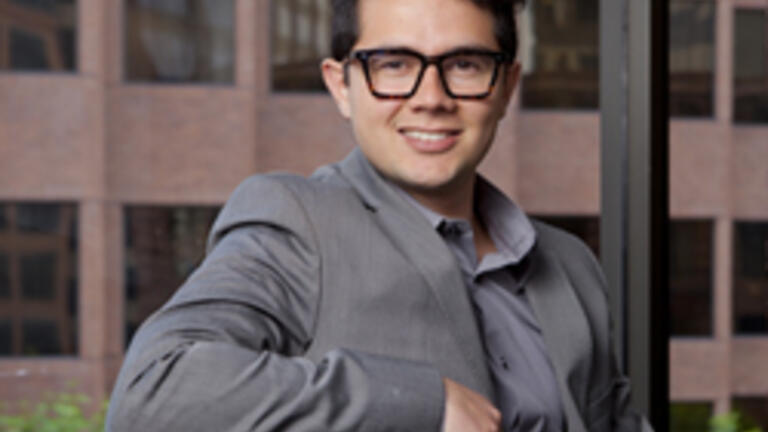 "It was the connections I made," said Cabrera, as he told the story of his business. After learning his grandmother broke $800 glasses, Cabrera helped her search online for an affordable replacement. It was during this search that his business idea started to form. He realized he could offer affordable and quality designer eyewear through an online platform and direct sales.
With the help of a contact from USF's partner school Fu Jen Catholic University in Taiwan, Cabrera was able to solidify the manufacturing logistics in China to make his idea into reality. "They don't just teach you academics, they teach you how to be an important part of the community that you are in." With the hashtag, #craftforgood, OT Sunwear engraves the customer's story onto the product, which is made from recycled wood and bamboo, promoting social entrepreneurship in the world.
His business has become a global platform, and Cabrera is excited to be making a positive impact on his community."If you want to make an impact from wherever you are and translate it to the world, MGEM is the program. If you want to have friends and have an amazing experience everywhere, this is the place. I think if you want to be relevant in today's world, you have to have international experience and there's no better place to do it but the University of San Francisco. The alumni network has been one of the biggest assets after graduation. It's nice to come back where people know your name."
Looking back at his experience, Cabrera said, "It's a roller coaster of emotions." He recounted some of the unique experiences he had in the program, from hearing notable speakers such as Charles Geschke, Founder and CEO of Adobe, to touring and consulting with entrepreneurial and social entrepreneurial ventures in Barcelona, Taipei, and all over the world. Cabrera learned about the business world from a global perspective. Cabrera added, "I am now a global citizen. I feel that I can go anywhere, talk to anybody, and be comfortable connecting with others. It's just a wonderful feeling."