Engaged Learning
Hospitality Industry Professionals Take Note, A New Wave of USF Students Are Ready to Share Their Talent
Image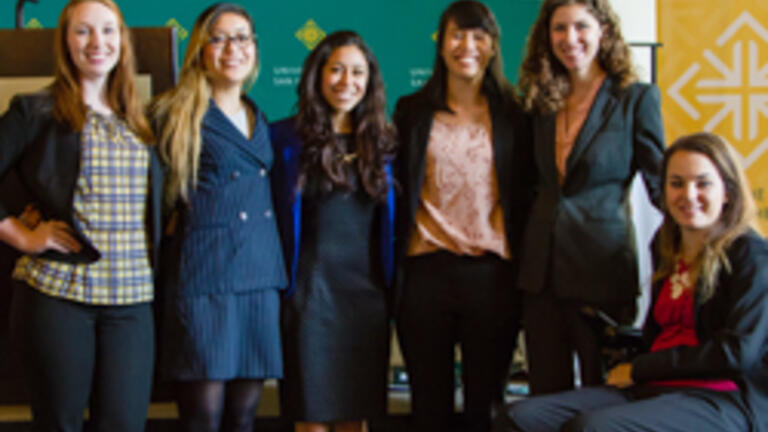 Networking at San Francisco's historic Fairmont Hotel. Freshly baked pastries for breakfast. A chance to win a three-night trip to Vegas. This is a day in the life of a University of San Francisco Hospitality Management student, but don't be fooled by the amenities.
The USF Department of Hospitality Management held its second annual Student Industry Exchange event (SIXe) this spring at the Fairmont Hotel San Francisco, giving companies a chance to pitch themselves to the most prepared students. All students majoring in Hospitality Management at the USF School of Management met for a morning business and networking session to focus on professional career development and industry connections with a select group of invited hospitality companies. The event was framed around pitch sessions that are designed specifically for companies who want to attract the right talent, informing hospitality management students about who they are. The Company Elevator Pitch (CEP) program allowed company representatives to participate as table hosts. Each CEP Table Host gave 10-minute elevator pitches to small groups of USF Hospitality Management freshmen, sophomores, juniors and seniors. The format was a somewhat modified "speed dating" rotation where representatives presented their company and networked with the students. Representatives from Sofitel Luxury Hotels, Intercontinental Hotels of SF, Fairmont Hotels, Hotel Nikko SF, Mosaic Global Transportation, Bay Club, Kimpton, SF Travel, and SF Giants pitched their businesses to industry prepared students.
"We have a long history with a lot of these folks," said Kathy "K.O." Odsather, Associate Director of the USF Department of Hospitality Management. "You can pay a lot less money to attend a school who will prepare their students for entry level positions. This is not what this program is about. This program's focus is about entrepreneurialism. The goal of the CEP program is to expose students to companies who have demonstrated a history of excellence."
Image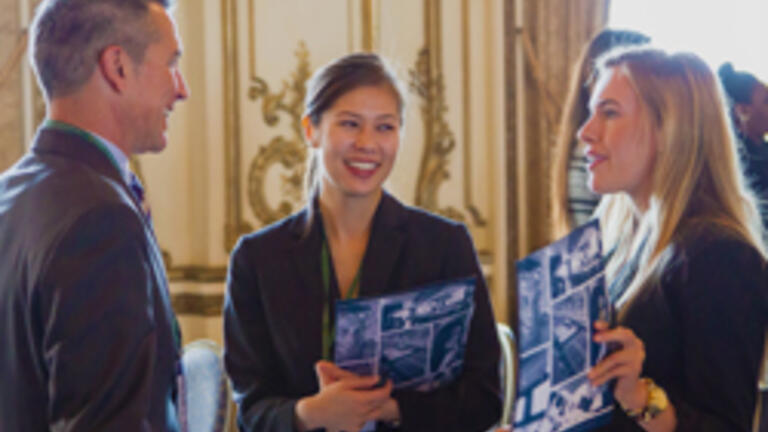 The students are not only exposed to high caliber hospitality industry companies, but they have exceeded the workload asked of them, proving that they themselves are at a higher caliber than their competition. The Hospitality Management intensive program requires students to graduate with a minimum of 800 hours of work experience in either internships or jobs; 400 in food services and 400 in hotel service. "That professional work experience requirement ensures that our students are prepared for a successful management career," Kathy "K.O." Odsather, Associate Director of the USF Department of Hospitality Management. said. "Our students don't just meet the minimum 800 hour requirement. Some will graduate in May with over 2,000 hours and that's on top of all of their other studies."
Easton Mayordomo is a shining example. "Being in this program has allowed me to secure my past and current internships. I was a semester ahead so I was able to take a leave of absence last fall. l worked at Walt Disney World in Florida for their food and services department. I've held an internship with the Giants working in their luxury suites and this semester I will work for The Palace Hotel here in San Francisco. Many of our professors, such as K.O., are so well connected. It seems like they know everyone in this city and are so helpful in wanting to give us the most out of our college experience." Mayordomo has a few more years left of his college career, he's only a sophomore.
Keynote speaker, Greg DeRosa, General Manager and Chief Operating Officer at The Olympic Club spoke about his work philosophy, emphasizing that there are no do-overs in life, and encouraged students to have a dream, live it every day, know yourself, and never stray. Olivia Bradley, USF freshman, said, "I've gone to job fairs before where there is not much insight into someone's career. Listening to what Greg had to say really solidified why I'm here. I love this program."
After each CEP session, a gong sounded, signaling students to move on to the next session. While students made their way to listen to different table hosts, they engaged with their fellow classmates and discussed which companies sparked their interest. The SIXe program enabled students to find the points where their talent and experience intersect with the needs of industry representatives.
"This set up is much different from symposiums, said Rachel Elido, senior. "It's so much more enjoyable. Having representatives from different areas of hospitality right here in front of you makes it easily accessible to network."
"Having people here from different industries, listening to how they got there, and the steps that needed to be taken, gives me a real feel for the industry," Nicole Mang, junior, said. "It's great hearing their past experiences and how they got to where they are today."
Image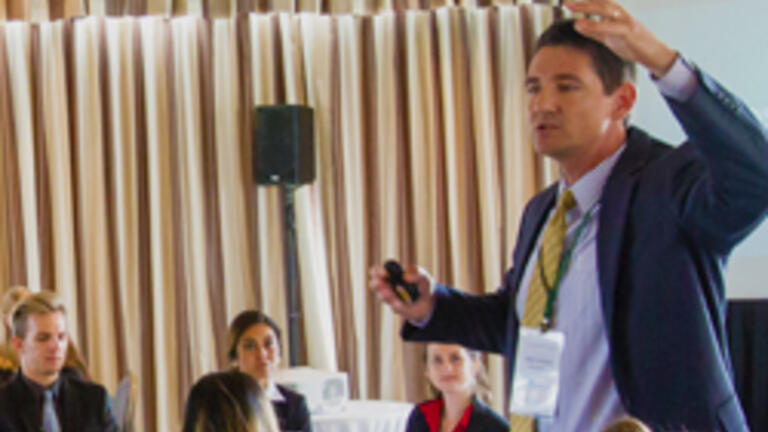 Throughout the day, students participated in a competition for the grand prize of a prepaid all-inclusive three-night trip to Las Vegas. To have a chance at winning, they earned points in the EventMobi Gaming system for actions like early registration for the SIXe event. After the CEP sessions, students were given time to network with the representatives from the companies that interested them. Table hosts awarded students EventMobi points for their networking skills and professionalism.
The day was concluded by an award ceremony. Felicia Doubek, senior and undergraduate valedictorian, received the well-earned trip to Vegas. Gifts were also awarded to the winners in each class who participated in the resume contest, for superbly articulating and organizing their experiences in CV format.
Olivia Bradley, freshman, winner of the freshman resume contest, said, "I'm so impressed USF has this event for us. It's like they're looking out for their students. I feel like I'm part of a family. She laughed. "A very successful family."

Image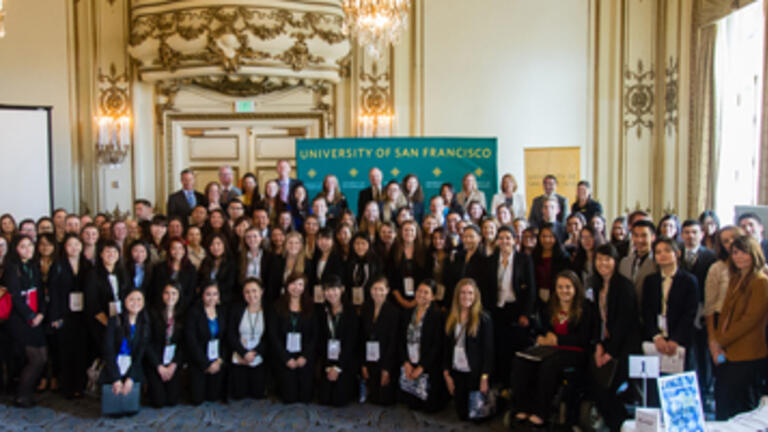 Know someone with a powerful USF story? Let us know! usfnews@usfca.edu | Twitter @usfcanews