San Francisco Advantage
Executive Education Immersion Programs Partner Spotlight: Apoyo Financiero
Image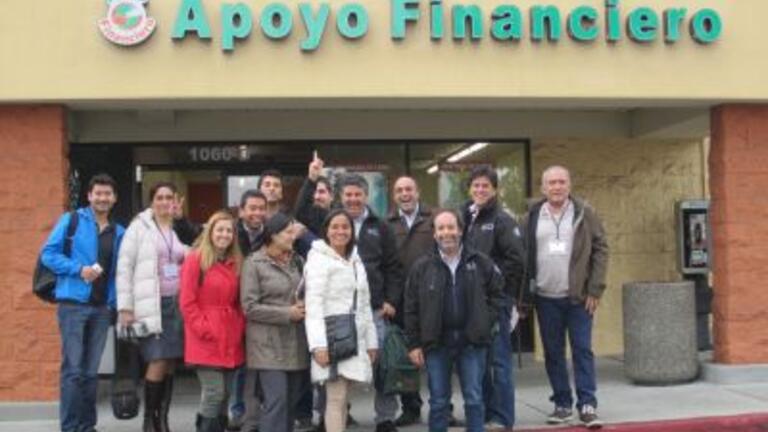 After collaborating with USF's Working with Entrepreneurs Program, microfinance company Apoyo Financiero (AFI) decided to "give back" to our participants by sharing their innovative business strategies. Over the past few years, participants from Colombia, Mexico, Chile, and Peru have visited their locations around the Bay Area to learn from their incredible success story.
"Apoyo Financiero partnered with USF prior to launching its operation in 2007," said co-founder Rick Parras. "Over the years we have forged a great alliance. Several faculty members and MBA students were instrumental in the preparation of our Venture Capital Presentation; both USF faculty members and MBA students helped to develop the content of the presentation, and served as audience members for the live pitch presentation."
Apoyo Financiero, headquartered in Walnut Creek, CA, was co-founded by Mauricio Galan and Rick Parras; previous business partners with more than 50 years of combined experience in the microfinance industry. AFI has provided almost 18,000 loans totaling $65M dollars to date. Their loan repayment rate over the last 6.5 years is greater than 97%, unrivaled by traditional lending sources.
In line with USF's mission to "Change the World From Here," Apoyo Financiero's initiative is to gain financial inclusion for the unbanked Hispanic population through access to credit.
"We aim to enable hard working, responsible individuals to gain access to capital while creating a credit history," said Parras. "A high percentage of our customers use the loan proceeds for small business opportunities; primarily in their country of origin, enabling them to improve their family's standard of living. AFI's experience as a host business for USF's Executive Education Immersion program has been gratifying. It is our way of giving back to the USF community for their support, friendship, and guidance over the years."
AFI grew from five to twelve branches in 2013; and the expansion plan calls for 8 new branches in 2014. In February of 2011 AFI merged with Financiera Independencia (FISA), a leading microfinance company and a subsidiary of FINDEP, a publicly traded company in Mexico.
"I encourage any new business venture to reach out to USF and leverage the resources and knowledge USF has assembled through their consulting services and business programs."