Campus Life
Dr. Charles Geschke, Co-Founder of Adobe, On Doing Good Business and Other Advice
Image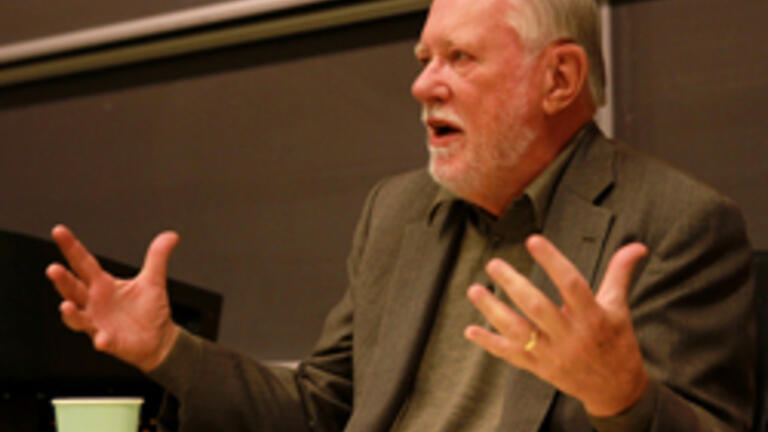 The University of San Francisco's MBA students got the rare chance to seek career advice from one of the biggest names in business during a small and intimate Q&A session with Charles Geschke. Dr. Charles Geschke co-founded Adobe in 1982 along with Dr. John Warnock. Inventors of the PDF, amongst other software applications, they forever transformed how users create and consume content across every screen. "This man has changed the way we do business around the world," said USF Professor John O'Meara when introducing Dr. Geschke.
Dr. Geschke spoke to the students about doing good, and doing good business, and how to let the two overlap. He advised the future entrepreneurs in the audience not to start a business immediately after graduation, even if they already had a business idea and plan in place. "Starting a business straight after grad school is a little like knowing how to dribble and expecting to end up in the NBA," he said. Instead, he advised them to go work for a medium to large-sized company first. "Working for a sizeable company will teach you so much," he said, "both what to do, and what not to do. It'll make you much clearer on how you want to run things when you're in charge. Then once you do start your business, hire people who are smarter than you are, and hire as many women as you can. Women are the world's most underused asset."
A frequent visitor at USF, Dr. Geschke has spoken to previous MBA students about taking risks and not being afraid to fail, and he has spoken to the University's ROTC Senior Cadets about the meaning of leadership. During the Q&A event, the students asked Dr. Geschke about his early entrepreneurial days, his opinion on developing trends in the tech industry, and what business advice he might give a group of MBA students.
He spoke to the students about doing good internal business by cultivating a culture of loyalty within a company, and keeping employees happy. "You have to create a company that is exciting, rewarding, interesting and supportive," he said, "and people will keep coming back." In the early eighties, Adobe went public with less than $50 million in stock. Geschke and his business partner John Warnock purposefully aimed for a low-priced stock. "That was some really solid advice from one of our lead investors," Dr. Geschke said. "We knew that if we kept the price down, there was room for our stock to grow. And we wanted to keep our first investors feeling good about investing in our company. The stock started rising, and it's still rising, so they feel pretty good."
Dr. Geschke assured the MBA students that those of them without backgrounds in tech could still support technological innovation. "Anyone can have a tremendous impact on the tech sector and on innovation in the world," he said. "I would encourage you not to go to Wall Street. There is no innovation there, just a lot of negative and selfish ideas. Instead, go and find companies that innovate in ways that you think are important, and work for them, with them, support them."
"I really liked what Dr. Geschke said about MBA graduates without tech backgrounds or degrees still being able to contribute to a growing tech sector, still being able to support tech innovation," said Brian Kobashigawa, a JD/MBA student at the University of San Francisco. "That's a potential career move for me. This was very inspirational."
USF Professor John O'Meara said he and Dr. Geschke are both big supporters of the idea of not just benefiting yourself and your own company. "Benefit other people," said Professor O'Meara. "Strive to have a positive impact on the world, not just on yourself."
Dr. Geschke agreed with him, "Companies are a part of society," he said. "Strive for community involvement." Adobe is currently working on a community project where employees visit public schools and institutions, and teach the teachers to improve their students' learning capacities with Adobe's technology. "That's good business," he said, "because those students might one day become Adobe customers themselves, but it's also good leadership. Good leadership is not just investing in products, it's investing in setting an example and passing knowledge on."
Many of the students expressed how useful they found Dr. Geschke's counsel during the Q&A session. "I particularly enjoyed all the career advice Dr. Geschke offered us," said Milena Price, MBA student, "specifically on what to do immediately following school. It was nice to hear from someone who has truly seen all the steps of all the ladders in his industry, and who has achieved so much."
"How interesting to hear an insider's historical perspective on a company we all know so well," said Florian Burgos, USF MBA student. "He had so many great industry insights and solid career advice for us, all of it very wise and obviously coming from experience. This was very helpful and inspiring."
Know someone with a powerful USF story? Let us know! usfnews@usfca.edu | Twitter @usfcanews