Faculty & Staff Achievements
Dean Announces New Organization Structure 
Interim Dean, Mike Webber has spent an energetic first few months in his new position.  His work has included introducing a new organization structure to the School of Management.
Image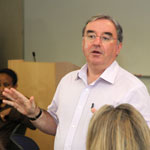 As he wrote in a message to faculty and staff:
I want to make you aware of some important organizational changes that I have recently made in the School of Management. There are four key priorities that I am working on as Interim Dean — re-accreditation with AACSB, improving the quality of our programs, preparing the School for a move to a new location and improving faculty and staff morale.  I believe that the organizational and operational changes outlined below will help the School reach its objectives in each of these areas. 
First, I have made some changes in the SOM Management Team, effective immediately. Please note that all job titles are now equivalent across academic and staff functions according to HR policies and procedures. The new management team consists of the following; 
Carlos Barradello, Senior Director for Corporate and International Executive Programs.
Jennifer Contreras, Senior Director for Marketing, Communication, External and Alumni Relations. 
Carl Gayden, Senior Director for Finance and Administration.
Catherine Horiuchi, Associate Dean for Graduate Management Programs (with responsibility for regional campus programs and online learning). 
Tom Grossman, Associate Dean for Faculty and Research. 
Dayle Smith, Associate Dean for Undergraduate Studies.
John Veitch, Associate Dean for MBA and Graduate Business Programs. 
Second, the School of Management has a new organizational structure that is largely focused on improving the quality of our academic programs and the student experience. While some specific roles and responsibilities have yet to be finalized and some job descriptions will have to be rewritten, I believe the new structure will make us more efficient and student centered and will also prepare us for any geographical transitions that may be in our future. The new organizational chart is attached. 
Please join me in thanking the SOM Management Team for their willingness to serve the School in their various roles and, most importantly, to the entire School staff for their continued cooperation and  commitment in a period of transition. I really am most grateful and appreciative. 
Best wishes 
Mike. 
-- 
Michael J. Webber 
Interim Dean