Faculty & Staff Achievements
David DeWalt, CEO of cyber security firm FireEye, speaks at USF School of Management graduation ceremony
David DeWalt, CEO of FireEye©, Inc., the leader in stopping advanced cyber attacks, addressed University of San Francisco School of Management graduates Friday, Dec. 14, during the 6:30 p.m. commencement ceremony at St. Ignatius Catholic Church on the USF campus-located at 650 Parker Avenue (at Fulton Street) in San Francisco. 
Image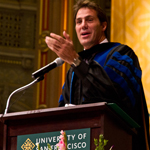 In attendance were more than 300 students receiving undergraduate and graduate degrees from the School of Management, including bachelor degrees of Public Administration, Science, and Business Administration, and master's degrees in Business Administration, Nonprofit Administration, Public Administration, and Science. 

DeWalt, a well-known authority in cyber security, has more than 25 years experience building prominent technology companies focused on information security and threat protection. He was named CEO of FireEye in November after serving as the company's board chairman since June 2012. Prior to joining FireEye, DeWalt served as president, chief executive officer, and director of McAfee, Inc. He has held executive positions in industry-leading companies, including Intel, Oracle, and Quest Software. He is also a frequent speaker at the World Economic Forum in Davos, Switzerland. In May 2011, DeWalt was appointed by President Barack Obama to serve on the National Security Technology Advisory Council.