Faculty & Staff Achievements
China – California Trade: Opportunities and Challenges
Over 400 people attended the "China – California Trade Conference" on Saturday, Oct 27, 2012 at the University of San Francisco.
Image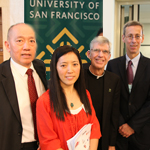 The objective of this conference was to explore current issues on trade developments between China and California and potential actions that could help promote Chinese FDI as a positive source of foreign investment in California.
China has been one of the world's fastest growing economies over the past several years, and its efforts to reform and modernize have helped transform China into a large trading economy. California exports to Mainland China increased to $14.2 billion in 2011, making it the state's third largest trading partner. From Apple and Oracle to Gallo and Blue Diamond Almonds, these are just a few of California companies that operate in China and are successful because of it. While some of these companies benefit from manufacturing in China for export, they also benefit enormously from the rapid growth of China's consumer market. The Chinese middle class is already larger than the entire population of the United States.
Chinese direct investment into the United States is more than doubling annually and has enormous potential to create economic growth. Chinese firms in the United States have already created more than 10,000 American jobs. But despite an overall effective U.S. screening policy for inward investment, political interference threatens to divert legitimate and potentially beneficial investment deals.
Mr. Craig Allen. Deputy Assistant Secretary for Asia U.S. Department of Commerce, and Mr. Del Christensen, Chief of Global Business Development for the Bay Area Council delivered the program's keynote speeches on October 27, 2012. While Mr. Allen shared thoughts on the overall trends of US China trade from the context of the Federal Government, Mr. Christensen talked about the importance of China trade and the growth of Chinese FDI to the state of California as well as the re-opening of California Trade and Investment Offices in China.
Following the keynote addresses, a notable panel of industry leaders and experts examined the unique challenges and obstacles facing trade developments between China and California. Topics for discussions include challenges of China Investment in California, opportunities for doing business in China, implications of China's transition for multinational corporations, future drivers of trade improvement for China and the US, as well as the key challenges the two countries will face. Panelists include academics from the USF School of Management, business executives from Bank of Communications, East West Bank, Huawei America, K&L Gates LLP, Microsoft Health Services, China; Silicon Valley Bank; Terranova Capital; and Ventana Global Investments, China as well as public leaders from ChinaSF and California State Senate.
"We are most honored to have such a distinguished group of speakers and panelists bringing a wealth of real experience and insight to this conference," said Stanley Kwong, managing director and term assistant professor of the Greater China Programs at the USF School of Management. "Because China has experienced one of the greatest economic booms in history, it provides a terrific case study to explore current issues in trade and commerce between China and California. The aim of the conference is not only to understand trade developments, but also to encourage a mutual learning process for the community at large. Through panel discussions and the exchange of knowledge, we hope to better understand the significance of China's steady economic development and how trade and investments fit into the bigger global economic picture."