Equipped to Lead and Succeed
Business Students Gain Nonprofit Experience through Public Service Internship Program
Ten business students have been immersed in various nonprofit internships for the past few months as part of the Public Service Internship Program (PSIP).
Image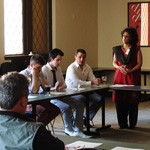 "This program is a great example of USF's values of doing justice and academic rigor," said Tom Grossman, the School of Management's Associate Dean, in his opening words at the PSIP Reception on Monday, April 22nd. "Not to mention," he said, "these accomplishments are great to mention on your resume and in job interviews." The students honed their presentation skills by showcasing what they learned from their internships at the PSIP reception.
The PSIP enables business students to work with partners in community-based nonprofits and public sector agencies, rather than a paid internship with a private sector company. Students are given stipends for their work and thus an opportunity to live the USF mission of giving back to the community. Nonprofit and public sector agencies can often only afford to offer unpaid internships; therefore business students often overlook these opportunities.
Laura Nava and Nikki Abueg, two sophomore accounting majors, worked for the Mission Economic Development Agency. After receiving training and certification, they filed a whopping 3,812 tax returns for low-income families. Together they were responsible for a total tax refund of $5,250,962 to those families. "This has been a life-changing experience," said Laura. "I learned to build relationships with customers, answer difficult questions and really provide people with a positive experience. I did things I never thought I'd be capable of doing." Nikki said, "Single mothers looked to us for help with their taxes, and we were able to provide it. It taught me to be a leader. We really put USF's 'change the world from here' attitude into practice."
The program was designed to stimulate business students' interest in public service, enabling them to more completely experience USF's mission and values, and to understand how business interests are served when business and social justice align. The PSIP is a "great and important program," said Professor Monika Hudson, the PSIP Director. "It changes people's lives, both the students and the people they work with during the internships."
Alex Michel was a social media intern at the African Women's Development Fund (AWDF) and worked on communications about the maternal infant mortality crisis. "I helped bring a useful and knowledgeable voice to where the conversation was already happening," he said. "It really applied to my major and my excitement about marketing."
"Alex was a great help," said Dr. Jackie Copeland-Carson, of the AWDF. "We're trying to make the next generation aware of a serious health crisis, and Alex helped us do this. Together, we're making sure not to use social media as a standalone project but as part of a larger campaign. Together, we're selling awareness and self-empowerment."
The PSIP was founded in 2008 by Professors Dayle Smith and Julie Reed and is now directed by Assistant Professor Monika Hudson. This semester's interns worked at a wide variety of non-profit and public sector organizations, including the African American Arts & Culture Complex, the Chinese Newcomers Service Center, the Network for Teaching Entrepreneurship and the St. Cyprian's Church. The interns' individual journeys are beautifully described and photographed on their blogs, which can be found here at http://psipatusf.wordpress.com.
The Public Service Internship Program is open to all undergraduate business and management students, both traditional and non-traditional. If you're interested in an internship, please fill out an Application Form.