Campus Life
California Attorney General Xavier Becerra Addresses Class of 2017 at Commencement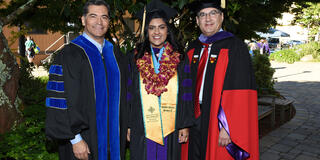 The Class of 2017 celebrated graduation in St. Ignatius Church May 20 surrounded by hundreds of family and friends. Xavier Becerra, California's attorney general, gave the commencement address, and Shelly Kaur Saini '17 was selected by her classmates to speak.
135 students received JD degrees, alongside 11 JD/MBA, 8 LLM in Taxation, 9 LLM in International Transactions and Comparative Law, and 9 LLM in Intellectual Property and Technology Law degree recipients, in addition to USF's first Master of Legal Studies in Taxation degree recipient.
"We have trained you to think like a lawyer, but not to forget the people, the values, the experiences, and the motivation that brought you to law school in the first place. Our profession and our society need you now more than ever," said Dean John Trasviña. "As you commence your careers, you are joining the thousands of attorneys who are part of the USF alumni network — they will mentor you and hire you, as you'll pay it forward to the next set of law students. Know that USF stands before you and behind you, wherever you may be headed."
Becerra told the graduates they are joining the law at a perfect time, when the nation needs experts and leaders who have studied the constitution. "You don't have to go down in history to change the world," he said. "Not everyone gets to earn a living changing the world, but you will."
"If you really want to change the world," he said, "Then do what my friend, mentor, and one of our civil rights icons, Congressman John Lewis, said to me, 'Get in the way, get in trouble.' If you open doors, if you do more than just practice, if you remember where you came from, and if you're willing to get in the way, you're going to change the world."
Saini told her peers, "As a class, we have all encountered self-doubt, an immense amount of stress, restless nights, and gone through way too many highlighters. This has all led us to today where we are advocates, we are becoming lawyers."
Whether graduates practiced and developed their skills through externships, clinics, or other activities, "We have been given the tools to be courageous, confident, empathetic, and persuasive," she said. "You have and will always have the skills of a lawyer."
During the ceremony, the Academic Excellence Award was presented to Anthony Risucci '17 for making an extraordinary contribution to the intellectual life of the law school. Monica Valencia '17 received the Pursuit of Justice Award, presented to the graduating student who best exemplifies the law school's commitment to providing service to others.
View more photos on Flickr.