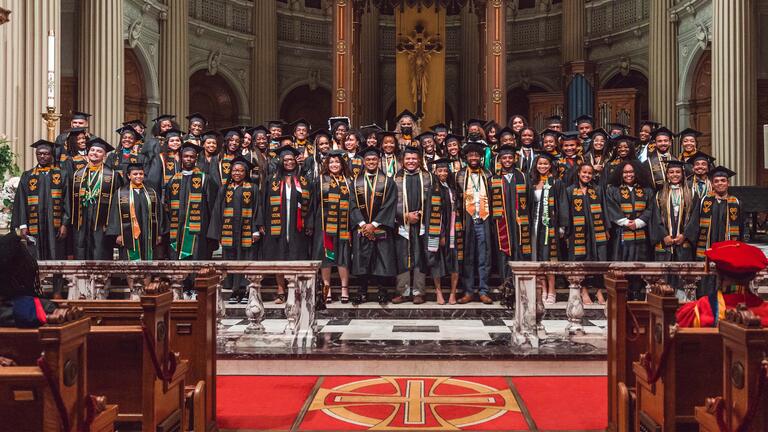 BASE BLACK SCHOLARS PROGRAM
Scholars Experience
The Black Scholars Program is a four year cohort model. Scholars progress through the program as a single group (or cohort) of peers who enter USF together as first-year students and graduate four years later.
Year 1
The first year of the program is designed to introduce new scholars to USF and the Bay Area community. The students will be members of the Marshall-Riley Living-Learning Community and participate in all programming, including the required African American Studies coursework. In addition, Scholars will participate in monthly cohort-strengthening activities, such as communal dinners with an invited Bay Area African American community member and extracurricular activities and events.
Year 2
The second year of the program is designed to strengthen the scholars' understanding of social justice issues and their relationships with Bay Area community members. At the start of the first semester, the students will be matched with mentors who will give them career or personal guidance. Over the course of their second or third year, students will also be required to take at least one class in the field of African American Studies that also serves as a university core requirement, such as African American history, sociology, literature, philosophy, or politics. Lastly, students will continue to meet for communal dinners once per semester.
View African American Studies Courses
Year 3
The third year of the program is designed to strengthen the scholars' academic training and experience in their chosen career-path. Students will have an opportunity to engage with a faculty member as a Research Assistant in their major or guidance in securing an internship in their chosen field. If a student did not take a course in African American studies during their second year, they will be required to take this course during their third year.
Year 4
The fourth year of the program is designed to allow students to implement their education and training. Each scholar is required to take a capstone course. Lastly, they will be designated as peer mentors to incoming first-year scholars.