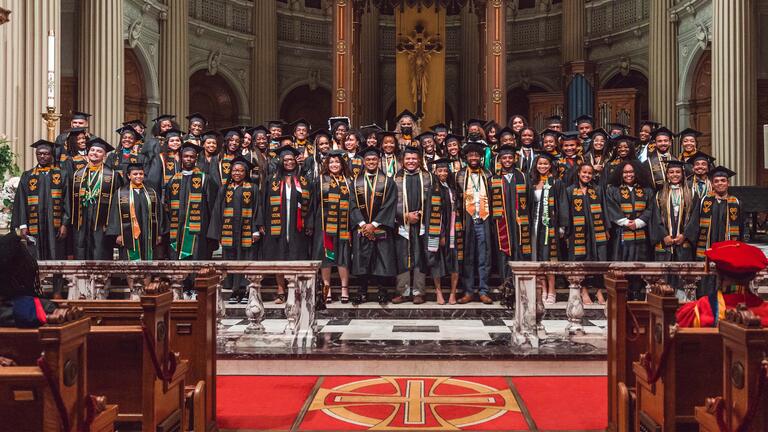 BASE BLACK SCHOLARS PROGRAM
Frequently Asked Questions
The Black Scholars Program (BSP) is a rigorous academic program for high-achieving black students who are committed to working with underserved communities through their chosen career paths. Over their four years at USF, Black Scholars will thrive within a close community of faculty, mentors, and fellow scholars who will help them develop their capacity for leadership and academic excellence.

Black Scholars receive a renewable four-year, full-tuition scholarship. They live together in USF's Marshall-Riley Living-Learning Community their first year, take interdisciplinary African American Studies and service-learning courses, network with and receive mentoring from USF alumni and black community leaders in the Bay Area, pursue internships and research assistantships, complete an interdisciplinary honors capstone course, and graduate with honors.

Black Scholars must have a minimum 3.0 cumulative GPA to maintain their scholarship.

Your application will not be penalized if you applied test optional. It will be viewed just the same as students who chose to include test scores.

Be ready to talk about yourself, your accomplishments, and the goals that you have set for yourself. The selection committee uses the interview as an opportunity to get to know who you are and why you believe the Black Scholars Program is a good fit for you. Make sure that you have read about the program on our website so that you are familiar with our mission. Like all interviews, you can think of this as a relaxed conversation where you have the opportunity to put your best foot forward and ask questions about the program.

Final decisions will be made within one week of the completion of the interview process for all finalists.

Yes, in their first year on campus, all Black Scholars join the Marshall-Riley Living-Learning Community. LLC residents take an African American Studies course together in their first year and participate in required programming. Black Scholars also receive priority consideration for housing for the next three years of their undergraduate education.