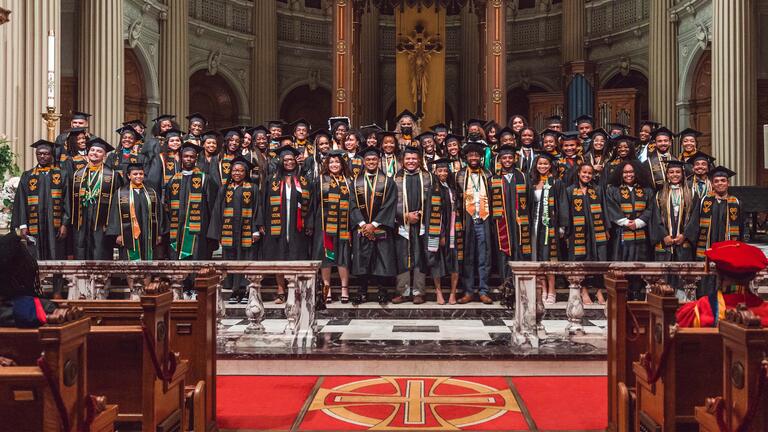 BLACK ACHIEVEMENT SUCCESS AND ENGAGEMENT
About BASE
In March 2016 the African American Scholars Project (AASP) Strategy Group was formed, due in part to demands made by the Black Student Union, and in part to the need to streamline and strengthen the existing efforts to dismantle barriers to access, achievement and inclusion for black students at USF.
Goals
Build a more inclusive, equitable and diverse University by increasing the recruitment, retention and graduation rates of black students.
Create an institutional climate in which black students feel valued, included, supported and empowered to reach their full academic and human potential.
Strengthen the engagement of black students in the University and in the surrounding Bay Area community.
Create pathways for black students to move successfully through their University careers and into rich and rewarding professional careers.
History
Over the course of the 2016-2017 academic year, the twenty-member AASP Strategy Group investigated the obstacles to success for black students, as well as the most effective ways for the University to build a more equitable and inclusive campus environment and increase their engagement in and achievement at the University.
Based on the research findings, the AASP Strategy Group recommended the creation of a three-pronged Black Achievement Success and Engagement (BASE) Program. BASE is a dynamic, comprehensive initiative that seeks to build on the USF's commitment to inclusive excellence and diversity by creating an academically challenging, personally supportive, and empowering educational experience for black-identified students. By offering high-impact, academic and extracurricular programs for undergraduate and graduate students that center on the unique and yet varied experiences of students of African descent, the BASE Program will provide black students with a critical sense of belonging, opportunities for engagement in all aspects of university life and in the broader Bay Area community, and the resources, skills and support necessary to achieve academic excellence and pursue rich and rewarding careers after graduation. This will be accomplished through the creation and student participation of a Black Living Learning Community, Black Resource Center, and a Black Scholars Program.
Download the AAS Strategy Group Report
Founding Co-Leads
Preston Walton, Senior Associate Vice President, Development
Pamela Balls Organista, Associate Dean for Social Science, Colleges of Arts & Science and Professor of Psychology, College of Arts & Sciences
Stephanie Sears, Chair, Associate Professor of Sociology, Colleges of Arts & Science
Candice Harrison, Associate Professor of History, Colleges of Arts & Science
Julie Orio, Vice Provost, Student Life
BASE Founding Strategy Group Members, 2016-2017
Ariana DasGupta, Program Manager, Office of Diversity Engagement and Community Outreach
Ashley Jones, President, Black Student Union (graduated Spring 2017)
Barbara Thomas, Senior Director, Counseling and Psychological Services
Candice Harrison, Associate Professor of History, College of Arts and Sciences (Faculty Co-lead)
Charlene Lobo Soriano, Associate Dean, Retention and Persistence, Center for Academic and Student Achievement
Dallas Hogue, Student Representative, Black Student Union
Daniel Erwin, Marketing Client Manager: Development, Marketing/Project Management
Darrick Smith, Assistant Professor, Leadership Studies, School of Education
Erin Echols, Co-Director of the Cultural Centers
Golden Venters III, Director of Organizational Effectiveness, Division of Student Life
Jessica Jordan, Associate Vice President, Annual Giving, Special Giving, Development Services, and PR & M
Julie Orio, Vice Provost for Student Life (Leadership Team Co-Lead)
Leighia Fleming, Assistant Director, Student Conduct, Rights, and Responsibilities
Michael Tadesse-Bell, Academic Success Coach, Director of Student Experience and Persistence Programs, Center for Academic and Student Achievement
Monica Njoku, Assistant Director, Alumni Integrated Communications, Alumni Engagement
Naomi Follett, Associate Director, Strategic Enrollment Management
Pamela Balls Organista, Associate Dean for Social Sciences and Professor of Psychology, College of Arts & Science (Co-lead)
Preston Walton, Senior Associate Vice President, Development (Leadership Team Co-lead)
Shawn Calhoun, Associate Dean, University Libraries, & Department Head of Access Services, Access Services
Stephanie Sears, Chair and Associate Professor, Sociology Department, College of Arts and Sciences (Faculty Co-lead)
Suzette DeGrange, Director, Access and Inclusion, Student Enrollment Services (until April 2017)