Alumni
When the Hustle Pays Off
How two USF Sport Management students started small, ground it out, and ended up in dream careers with the Golden State Warriors
Image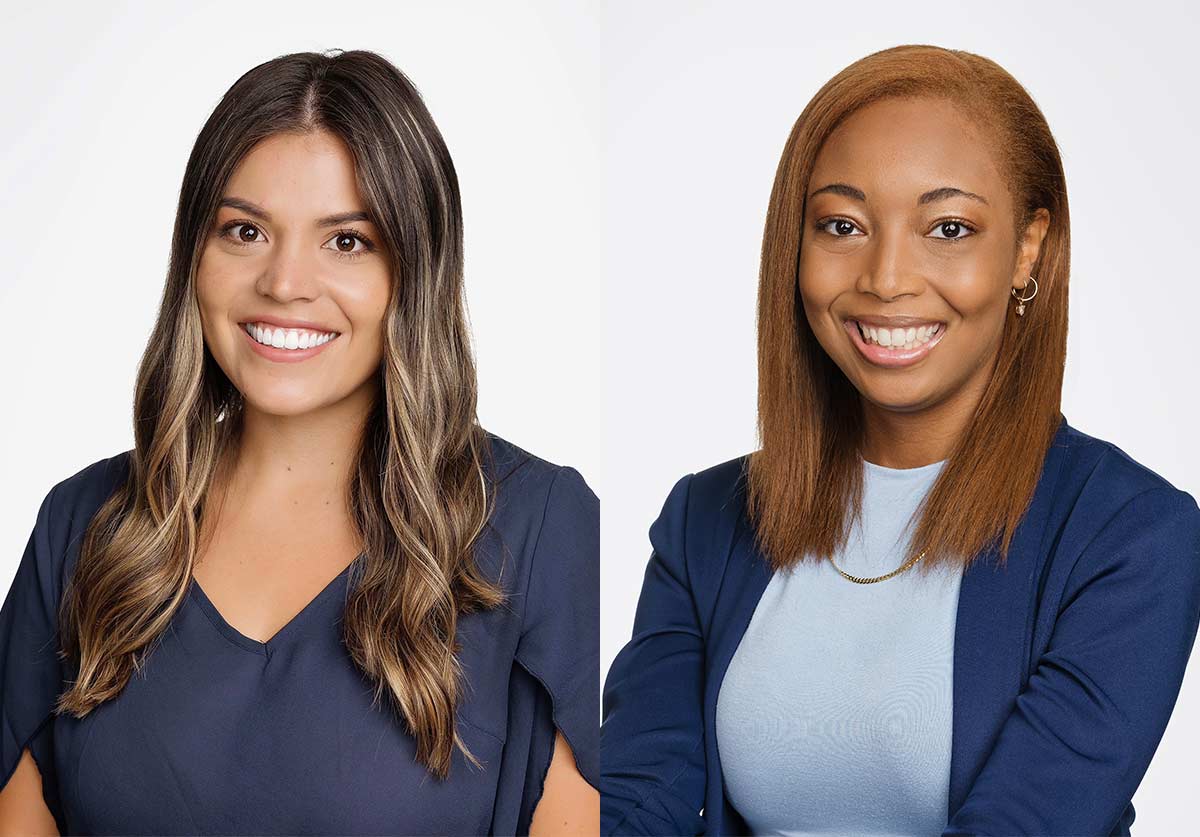 Finish college, then go to grad school. Finish grad school, then get your dream job. For many, that's the traditional route. But Gabrielle Smithey '19 and Tammy Serrato '20, graduates of the Sport Management program at USF, were never interested in the traditional route. And so the paths they've carved, which led to their current roles as full-time employees of the Golden State Warriors (GSW), began with them accepting part-time jobs at the organization they now say feels like a family.
Both Smithey and Serrato grew up loving sports. For Smithey, sports was a constant that brought her family together. Growing up in Philadelphia, her family, almost all of whom still live there, would gather for games. She said, "No matter what team you root for, sports is something that connects everyone. Look at how beloved Dwayne Wade is in China, or how popular the NFL game is in London, which doesn't even have American football. The common denominator is sports."
Serrato emphasized the qualities sports instills in its players, having played volleyball, basketball, soccer, and tennis throughout high school. "Being on a team and playing competitively taught me about leadership and instilled a sense of self-confidence; because I knew what I could do on the field or court, I knew what I could do off it," she said.
San Francisco-Bound
Smithey started at USF in 2017 after attending Long Island University (LIU), where she majored in business and minored in sport management. She chose USF for graduate school because "I loved the structure of the program — one class at a time meant that I could be interning or working in the field, figuring out where my passion was."
The next year, Serrato made that same journey, albeit from within the state. A class she took at Sacramento State University was the catalyst for her. Drew Roberts, then the director of administration for the USF Sport Management program, was a guest speaker in her Intro to Sport Management class. By the end of the session, Serrato had her next goal in mind. "I walked up to introduce myself to Drew and said 'Hi, I'm Tammy Serrato. Please remember me because I'll be in your program in two years.'" She enrolled at USF in 2018.
Once enrolled on the Hilltop, both Smithey and Serrato hit the ground running.
All-In, All the Time
Smithey attended the first day of orientation and heard a current student talk about the myriad of professional opportunities available to students in the program. That student was working part-time for the GSW organization, and spoke with such enthusiasm that Smithey acted right away. "I went up to her, and she immediately asked me to email her my resume. She gave it to her boss, and I received a call not long after that."
Smithey accepted a part-time position in the GSW Guest Experiences department. "It was perfect for me because I could enter my own availability and have my schedule built around it. Since I was new to the West Coast and I only had the one class, I signed up for almost anything and everything, and I ended up working almost all the home games and various community/office events."
After six months working part-time in guest experiences, Smithey received a call from the people operations department. They needed assistance for a few weeks, and so she pitched in and spent her off days in people operations. She soon had another offer. Smithey began working part-time at the reception desk in addition to her guest experiences duties, and many days saw her going directly from the GSW offices to the arena.
Her trajectory didn't stop there. She was promoted twice more before graduating from the Sport Management program in May 2019. At that point, she'd been working for the organization for almost two years, and in September 2021, she accepted another promotion. Smithey now holds the title of executive assistant III to both the chief legal officer and the senior vice president of people & culture, and supports the Diversity, Equity, and Inclusion (DEI) Council. Her long term goals? To stay with the GSW organization and work either as a DEI manager or a manager of events and special projects. "I love working internally with our team members (GSW-speak for employees). I love being a part of what happens behind the scenes and supporting various departments and team members that strive every day to build upon our world-class, customer-centric environment," Smithey said.
On the Flip Side
The complementary, public-facing end of the organization's structure is where Serrato shines. Her part-time role on the GSW operations staff began in September 2018. The GSW operations team was ramping up at that time, as they were about to open Chase Center in San Francisco, and since Chase Center was owned by the GSW organization, all operational planning took place in-house. As an employee who said "yes" to every opportunity to gain experience, Serrato moved up the ranks quickly. As the administrative assistant for the vice president of event services and security, she took on roles that spanned the Bay, performing time and attendance duties and working on credentials while assisting the vice president of security. Once Chase Center opened, she was again promoted, this time to administrative coordinator of arena operations and security, and organized COVID testing for everyone who entered the building.
While she loved performing such diverse duties, after the 2020-2021 season was over, she was ready to return to what she'd realized was her passion. "I wanted to be front-facing and once again experience the creation and chaos of game day. So I reached out to the director of VIP guest services, Shari Kauffman, and said that I was very interested in her department and in seeing how else I could benefit the organization." Serrato is now the VIP guest services' coordinator.
Hilltop as Launchpad
Both Smithey and Serrato credit USF with opening up the path to the careers they're so passionate about today.
Smithey said, "My transition from part-time to full-time was overall very smooth. I am extremely grateful for my mentors who helped me along the way, Chief Legal Officer David Kelly and Vice President of Ticket Operations Stevie Gray from GSW, and and my USF mentor Anthony Nutting." Serrato shares that sentiment, saying, "I would have never considered working for the Golden State Warriors if it wasn't for my cohort mates, who suggested I do it and try something new! I went into the part-time job at the Warriors with a mindset that I was just here to learn and gain experience. However, in less than a month, I knew it's where I wanted to start my career."
Professor Rich Cellini, said "Gabby and Tammy both embraced all that the Sport Management program had to offer. They were dedicated to the work in the classroom and understood that their education would grow exponentially in value if they combined that with real-world experiences in the sports industry. They networked, volunteered, and eventually took positions that were part-time, knowing if they added enough value they could earn a full-time opportunity, either with the Warriors or elsewhere. Sport management students realize it's not where you start that's important, we all start at square one, it's what you add to an organization that will determine how far your career progresses."
Wise Words
When asked about the advice she'd give to current students in the Sport Management program, Smithey had much to share, derived from personal experience: "Take this time to find your passion. Accept various part-time jobs with different departments and have the goal of learning something new everywhere you go. And of course, do not forget to have fun and break out your comfort zone." Because she wasn't afraid to break out of her own comfort zone, Smithey has had a lot of fun. She was able to work the 2017-18 championship parade with GSW players, attend a finals game in Toronto with the front office during the 2018-2019 season (President Obama was also in attendance), and work the first event at Chase Center, a private Stevie Wonder concert.
Serrato, too, has advice for those in the thick of earning their sport management degree at USF. "Don't overlook the network you have within the USF sport management community. It truly is the people sitting next to you in that classroom, or the professors up at the front lecturing, who can make the biggest impact." She made sure to add, "Never compare your path to someone else's, because you define your own success. If there's one thing I learned from the program and my time as a professional in the sports world, it's that successful people know when it is their time. Trust your gut and follow your heart."