Faculty & Staff Achievements
Celebrating 35 Years and Beyond of Nonprofit Management Education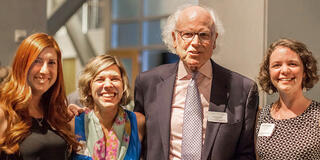 The Master of Nonprofit Administration (MNA) degree program has a longstanding history in the USF community. Since its creation in 1983, the MNA has come a long way to be recognized as a standalone program. With the 35th anniversary of the program approaching, the achievements and empowerment the program brings to the USF community have helped shape the university into what it is today.
When the MNA was first founded under Michael O'Neill, it was called Institute of Nonprofit Organization Management and was under the College of Professional Studies located in Lone Mountain. At that time, it was first recognized as a concentrated degree under the Master of Public Administration.
In 1983, the MNA was officially recognized as the first MNA program for USF and the country. ... The mission of the MNA Program is more than receiving an academic graduate degree. It is about educating competent and effective nonprofit leaders for the 21st Century.
Marco Tavanti
Director and Professor
NONPROFIT ADMINISTRATION Degree PROGRAM
Now known as MNA 3.0, the program has "successfully enhanced the main nonprofit competencies represented by the Nonprofit Academic Center Council curricula guidelines and accreditation process, Tavanti said."
In the USF 1984-85 catalog, it explains that nonprofit organization managers deal with a variety of issues such as fundraising, volunteer management, and board development. The program applies the basic concepts, skills and analytic tools of management to the unique characteristics of nonprofit organizations.
The first mention of the Institute for Nonprofit Organization Management is found in the USF 1985-1987 catalog. Then, it was still referred to as the Master of Public Administration with a Concentration in Nonprofit Management, which offered students working in the independent sector the opportunity to obtain the advanced training needed to become effective managers in a wide range of nonprofit organizations.
"The MNA Program at USF continues to be an innovative curriculum with the integration of international-global legal and organizational aspects to social sector organizations," said Tavanti. "The primary focus is teaching and learning around experiences, consultancies and other course embedded exercises build sustainable capacity and elevate the social impact of numerous nonprofit organizations."
"Our innovative and impactful program would not be possible without the energy and engagement of the MNA students, advisory board members, alumni, faculty, staff, administrators and community partners. I am deeply grateful and proud of celebrating this journey together," Tavanti said.
On April 25, there will be a 35th-anniversary celebration for the MNA program at the USF Downtown Campus. There will be featured speakers such as Michael O'Neill, the program's founder, as well as MNA graduates and students who will speak more about the program.
MNA 35th Anniversary Panel and Celebration
Join us next Wednesday at 101 Howard from 5:30 to 7:30 p.m. to celebrate everything that the MNA program is and what it stands for.
By Grace Avila