Highlights from the School of Management for Academic Years 2022-23
I. People News
Last year, we welcomed four new members to the Dean's Circle Advisory Board, a group of dedicated professionals that provide counsel to the Dean of the School of Management and her leadership team, as well as philanthropic support.
Image

Robert Kilcullen is a Managing Director in the Sponsor Coverage and Advisory Group of MUFG Bank, Ltd., where he is responsible for M&A finance for corporate and private equity clients. Prior to MUFG, he was with Lazard Frères & Co., where he advised clients on M&A, restructurings and private and public financings. He was previously with Cowen and Company and its predecessor, SG Cowen, the U.S. investment banking arm of Société Générale. He began his professional career in the technology industry as a product manager and systems engineer, which included three years with IBM. Robert received his MBA at Cornell University and a BS in Mathematics from the University of San Francisco.
Image

Celine Mactaggart is a nonprofit professional whose current work focuses on healthcare, gender equality, and women's empowerment. She has served as a Director of local nonprofits including Girls on the Run Bay Area, the Board of Regents at St. Mary's College, the George Mark Children's House, and Cal Performances at UC Berkeley. Celine is the former Chair-Elect of the Board of Women in Leadership and Philanthropy at the University of San Francisco, an Advisory Board member of the Greater Bay Area Make-A-Wish Foundation, and is the founder of a nonprofit dedicated to decreasing the incidences of skin cancer. Celine received her MNA degree from USF in 2006.
Image

Dushyant Pathak advises and consults early-stage biotech companies and startups, as well as a venture capital firm and its startup incubator through his business advisory practice. Dushyant served recently as the Senior Vice President of Business Development with a publicly-traded drug delivery company, prior to which he was at the University of California, Davis, as its first Associate Vice Chancellor of Research with responsibility for innovation and technology commercialization. Dushyant also founded, launched, and served as the Executive Director of UC Davis Venture Catalyst, a transformative initiative focused on the effective translation of university research into new student- and faculty-founded startups. Dushyant received an MBA from the Berkeley Haas School of Business, a Ph.D. from Northwestern University and a B.A. from Bennington College.
Image

Jens Peers is a Chief Investment Officer of Mirova US, a $10B investment manager dedicated to sustainable investing. Previously head of environmental equities at Kleinwort Benson Investors, Jens Peers is a thematic investment expert with 22 years of experience. At Kleinwort, he developed and managed several thematic strategies (demographic and environmental), including water, agribusiness, and clean tech. Jens joined Mirova in 2013 as CIO Sustainable Equities, and has been portfolio manager on the Global Sustainable Equity strategy since its launch in 2013. He is a frequent speaker at international conferences on environmental, water, and agricultural themes. Jens holds a master's degree in applied economics from the University of Antwerp, Belgium. He is also a CFA® charterholder.
We are also thrilled to welcome five new tenure-track faculty members to the School of Management. Their diverse skills, knowledge, and experiences across many disciplines will help us to continue to elevate our curriculum and student experience.
Image

Mana Azarm, PhD in Electronic Business, is leveraging her academic and industry expertise to teach undergraduate courses including "Applied Business Technology." Prior to joining USF, Mana devoted over a decade to working in industry and assuming leadership roles at multiple companies, including a Silicon Valley unicorn and a construction-tech venture she co-founded. When asked what she enjoys in San Francisco she replied, "...Golden Gate Park area. It's beautiful, especially when it rains or gets foggy, as the air carries the pleasant scent of sequoia trees and other vegetation. Moreover, the area offers a concentration of fantastic activities like the Academy of Sciences, the Japanese Tea Garden, and the SF Botanical Garden, which I really enjoy exploring."
Image

Allegra Chen-Carrel, PhD in Social-Organizational Psychology, shares her expertise in diversity, equity, and inclusion and conflict resolution in graduate courses such as "Building and Leading Effective Teams." Previously, she taught courses at Columbia University's Teachers College, worked as a Program Manager for a research program centered around sustaining peace, and in community organizations in New York, the Dominican Republic, and San Francisco. In discussing her decision to join USF she shared, "I love the commitment to building community and the energy of USF's students, faculty, and staff."
Image

Matt Meister, PhD in Marketing, studies consumer judgment and decision-making and is working with graduate students in courses including "Applied Statistics in Marketing Intelligence." Matt is also a keen proponent of open science, both for replicability and collaboration. All data and code used in his research is available through his website (mattmeister.com). When working with new students, he offers this advice, "...appreciate the moment you are in. It is very cliche to say, but you'll never have another time in your life where you meet more lifelong friends for the first time, where you learn more, and where you grow more as a person. It's an incredibly fun time!"
Image

Jerome Stewart, PhD in Organizational Science, considers himself a critical management scholar and is sharing this expertise with students in courses such as "Ethical Decision Making." Currently, he is working on projects on corporate misconduct, discrimination in higher education, and critical business pedagogy. As a new member of USF he shared, "USF allows me to deepen my values-based pedagogy, to join a community of excellent educators, and to expand my critical research agenda."
Image

Bilgehan Yildiz, PhD in Technology Management, uses his experience at global companies including Tesla and Meta to help students advance their knowledge and skills in courses including, "Fundamentals of Business Analytics." He worked in project management and UX Research roles, conducting research on elections, hate speech, misinformation and post-Covid connectedness, before joining the School of Management. Earlier this Fall he expressed, ""I look forward to spending lots of time on campus, exploring facilities, meeting with new people, focusing on my research and helping students unlock their full potential."
II. Organizational Changes
All Day "REIMAGINING SOM" Retreat: January 17, 2023
Ninety-eight attendees were present at the all-day retreat, including SOM faculty, staff, graduate and undergraduate students, alumni, and community representatives. Special guests included Rodney Fong, CEO of the San Francisco Chamber of Commerce; Liz Jackson Simpson, CEO of Success Centers; Joshua Arce, Director of Workforce Development, San Francisco Office of Economic and Workforce Development; Carlos Zapata, Vice President, Alumni Board of Directors; Fr. Nicky Santos from Creighton University; Dean's Circle Advisory Board Members Greg Matz, Cheryl Smith, and Courtney Jones; and Trustee Susan Calandra.
After working on a homework assignment that focused on a premortem for SOM, each participant wrote down their thoughts on "What needs to change now to avoid failure," and voted on each of those statements. Mission statements such as "we must build strong relationships with Bay Area firms," "be agile," "evolve our curriculum," and "create a student-first environment" received the most votes. The afternoon was spent on designing experiments for each of the mission statements. Nevada Lane, MSOD '04, served as our graphic facilitator for the day.
Image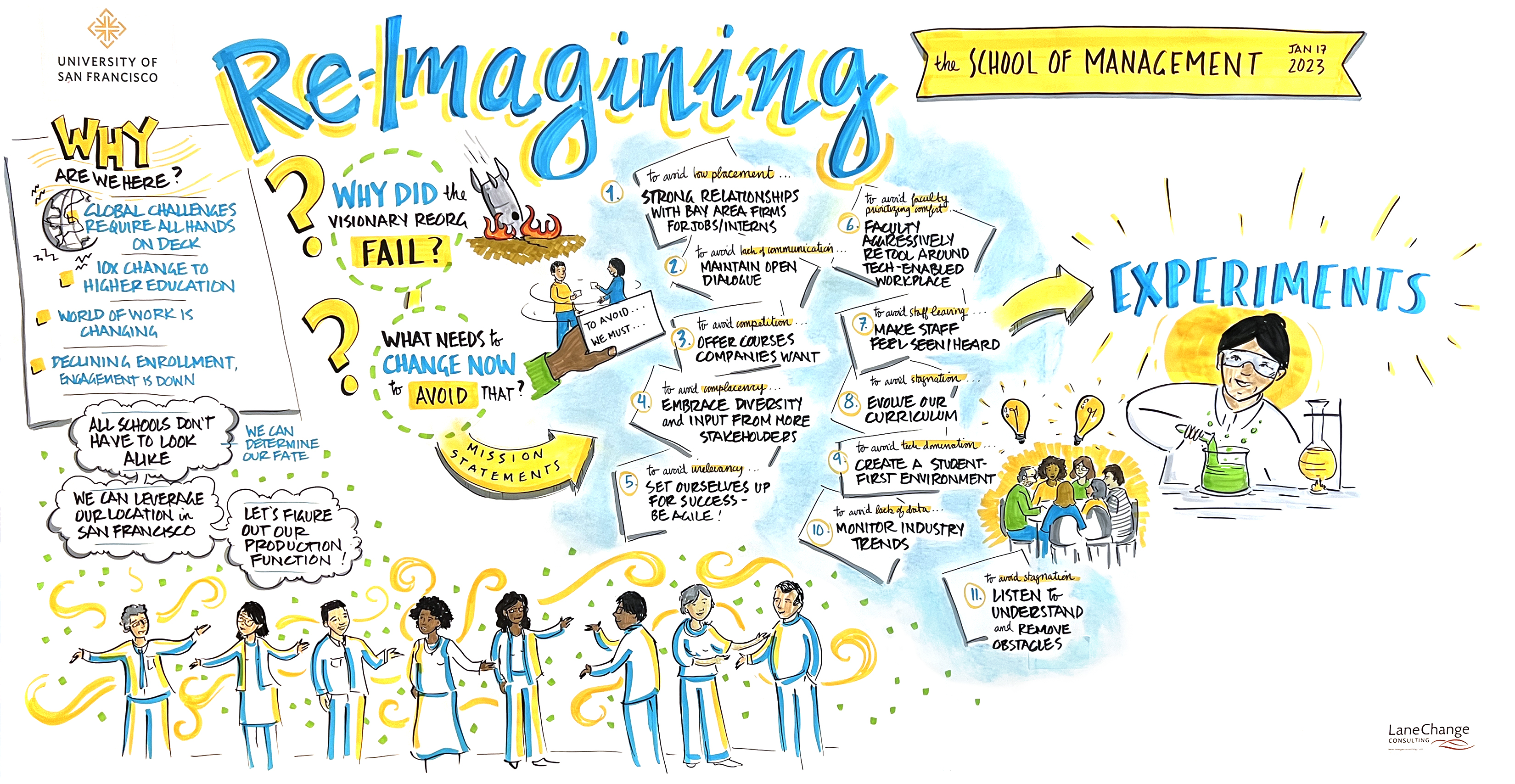 Image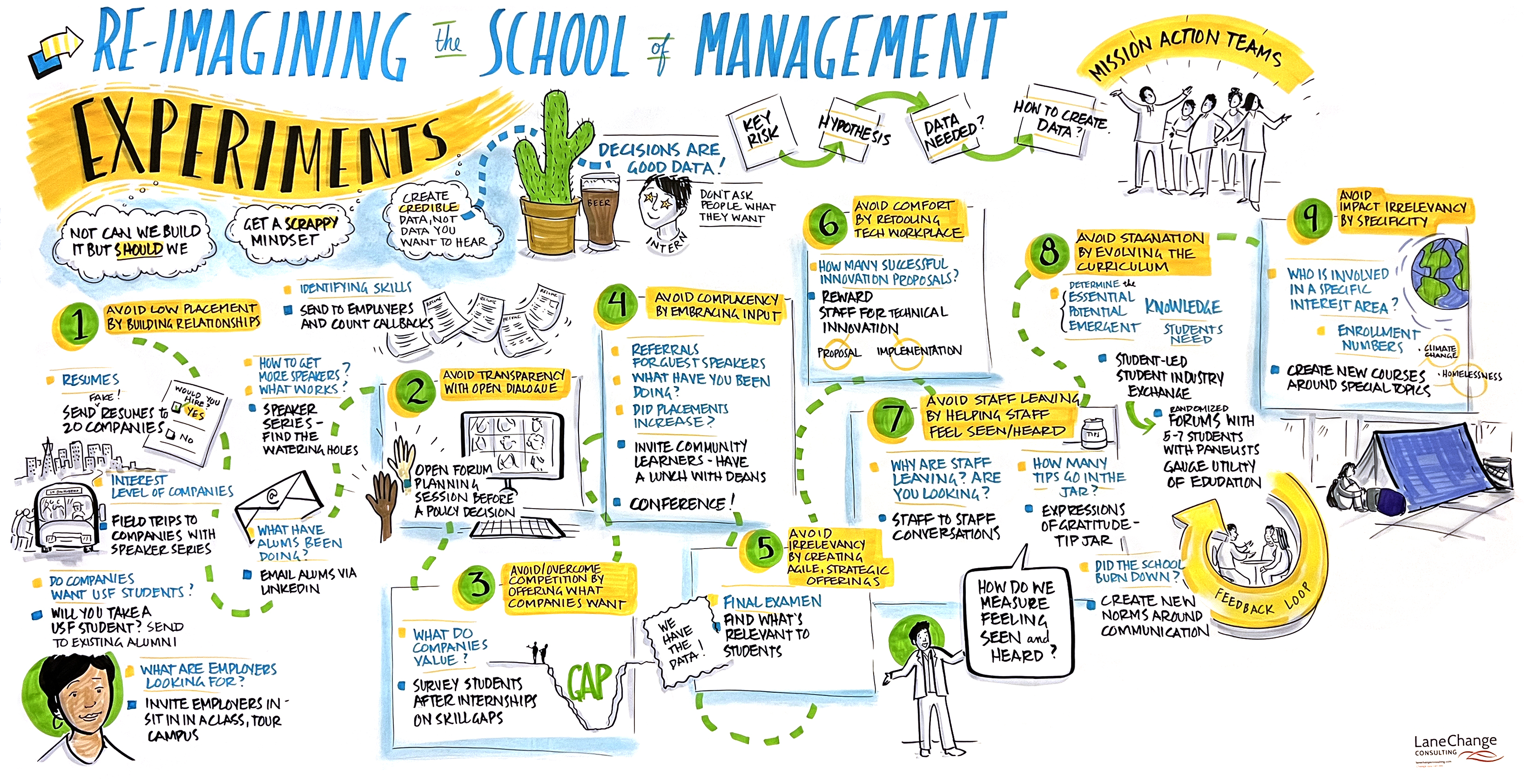 Student-centricity and an agility in curriculum development were key takeaways from the retreat which became key topics of discussions among SOM faculty and staff in Spring, 2023. All the discussions, which took place in numerous meetings and surveys, have led to a new organizational structure within the school. In particular:
Elimination of discipline-based departments to reduce disciplinary silos, foster interdisciplinary collaboration, accelerate curricular innovation, and reduce overhead costs.
Creation of new undergraduate faculty leads for each major – Accounting, Business Analytics, Entrepreneurship & Innovation, Finance, Hospitality Management, International Business, Management, and Marketing – whose primary focus is to elevate the undergraduate student experience and improve a sense of belonging in SOM.
Strengthening academic support for our undergraduate students by hiring a new Assistant Director of Undergraduate Advising to support our Director of Undergraduate Advising.
Reorganizing graduate student support offices so that academic advising, career advising, and student engagement services are under one umbrella.
III. Donor Support
The School of Management is grateful to our alumni and friends for their donor support over the years. Compared to $2.5M average donor support per year from fiscal year 2015 through 2022, we had a very strong fundraising year in fiscal year 2023 under the leadership of Dean Otgo. A total of 472 donors supported SOM from June 1, 2022 to May 30, 2023, giving $5.5M. This year's strong donor support tells us that people understand and support what we are doing by focusing on our students and transforming our curriculum. In the first 4 months of fiscal year 2024, from June 1, 2023 to September 30, 2023, gift commitments for SOM totaled $5.0M. Thank you for your support!
New Bloomberg Lab in Malloy Hall
Image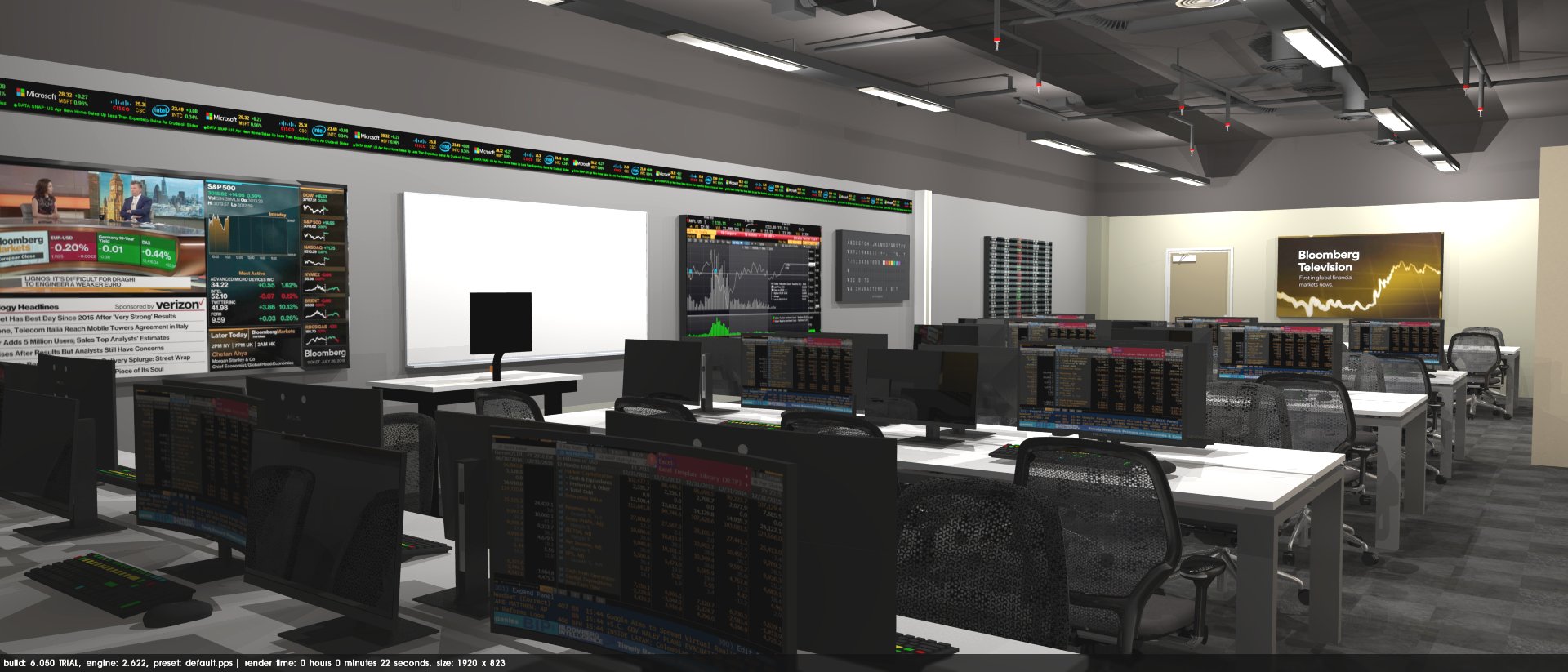 Two generous commitments to be announced shortly were secured for physical space renovation, financial technology subscription and installation, faculty, curriculum development, and administrative support. This lab in Malloy Hall will have 40 seats and will include Bloomberg terminals, stock tickers, and other financial technologies in the main suite, as well as additional seating and work spaces in the overflow suite.
SOM is committed to such experiential learning spaces like this to help our students develop their professional skills, mastery with cutting edge technology, marketability, and career opportunities. These spaces also become showcases for the school, attracting prospective students and their parents, as well as providing additional opportunities to generate revenue for the School.
IV. Student Achievements
Profile for SOM McLaren Undergraduate Class of 2022
The Career Services Center, led by Director Alex Hochman, conducted the "First Destination" survey from graduating students. The center has collected data for 73% of the SOM McLaren Class of 2022.
Key employment outcomes:
79 percent are employed
5 percent are employed and continuing their education
9 percent are continuing their education, and
7 percent are still seeking employment
77 percent had at least two internships, and
Average starting salary of $70,066.
Notable employers include American Express, Apple, Cathay Bank, Chase, Deloitte, City and County of San Francisco, Ernst and Young, FDIC, Fidelity, Four Seasons Hotels, Intercontinental Hotels, KPMG, Northwestern Mutual, PwC, Silicon Valley Bank, Tesla, UCSF, and Visa.
Profile for SOM Masagung Graduate Class of 2022
The Graduate Career Services Department, led by Senior Director Vanessa George, conducted an employment career outcomes survey from graduating students. The department collected data for 77% of the Class of 2022.
Key employment outcomes:
81 percent are employed
2 percent are continuing their education
6 percent are starting their own business, and
16 percent are still seeking employment
Average starting salary is $118,291
Notable employers include SAP, CVS Health, DocuSign, UC San Francisco, Twitter, Google, City of San Jose, PwC, PG&E, Electronic Arts Inc., LinkedIn, Genentech, United Airlines, DoorDash Inc., Siemens, Cisco, Udemy, Sephora, Hilton San Francisco, CBRE, Starbucks, Adobe, Goldman Sachs and Amazon.
Dean's Award Recipients at the McLaren Undergraduate School of Management
Image

Valedictorian - Exemplifies the highest standards of leadership and scholarship in the Jesuit tradition. This student demonstrates selfless service to the University community while reflecting excellence in all academic pursuits, and is firmly committed to the mission of the University.
The Valedictorian for the academic year 2022-23 was Tyler Mae Curry, a Hospitality Management and Finance major. Congratulations Tyler!
AA Berti Award for Outstanding Scholarship - Awarded to the graduating senior of the McLaren Undergraduate School of Management who has earned the highest record of scholarship.
Six students all graduated with 4.0 GPA: Ashley Ann Clemens, Emily Marie Daza, Sofia Maria Florina Maliwat Pueo, Belinda Chi Tang, Jonas Lodewijk Visser, and Alex Mauer. Congratulations!
Dean's Medal of Excellence - Awarded to the graduating senior who has best exemplified -- through his or her academic accomplishments, extracurricular work, and personal life -- the core values, mission, and vision of the University of San Francisco.
Awardees for the Dean's Medal Excellence were: Trinite Jordan Byrd, Donald R. Singleton, Jr., and Charles Martin Ramsden. Congratulations!
The Dean's Service Award - Recognizes the achievements and contributions of individual students who have demonstrated a dedicated commitment to the greater good -- a reflection of the University's Jesuit values.
Winners were: Zac Andrew Clark, Sadie Borja Mills, Alex Richard Mauer, and Charles Martin Ramsden. Congratulations!
Dean's Award Recipients at the Masagung Graduate School of Management
Educational Unicorn Award - A newly created honor that acknowledges an education enhancing endeavor – one that is student envisioned, nurtured, and led – with an impact so rarely witnessed.
The inaugural award was bestowed on the founders of the StartUp Club: Marcos Iazzetti Lopes, Joel Morais, Aastha Dora, Mariam Doumbia, and Kishan Shah. In over one year, the StartUp Club has over 100 members and sponsored two events – the "Alumni in Tech" event (March 2023), and the "StartUp Summit" (May 2023).
Dean's Medal of Excellence in Scholarship
Image

Anitha Rameshkumar
Master of Business Administration
This award is given to a graduating candidate of the Masagung Graduate School of Management, who exemplifies leadership through professional and academic development, aligning with USF's mission and values. All nominees must rank in the top 5% of their respective program to be eligible.
Outstanding Public Service
Image

Marisa Elizabeth McCarthy
Master of Public Administration
This award is given to a graduating candidate of the Masagung Graduate School of Management based on his or her demonstration of superior academic performance, outstanding service to the community, and promotion of social justice and USF's mission and values.
Executive Master of Business Administration Award
Image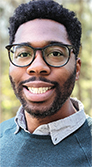 Image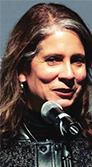 Adam Lawrence Seymore and Karla Helenka Lee
This award is given to a graduating candidate of the Masagung Graduate School of Management Executive MBA program who has demonstrated the following, well-rounded skills: commitment to the Executive MBA program, a high degree of integrity and ethical behavior, excellence in academics, commitment to building long term relationships with their classmates, and leadership within the cohort both by example and by outward displays of influence.
Dean's Student Life Award
Image

Mariam Doumbia
Master of Business Administration
Image

Brianna Lourdes Edoria Pasua
Master of Nonprofit Administration
This award is given to a graduating candidate of the Masagung Graduate School of Management who has shown commitment and outstanding service to the students and programs in the School of Management through extracurricular work, student involvement and commitment to fellow students and USF's mission and values.
V. Achievements of Student Teams
The Global Solutions Sustainability Challenge (GSSC) in December 2022, connected participants in the United States, Jordan, and Iraq to virtually collaborate on a sustainable solution to a contemporary business challenge. Adjunct faculty member Vivian Faustino-Pulliam advised two teams. Winning a $1,500 2nd place prize, Team Black Iris with students from the University of San Francisco and Khawarizmi University Technical College in Jordan created Relife En-Go, an app and smart trash bin that supports people in Amman and San Francisco who want to keep their city streets clean by incentivizing proper trash disposal and participating in community beautification initiatives.
The 4th runner-up Team Resilient from the University of San Francisco and Soran University in Iraq created the Green Roofer, an app that supports sustainability-focused individuals and companies who want to counter the generational effects of global warming by facilitating the creation of rooftop gardens that will promote local consumption and combat excess CO2 emissions.
USF hosted the NorCal Sub-Regional competition for the Chartered Financial Analyst (CFA) Institute Research Challenge on February 25, 2023. Out of the nine teams competing, two teams were from USF, advised by Professor Frank Ohara and Adjunct Professor David Kaczorowski. While one of the USF teams made it to the final round, Cal Poly won this Sub-Regional.
Advised by Professor Mark Cannice, a Masagung graduate student team took third place in the 2023 Venture Capital Investment Competition (VCIC) held at Playground Incubator in Palo Alto on March 3, 2023.
VI. Program Achievements
USF SOM programs showed up well in the 2022-2023 edition of the US News and World Report Rankings. The highlights:
McLaren Undergraduate BSBA program: Top 28% of the 516 undergraduate business programs in the U.S. accredited by AACSB
Masagung MBA: Top 30% of the 496 institutions with master's level business programs in the U.S. accredited by AACSB.
Masagung MBA Concentrations: #28 in Business Analytics, #27 in Finance, #22 in Management
Masagung Executive MBA: #22 in National Ranking.
Image

Undergraduate Business Analytics Major
The relatively new Business Analytics major has witnessed swift growth, reflecting the increasing demand for data-driven decision-making in today's business landscape. By receiving a STEM designation, it not only enhances the credibility of the program but also expands opportunities for students – particularly international students – seeking extended work opportunities in the U.S.
The Malloy Group For Organizational Science Consulting
This student experiential learning program continues with over 50+ interdisciplinary graduate and SOM Honors undergraduate students in the Fall '23 semester. Client roster represents a variety of high-profile global organizations including: Michelin Three-Star restaurant Atelier Crenn, Hewlett-Packard, VC-Playground, as well as the global luxury brand, Piaget.
Executive Education
We continue to grow our Executive Education offerings beyond our highly successful Silicon Valley Immersion programs. Our fiscal year 2023 revenues from Executive Education programs doubled compared to FY 2022 thanks to a leadership training program for the Michelin Three-Star restaurant Atelier Crenn, and a Customer Success certification program through partnership with Growth Molecules, a customer success consulting firm.
Image

Andersen MBA
The partnership with Andersen Global now enrolls seventy MBA students since its launch in June, 2022. Eleven of the seventy students are international Andersen employees as the Enterprise MBA program is now approved to be offered in forty countries. We have approval to deliver the program in 35 countries and are working on developing an accounting bootcamp and MS in Accounting for Andersen Global employees.
VII. Special Events
6th Annual Autonomous Vehicles & the City Conference at the SF Commonwealth Club, Nov 7, 2022
Image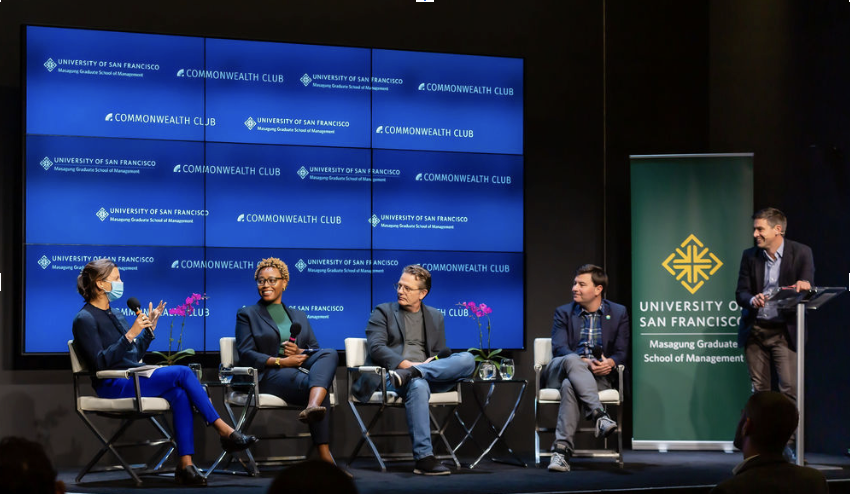 SOM's Autonomous Vehicles & the City initiative focuses on bringing together national leaders in business, policy, and academia to dialogue how we can innovate cities in the new mobility future. Attendees and panelists from the November 2022 Conference included representatives from Motional, Nissan, Aurora, Smartcar, San Francisco County Transportation Authority, Cruise, Zoox, and Populus.
Since 2017, SOM–in partnership with the Commonwealth Club of California– has hosted a range of international dialogues focusing on the many ways that technology and innovation are reshaping how we move through our cities and to explore how they can be used to serve diverse populations and help global cities meet climate goals. Our cutting edge research and events have offered a window for public and private entities to collaborate on new economic models and management strategies that cross the public and private section — touching on the topics such as data, accessibility, land use and design, the environment, the future of transit, clean energy, participatory governance, and many more.
Image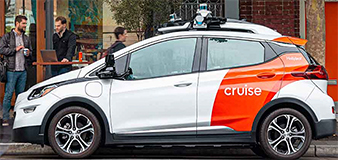 We partnered with Cruise in 2022 to launch a Research Rider pilot program to better understand how AV service could fill transportation needs for USF students. The goal of the program was to create a partnership between industry and academia (students, faculty and staff) to help address lingering transportation policy challenges in the cities.
As part of the pilot program, Cruise serviced geographies and areas close to the USF campus and student housing, during off-peak / late night hours when transit served students least—initially offering free rides between the hours of 11pm and 5am.
Launch of the Center for Business Studies and Innovation in Asia Pacific (CBSI-AP) in SOM
Image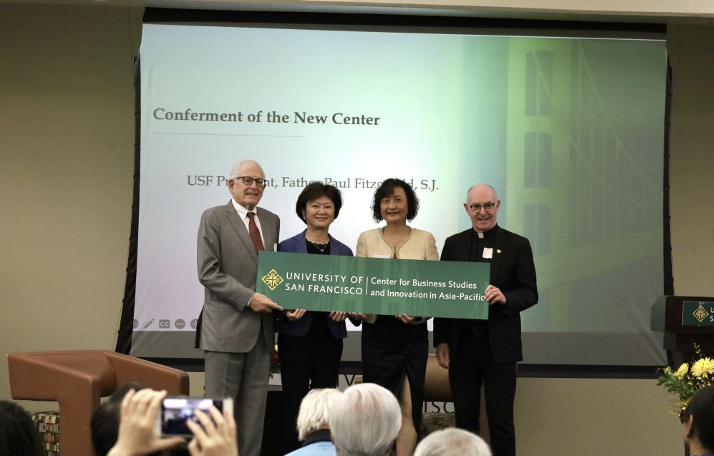 The inauguration of the new SOM Center for Business Studies and Innovation in Asia-Pacific (CBSI-AP) took place on Thursday evening, September 29, 2022 in the McLaren Conference Center.
The new Center builds on the eight years since the formation of the Chinese Business Studies Institute (CBSI) in 2014 that was created to share knowledge of global Chinese business by providing a platform connecting scholars, practitioners, policy makers, students and alumni through its unique global positioning in San Francisco.
At the event, the center was inaugurated under its new name to reflect its broader geographic coverage and a new focus on innovation and entrepreneurship that will inform and equip current and future leaders with cutting-edge business knowledge and practices as well as facilitate broader and deeper engagement between the academic, business, and broader communities in the U.S. and Asia-Pacific.
The Gellert Family Business Center's 'New Roots & New Routes' Conference
Image

The biennial Gellert Family Business Center's New Roots/New Routes conference was held on May 10, 2023, at City College of San Francisco (CCSF) in collaboration with CCSF's Center for Entrepreneurship & Innovation, as well as the Renaissance Entrepreneurship Center.
Image

The City and County of San Francisco, led by Mayor London Breed, officially proclaimed May 10th "USF Gellert Family Business Center Day" as a testament to the incredible impact and invaluable services the Center has provided to family-owned businesses in the San Francisco Bay Area region for 24 years.
Image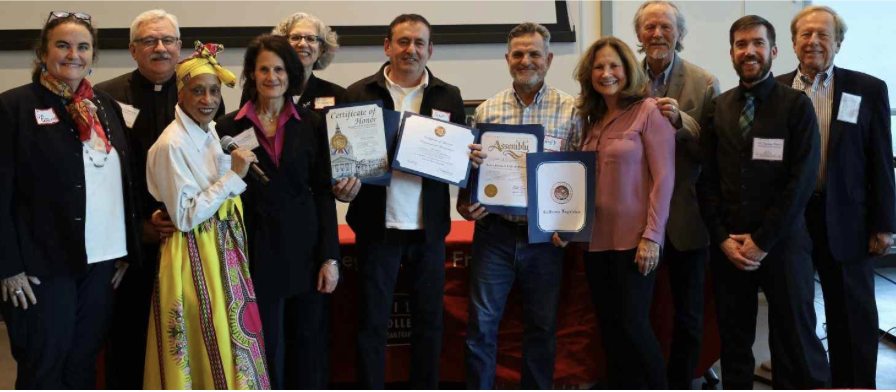 The Gellert 2023 winners (Ace Mailing, Cumaica Café, and Sweet Joanna's Café) were presented with their awards by USF Chancellor Fr. John Fitzgibbons, Advisory Board Chair Arthur Hindman, and Gellert Center Director Dr. Monika Hudson.
SOM Spotlight Series
In the spirit of enhancing student engagement, the Office of Undergraduate Studies launched the SOM Spotlight Series featuring:
A "Where are They Now" alumni panel featuring alumni from the fields of accounting, finance, marketing, entrepreneurship and innovation, and hospitality management. These five SOM graduates who are thriving in the business world (JP Morgan Chase, Silicon Valley Bank, Tishman Speyer, and Adobe) shared where their career journeys have taken them since graduation.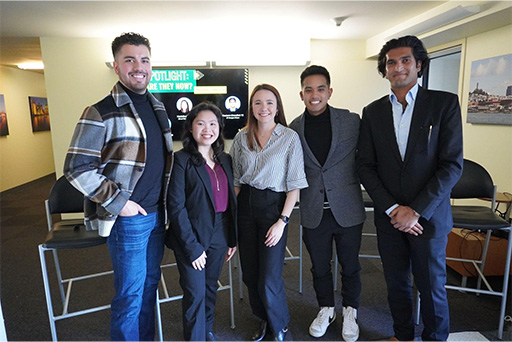 Accounting Success Stories that showcased the internship experiences of our top accounting students. A panel of accounting majors revealed the secrets of their success of being offered an internship at firms such as Deloitte, KPMG, EY, Grant Thornton, and Andersen.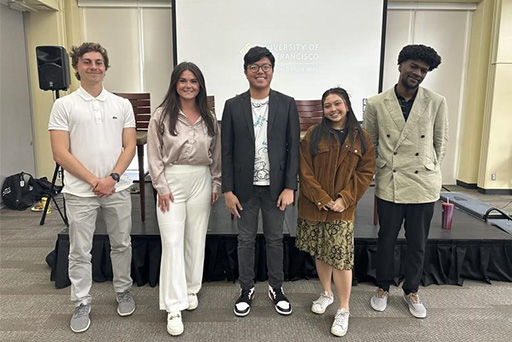 A Conversation with Dean Otgo. Dean Otgo addressed questions around her first Fall semester at SOM, her vision for the future direction of the school, as well as her perspective on current business trends and topics. Student moderator, Anson Tan '23, used questions submitted by fellow students and the audience.
Image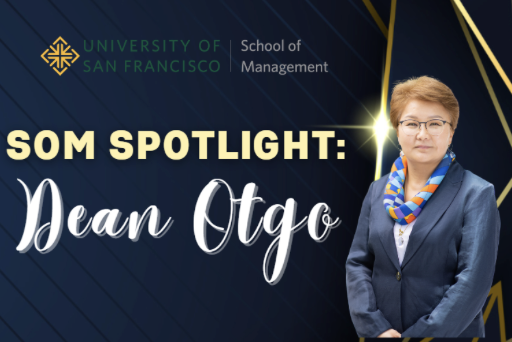 Annual Dean's Dinner
Image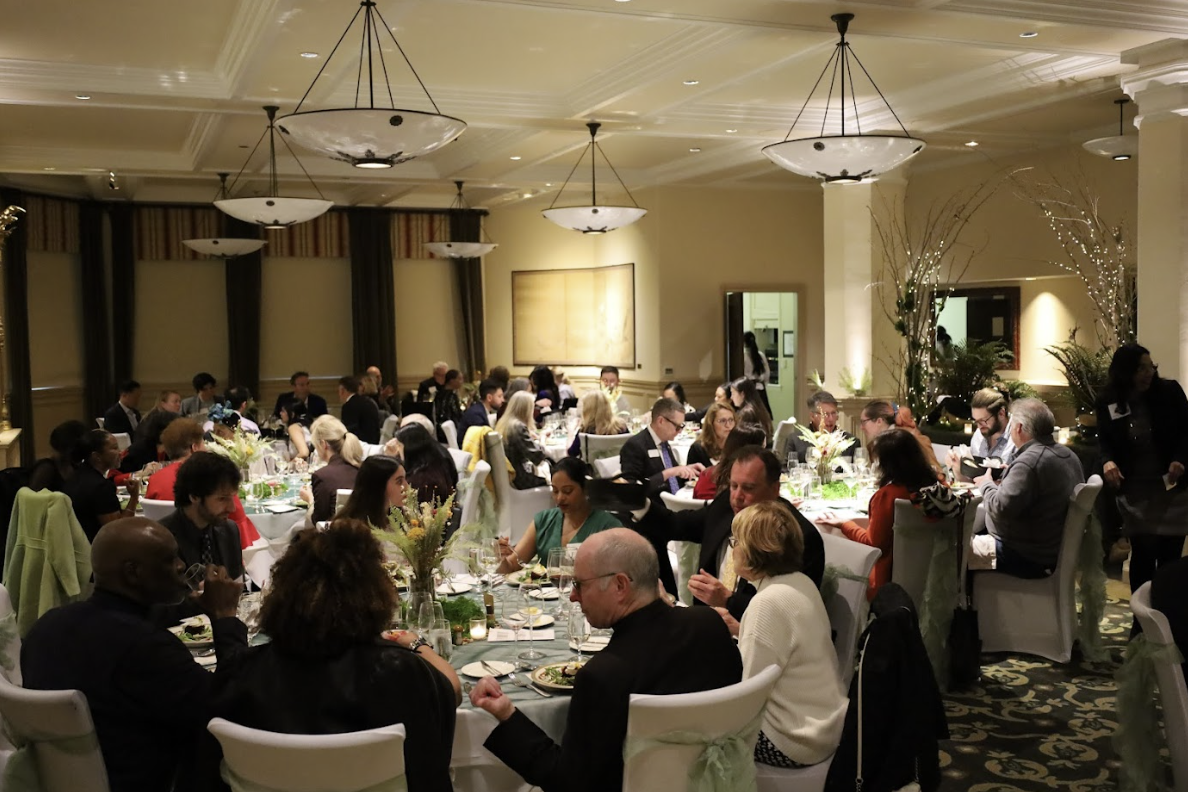 On May 4, 2023, our undergraduate Hospitality students pulled off another memorable experience for over 60 people at their Annual Dean's Dinner event with the help of Chef Jean Marc Fullsack and Professor Thomas Maier. The theme of the dinner was "Enchanted Forest." President Paul Fitzgerald, Chancellor John Fitzgibbons, SOM donors, Dean's Circle Advisory Board members, Trustees, Hospitality Alumni board, Development division leaders, commencement speakers, Dean's Medal of Excellence recipients, Educational Unicorn Award recipients and Dean's Service award recipients were all in attendance. Everyone's favorite part of the event was when all the students who worked on the event lined up at the end, with each one talking about their plans for the future.
Image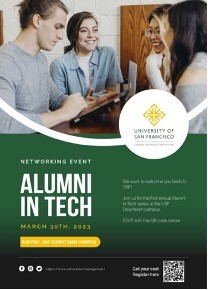 Inaugural Alumni in Tech event hosted by the Graduate Startup Club
On March 30th, USF SOM Masagung graduate students collaborated with the Graduate Career Services team and hosted the first annual Alumni in Tech networking event at the USF Downtown Campus. The event was the brainchild of Marcos Iazzetti-Lopes, the StartUp Club Chair and 2nd year MBA student. From over 230 RSVPs, over 150 attended. Alumni from companies such as Rakuten, Mode, Supermoon, Amazon, Solano Spaces, Zoom, Google, Skai, Youtube, Genentech, CarGurus, Santa Clara County, Shipt, Nova labs, OptionsPlay, Rubrik, RWT Horizons, PwC, Meta, Yelp, Lyft, Abbott Diabetes Care, Nile, and BitTorrent were among the RSVPs.
Image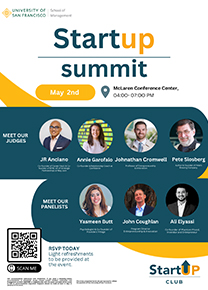 Inaugural Startup Summit event hosted by the Masagung Graduate Startup Club
Over 125 students, alumni, faculty, investors, founders, and student organization leaders attended the first Startup Summit, another successful event organized by the Graduate Startup Club. The Summit began with a panel discussion that included Yasmeen Butt, the Co-founder of Founders Village, Startup Mentor Ali Elyassi, and the MSEI Director John Coughlan. USF MBA student Mariam Doumbia moderated the panel.
Umeeyna Bashir, a 2022 USF graduate alumni from the Chemistry master's program, was the winner of the pitch competition.
VIII. Looking Ahead
Curricular innovation
We are actively revising our undergraduate business core curriculum and updating the curriculum for our majors to make them relevant to both industry and student needs. We welcome your ideas and suggestions for what our new, core curriculum should incorporate. Please send them to Michelle Millar, Associate Dean, Undergraduate Programs.
We are exploring accelerated 3+1 programs, where high-performing students can graduate with two degrees (BSBA and MS) in four years to increase the value of a USF degree.
We are developing a new, one-year STEM-designated Masters in Management/Masters of Science in Management (MiM/MSM) program that will be 30 units (approximately 15 courses) with a common core of 4-5 courses. The remaining courses will be grouped in 'content clusters' – focused areas of content and impact –of 3-5 courses. We welcome your ideas and suggestions on what the core MiM structure should look like as well as what content clusters we should develop. Please send them to Richard Stackman, Associate Dean, Graduate Programs.

This new degree program can work as a 4+1 program – similar to our M.S. in Entrepreneurship & Innovation and M.S. in Marketing Intelligence programs – where non-business students with limited work experience can complete a one-year program as their +1 option.

We are also looking into launching fully online modalities for some of our programs, including the Part-Time MBA, and MPA.
We are pursuing the opportunity for double/joint degree programs with universities in Mexico, India, and Japan, both at the graduate and undergraduate level.
Call for Engagement
Image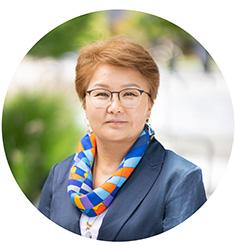 Thank you
I hope you have enjoyed this inaugural issue of "From The Dean's Desk." If you have any questions or would like to follow up on any of the items shared here, please do not hesitate to reach out to me. I look forward to keeping you informed on the School's progress as we head towards our Centennial year in 2025. —Otgo