Business Analytics Program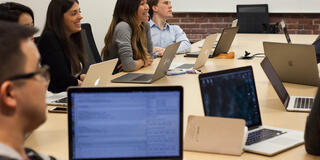 Continue your journey within the Business Analytics industry with a specialized selection of guest speakers and workshops where you can closely observe and learn about the importance of the data science ecosystem with personal experience from the real world. Learn to transition your Business Analytics experience to real-world applications through our various exercises and group discussions, where you can successfully lead and thrive in a competitive global environment.
What do our Durham Business Analytics participants have to say?
Program Highlights
Attend a variety of unique company visits through the School of Management's expansive network.
Hands-on learning opportunities to utilize statistical models to sift through the world of "Big Data'', and experiential learning activities to learn how to communicate findings in a real-world setting.
Learn from consultants, academics, and industry experts in top companies to witness Data Science, Business Analytics, and Data storytelling in practice.
Participate in workshop exercises to develop hands-on analysis skills
Be a part of a group project in which you learn to analyze data, make predictions, and communicate insights effectively through data visualization and storytelling
Who Should Attend?
Graduate and Executive students in data science and business analytics
Students looking to gain experience customer success
Executives interested in learning more about statistical modeling; data science, business analytics, or storytelling with data
101 Howard Street, Suite 100
San Francisco, CA 94105