Corporate Innovation Program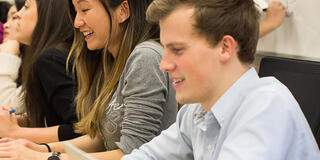 Expand your ability to drive innovation in your role or a future role through our Corporate Innovation Program.
Gain experiential knowledge from fellow executives and entrepreneurs from the heart of San Francisco and Silicon Valley.  Experience the principles of innovation in action by hearing from and working with some and most innovative best minds in the Bay Area.  Learn best practices in thinking' BIG' and challenging the status quo.  Adopt a more entrepreneurial spirit and mind set, let the ideas flow and learn how to make your vision and innovations a reality.
Take with you a certificate of completion in corporate innovation from the University of San Francisco and the ability to effectively apply these principles in innovation to your business idea, team, enterprise, or organization.
Virtual or In-Person
Join us virtually or in-person for our unique two- to five-day educational certificate programs as a group of 15 or more, or request information on our upcoming programs for individuals and join a diverse network of business leadership and executives looking to drive innovation in their respective industries.
Why Enable Organization To Attend This Program?
Your executives will learn about the secret success of Silicon Valley's startup mindset and culture
Be inspired by entrepreneurs and leaders from companies including startups and large tech firms
Witness the latest techniques in innovation from highly skilled academics and industry experts
Learn about emerging disruptive technologies and the future of what is possible
Gain the skills needed to successfully navigate the ever growing, increasingly fast areas and rate of change
Bond with your team through experiential learning activities in a collaborative environment
Who Should Attend?
Mid-Level managers to senior executives of any corporation or organization looking to continue to innovate and bring about new ideas or change in their organization
Any company or organization interested in information, exposure and ideas on how to navigate the latest trends happening, in the greatest area of growth in the world, Silicon Valley
Any individual or group of individuals looking to develop the skills to deploy new, innovative ideas and solutions to lead in a fast-paced, ever changing world in which we live
Excellent program—loved that it was customized for us but completely different to what we are usually exposed to. Highly recommend."
Carole Cooper Global Chief Human Resources Officer, Australia Flight Centre Travel Group
101 Howard Street, Suite 100
San Francisco, CA 94105