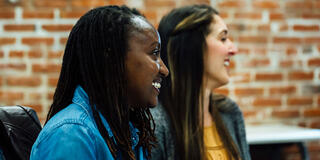 Create your own unique program in the topic area that best addresses your organization's specific needs.
Drive results in your organization by homing in on the most critical learning objectives. Work with our executive education team, world renowned academics and industry experts to tailor an executive education program best suited to your unique industry and situation. Enable our executive training team to design and deliver a one of a kind curriculum and experiential learning activities to create the experience to meet the goals of your organization.
Virtual or In-Person
We offer a variety of programs, engagements, and structures, including virtual, in-person, on-site or off-site destination educational programs.
Executive Education Programs Q&A
Which Areas Have We Created Custom Programs In?
Data Science, Analysis, and Visualization
Global Innovation in Consumer Electronics
Leadership & Succession Planning
Leadership & Revenue Management in the Hospitality Industry
Professional Communication
International Business In Context
Entrepreneurship and Innovation
US Financial Housing Market
And more….
Who Should Create a Custom Program?
Any organization looking to create a unique or specific directed outcome
Any organization looking to support or drive a significant organizational change
Any organization with a well defined topic or an industry specific need
Any organization looking for a unique, fun and enjoyable, experiential-learning event with their group or team
It was an incredible experience and one that I would recommend to anyone who is looking to develop a sustainable competitive advantage for themselves as an individual or for their company."
Jodie Callaway Client Specialist, Thomson Reuters; Calgary, Alberta, Canada
Contact Us
Contact us via email at executiveimmersion@usfca.edu or phone at (415) 422-6952 with your specific needs and we'll work with you to develop a program best suited for you.