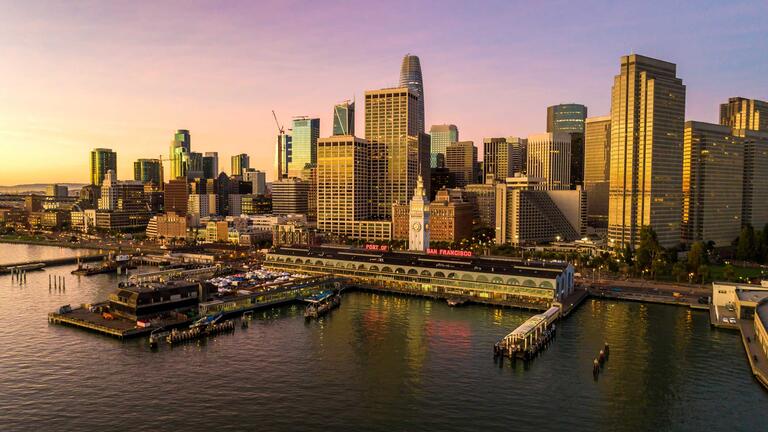 Business Administration - Full-Time, MBA
Student Experience
Become a broadly-experienced and visionary manager who is prepared to tackle complex operational challenges.
Practical Application
The MBA boasts an interdisciplinary curriculum to expose students to a variety of practical real-world applications. From case study competitions to rapidly changing technologies to IDEO-design centered approaches, you will master the many facets of a competitive business environment.
Professional Development
As part of a collaborative cohort of diverse and highly motivated students, you will engage with executives and professionals from the vibrant San Francisco business community. Our downtown campus is just steps away from world-respected company headquarters, such as Salesforce and Twitter, and the ever-expanding presence of Google and Facebook.
Who Are Your Classmates?
|  Class Demographic |  Percentage or range |
| --- | --- |
|  Male | 63% |
|  Female | 37%  |
|  Average Age | 27  |
|  Age Range | 22 - 35 |
|  Average Work Experience | 3.8 years |
Your Program, Your Experience
Since its inception, The Malloy Group has brought together graduate students, faculty, and the San Francisco Bay Area business community to exchange and create ideas and knowledge. The Malloy Group cultivates shared value through experiential learning, scholarly research, and SF Bay Area organizational partnerships.

The Malloy group is designed to be a catalyst for graduate students interested in developing their knowledge and skills related to organizational consulting, project management, research, and innovation.

Student Outcomes

Lead and work in fast-forming project teams
Develop the necessary skills required to effectively diagnose organizational capabilities
Engage with clients and multiple stakeholder groups to define a project, establish a value proposition, and set expectations for action orientated deliverables
Improve ideation and creative thinking skills through design thinking theory
Participate in the annual Malloy Group Consulting Career Fair

The skills and education I gained allowed me to excel in my career while continuing to contribute to social impact. From my non-profit background in housing and homelessness, I'm able to continue contributing to that mission as a consultant at Gartner for state and local government agencies."

TESS MINTER, MBA '18
Consultant, Gartner

Participating Companies

---

Bank of America (SF)
Barefoot Spirit (Silicon Valley)
Blue Umbrella (SF)
BruBroth (Marin)
Checkbookio (SF)
Cloud Guide (Spain)
Delta Dental (SF)
EVAOS (Silicon Valley)
Francis Ford Coppola Winery (Napa)
Gartner Consulting (SF)
Golden Spear (SF)
Honour Mark Retail (SF)
HP printers-Hewlett Packard (Silicon Valley)
Kintone (SF)
Kwik (SF)
LaFace Cosmetics (SF)
Maison De Monaco (SF)
Nimble Consulting (SF)
One Market Restaurant (SF)
RocketSpace (SF)
San Francisco Giants Gotham Club (SF)
Sheraton Palace Hotel (SF)
Snapcheck (SF)
Spa Radiance Medical (SF)
Trinchero Vineyards-Sutter Home (Napa)
West Summit Capital (Silicon Valley)
Wine Shop at Home (Napa)
Womens Funding Network (SF)
Yoga Garden (SF)

Contact Us

---

Thomas Maier, PhD
Executive Director
tamaier@usfca.edu

Courtney Masterson, PhD
Director
cmasterson@usfca.edu

As a MBA student, you will take courses under talented faculty who are leaders in their respective fields and who care deeply about your professional development.

Our faculty bring a range of professional experience in the private sector and will prepare you for a challenging and versatile management career.

MBA faculty are dedicated to ensuring you build upon your existing strengths and talents. Leading practitioners and industry experts will be in and out of your classroom on a regular basis. Here's just a sample of speakers our MBAs have heard from:

Alvin Roth, Nobel Laureate, Economics

Tom Perkins, Founder, Kleiner, Perkins, Caufield & Byers

Victor Nichols, CEO, Experian

Don Proctor, Senior VP, Cisco

Casey Mulligan, Author, The Redistribution Recession

Getting involved in any numerous clubs and organizations at USF gives you a chance to use and develop your managerial and leadership skills.

Network with fellow students and business professionals, enhance your resume and get a taste of career opportunities by serving on a committee, running for a board position or putting together an event.

Club and Association Details

Graduate Business Association (GBA)
The Graduate Business Association is a student-run organization that serves as a liaison between students, faculty, and administration. We support the USF MBA Clubs, facilitate alumni contacts, and foster community through social and professional events. 

Challenge for Charity (C4C)
The MBA Challenge for Charity (C4C) is a non-profit 501(c) (3) organization that draws on the talents, energy, and resources of MBAs from nine West Coast business schools to support Special Olympics and family-related local charities, and to develop business leaders with a lifelong commitment to community involvement and social responsibility. These goals are accomplished through volunteerism and fundraising which are fostered by collegial interaction and friendly competition. USF specifically supports the San Francisco Food Bank and the Network for Teaching Entrepreneurship (NFTE), in addition to the Special Olympics. The club has been in existence since 2006 at the USF Chapter. Please email us at usfc4c@gmail.com to learn more!

Entrepreneurship Club (eClub)
The eClub (Entrepreneurship Club) is an MBA student organization at the USF School of Business. It coordinates all the student groups and activities that serve the entrepreneurial interests of USF MBA's. The eClub focuses on venture capital, business plan competitions, small business ventures, technology and innovation, and of course, entrepreneurship. From competitions, company visits, pitch nights, and guest speakers, the eClub will help develop connections and foster an environment for entrepreneurs.

Finance Club
The USF MBA Finance Club was established to help MBA students gain knowledge and experience in finance and investing. The Finance Club is slated to have guest speakers throughout the course of the year and meetings where students can learn about investing and valuation techniques in a collaborative environment.

International Students Club
International Students Club (ISC) bridges the cultural gap among students by providing a global home for sharing culture backgrounds, academic experiences, and business knowledge. This cultural exchange allows non-international students to understand the cultural of another country and international students to gain insight into the American culture. The club also celebrates diversity by providing a safe, respectful, and mutually supportive environment for the development of students. This purpose does not contradict the University's mission or its Catholic, Jesuit character.

Malloy Group
The USF MBA Consulting Club supplements USF consulting coursework to better prepare students for careers in consulting. The Consulting Club aims to supplement the MBA consulting courses and educate students on the consulting landscape, provide exposure to local firms and networking opportunities, and to provide practical training for case interviews.

Marketing Club
The American Marketing Association is one of the largest professional associations for marketers in the world, with over 38,000 members in every area of marketing. For sixty years the AMA has been the leading source for information, knowledge sharing, and development in the marketing profession.

The USF MBA Chapter of the American Marketing Association is dedicated to helping our members determine their career path, and then build the network of connections necessary to meet their career goals. To that end, our chapter works very closely with the San Francisco AMA chapter for marketing professionals in the Bay Area.

Net Impact
Net Impact at USF is organized for and by USF graduate students to inspire stewardship in corporate and social responsibility, social entrepreneurship, non-profit management, international development and environmental sustainability amongst the university's future business leaders. We have a number of programs and initiatives to educate, equip and inspire students to make a tangible difference through business. 

Exposing students to corporate, social, and environmental responsibility issues
Introducing concepts of sustainability that are applicable in all sectors of industry
Connecting students and providing them with hands-on experience with businesses, organizations, and individuals who share Net Impact's core values.
Creating a network of businesses, organizations, and professionals for students to broaden their business education, refine their leadership skills, and pursue their professional goals.

Nonprofit Student Council (NSC)
The NSC is to provide a unified voice for students with a focus on promoting and improving the MNA program at The University of San Francisco. The NSC provides a vehicle for student perspectives, ideas, and a means of promoting events on behalf of the student body. The NSF club will promote co-curricular activities pertinent to the nonprofit field as well as support and encourage collaboration with other nonprofit professionals. The mission and purposes of this club do not contradict the University's mission or its Catholic, Jesuit character.

Real Estate Investment Club
The USF Real Estate Investment Club is focused to educate graduate students on the spectrum of career opportunities within the real estate sector and to provide additional learning opportunities through hosting and attending industry events. The club serves as a platform for graduate students to network with industry professionals and explores the various types of career paths within this sector to prepare for future career opportunities.  Our goal for the real estate investment club is to also further all students' understanding of the role real estate plays in local, state, and national economies, as well as capital markets around the world.

Women in Business
The purpose of the Women in Business organization is to build a supportive network of women at the University of San Francisco's School of Management that focuses on mutual empowerment, enhances professional and leadership development, facilitates discussions, and provides the opportunity to make lasting connections through informal gatherings, networking events, activities, and workshops.