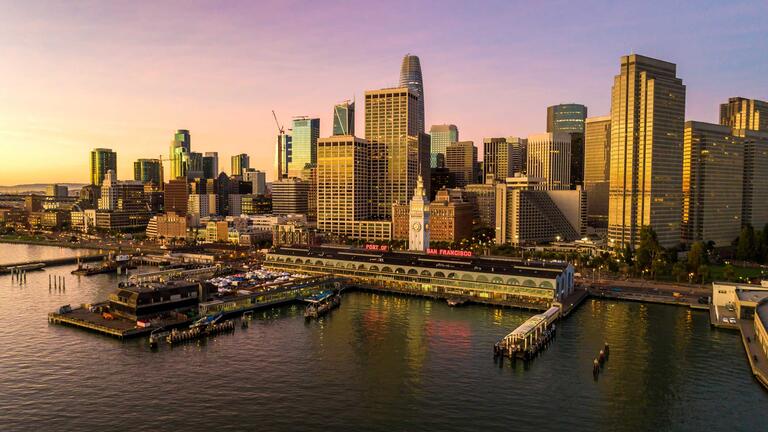 Business Administration - Full-Time, MBA
Experiential Learning
Experiential learning is at the core of the University of San Francisco Full-Time MBA Program. 
We believe in the importance of academic work that can be put into practice outside the classroom, whether at a job interview, in a summer internship, or with a client-facing project.
USF has an ideal proximity to the biggest companies in the Bay Area. Students have unparalleled opportunities to gain hands-on experience in a new role, network with organizations across different industries, and build strong relationships with prospective employers.
We've designed our Full-Time MBA to emphasize experiential learning through a few key Program components.
Career Accelerator Platform (CAP) Project
As part of your CAP all full-time students will participate in a CAP project with an external client that you may choose—this could be any organization, from a tech startup, to a nonprofit, to a corporate finance firm. The CAP Project carries two credits.
Career Accelerator Platform Project Objectives
Applying classroom learning to company cases
Your CAP project facilitates the application of coursework concepts to real-world scenarios within your chosen industry.
Become even more marketable as an experienced prospective hire
Your CAP project is a great opportunity to demonstrate your leadership skills and ability to creatively solve problems under a deadline.
Work constructively with a team
As is the case in most professional environments, you'll work with a team of others to find successful solutions to company challenges.
ABOUT CAREER ACCELERATOR PLATFORMS
Innovation Project
The Innovation Project is part of every MBA students' experience. As a full-time student, you'll conduct your Innovation Project during the fall of the second year, either independently or with a small cohort. Each student's project plan is submitted to and approved by the faculty board. The Innovation Project carries 2 credits and is a graded component of the program.
Innovation Project Objectives
Choosing a project that carries relevance and value for your career plans
The Innovation Project will demonstrate the application of concepts learned in the MBA Program, as well as a clear connection between your work as a student and your professional field of interest.
Think strategically and work creatively
Whether electing to work alone or with a small group, your project should show creative applications of what you've learned in the classroom to come up with innovative solutions for your client.
Gain influential references from the company – and the people- with whom you work
Plan for post-graduation success with recommenders who worked with you and experienced for themselves how you contribute to a team.
Share your unique experience with other students
During USF's annual Social Entrepreneurship and Innovation Week (SEIW), students publicly present the outcomes and takeaways through a comprehensive report on their Innovation Project. The SEIW is held each spring.
Malloy Group for Organization Science Consulting
For students interested in consulting, the Malloy Group provides a valuable consulting experience by connecting students with the Bay Area's most notable startups, from early to late-stage, on real-world projects.
Whether you're interested in application software, healthcare, SaaS, consumer products, or retail industries, the Malloy Group has a successful history of collaborating with the most innovative and cutting-edge companies.
And when it comes to preparing for success for after you graduate, the Malloy Group plays a key part in setting your resume apart from the rest, and in demonstrating you as an experienced professional who can make invaluable contributions to today's dynamic workplace.