Passion for Justice
USF Grounded in Coffee
Starbucks CEO Kevin Johnson talks about the pursuit of good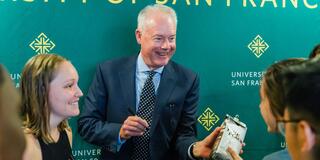 Jerry Baldwin and Gordon Bowker, who met as students at USF, "had a love and a passion for coffee" that came together in Seattle when they joined Zev Siegl and opened the first Starbucks in 1971, said Kevin Johnson, president and CEO of the giant coffee company.
Johnson brought the story of Starbucks' origins back to the Hilltop, where the idea of strong coffee and a chain of coffeehouses was born. About 650 people, including alumni, students, faculty, and Starbucks employees, attended the Silk Speaker Series at the University of San Francisco event Oct. 16 in the Sobrato Center at War Memorial Gym.
In a question-and-answer discussion with Professor Sonja Martin Poole and several students, Johnson talked about leadership and said he believes the pursuit of profit is not at odds with the pursuit of doing good.
Make it Right
It was Johnson's decision to shut down 8,000 U.S. Starbucks stores for anti-bias training for 150,000 employees in response to the arrest of two black men who were customers in a Philadelphia store. "We failed them, and we had to acknowledge that we failed them," he said. "And we had to make it right."
Starbucks succeeds, he said, because the company is focused on its employees. Part-time employees have health benefits, and workers can qualify for a company-based college program that pays 42 percent of their tuition costs.
"The pursuit of doing good is woven into our fabric as a company," he said.
Wisdom for the Common Good
Johnson is the 10th speaker to participate in the Silk Speaker Series. He joins other thought leaders in global affairs, the economy, and business who have shared their wisdom — and their questions — with students, alumni, faculty, and friends of the university.
USF alumnus Michael Johnson '10, a sustainability professional who works with Microsoft and other companies, introduced his father, but first invited 100 Starbucks employees attending the event to stand.
Kevin Johnson, who describes himself as "a passionate servant leader," says his job is being of service to the more than 380,000 employees, or "partners," of the coffee company. Why? asked Poole. "Because I believe in them," he said.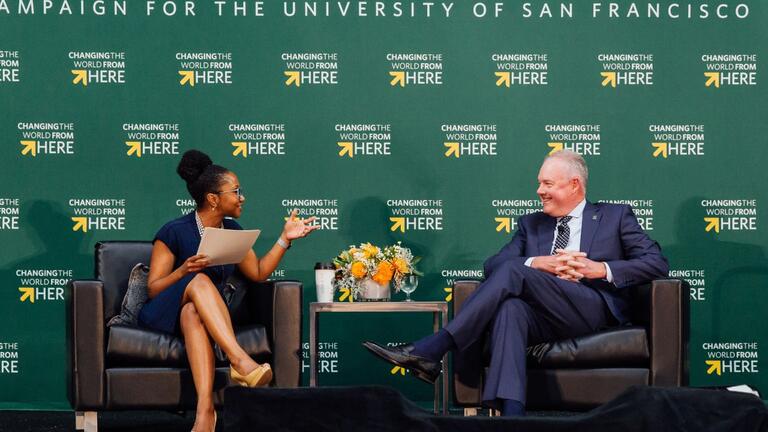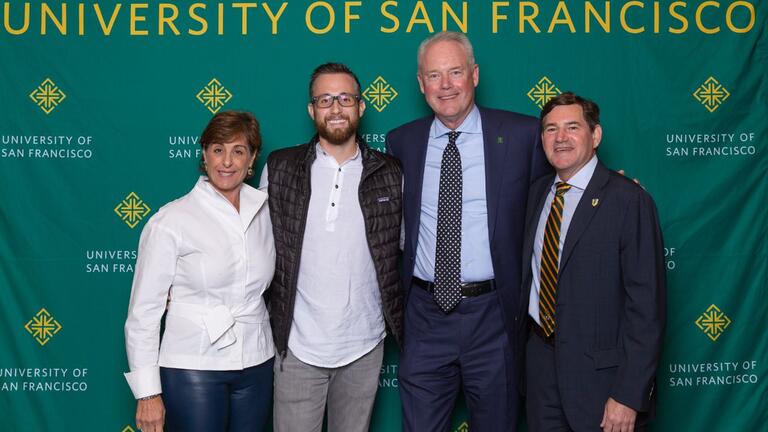 Professor Sonja Martin Poole speaking with Kevin Johnson on stage
Naomi Silk, Michael Johnson '10, Kevin Johnson, and Jeff Silk