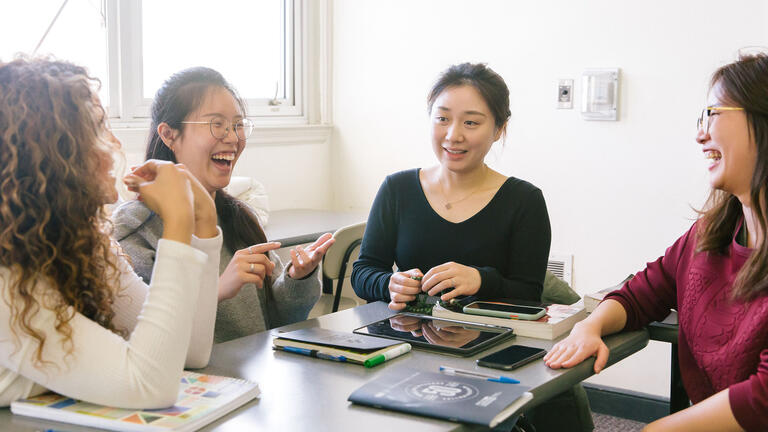 Organization Development, MS
Student Experience
Classes are held one night each week, and on occasional Saturdays, so you can work full-time while earning your degree. You can also complete your degree in less than two years, with the typical program length being 21 months.
The alumni network led to my graduate internship, which provided me with a real-world opportunity to use all of my skills."
Terrell Holmes, MS '18
Unparalleled Network and Location
Our downtown San Francisco campus puts you in the heart of business, innovation, and technology. You'll take classes just steps from some of the most prominent organizations in their industries, providing you opportunities to engage with and build an expansive professional network.
Solve Real-World Challenges
USF gives you endless opportunities to make connections in the Bay Area and beyond. You'll build professional relationships by helping organizations and individuals thrive. You'll complete three consulting projects in collaboration with for-profit, nonprofit, and government organizations. Genentech, Sephora, Gap Inc., Habitat for Humanity SF, and ASPCA are a few recent consulting-project collaborators, as well as innovative startups and small tech firms.
One consulting project focuses on a team observation.
In the second project, students apply research methods to a service-learning project in a nonprofit context.
The culminating project allows students to incorporate their learnings throughout the program by working directly with industry practitioners to solve a current organization development challenge.
Mentor Program
During the MS Organization Development degree program, students have an opportunity to be paired with an alumnus of as part of our new mentor program.
Why OD Matters Now
Why study organization development in the midst of a global crisis? The need has never been greater. Organizations have experienced rapid change since the start of the Covid-19 global pandemic. From in-person services to consumer products, every area of the economy has been impacted by this unprecedented event — including the way people work. Students, alumni, faculty, and other members of the USF MSOD community weigh in on the importance of organization development now more than ever, and why prospective students should consider the program. 
Practicing effective OD is critical during a time when things like decision making, efficient teamwork, empathetic management, and organizational design could lead to saving lives."

Studying organization development gives you a systems perspective. It grants you the ability to understand behavior at the individual, team, and organization level — and how various components of these systems interact with one another. You're able to see things systemically and understand how pulling on one lever affects another. The importance of OD becomes clearer as you learn to look at the big picture, which the OD program teaches you to do.

OD skills are the #1 most sought-after skill in 2025 and beyond."

The OD program teaches critical tools and skills, including the ability to diagnose problems and identify interventions. Experts familiar with these tools will be indispensable as we face this dynamic situation. OD provides a toolkit for identifying opportunities for collaboration, creating and leveraging diverse teams, and unifying constituencies around a common cause.

OD has been linked to planned change since its inception, yet how can we speak of planned change when all we are faced with is change and uncertainty? My 'aha!' moment came when I realized…OD is equally about stability. OD simultaneously facilitates change and stability."

OD equips organizations, teams, and individuals with tools for managing profound change and navigating uncertainty, while also providing structure for stability.

Culture is strengthened (or weakened) every time a decision is made, promotion is given, or a new hire starts. This is amplified in a crisis."

During a time of crisis, there are many things that are out of an organization and leadership's control. However, one thing an organization can impact is culture. The actions leaders take to strengthen or weaken their culture will have an impact that lasts beyond a crisis. 

Employees crave progress, certainty, and connection more than ever in times like this, all things that OD interventions and practitioners can provide."

OD focuses on the human experience, which lies at the core of OD practice. Human-centered values are needed in the workplace, including the need for human connection in the midst of disconnection.