Equipped to Lead and Succeed
Succeeding in Public Administration: The Importance of Teamwork
Jessie Escobar MPA '18 and his team take home a first place victory at the 2018 NASPAA-Batten Student Simulation Competition.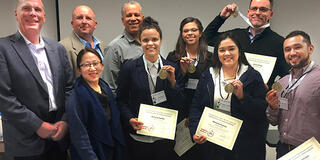 In 2018 a USF student's team won first place solving a simulated pandemic problem, in competition with 500 other students from around the world.
Jessie Escobar MPA '18 was one of 500 students competing in the 2018 NASPAA-Batten Student Simulation Competition in April. With students from 159 universities and 27 countries competing at 15 global sites, the event was said to be the largest-ever student simulation competition in higher education. 
The University of San Francisco Master of Public Administration degree program is accredited by NASPAA (Network of Schools of Public Policy, Affairs, and Administration) who cosponsored the Simulation Competition with the University of Virginia. For this year's competition theme, the focus was on global health security. 
"Our simulation asked my team to make policy decisions that affected the overall health effects of countries experiencing a pandemic," Escobar said. "I arrived with an open mind to work with whatever the competition would entail."
Winning first place is an incredible accomplishment, and I am proud to be part of this year's winning team...It confirms that USF's School of Management is preparing well to apply strategy to problem-solve and work together with other leaders while navigating imperfect information, time constraints, and keeping the public's well-being first."
— Jessie Escobar '18, MS Public Administration
Escobar met his team of other students, from outside of USF, on the same day as the competition, so they prepared on the spot. "At first, we were a bit shy as anyone would be in a room full of strangers on a Saturday morning. Then, our commonalities brought us together," Escobar said. Escobar said his teammates were similar to his classmates: "smart, attentive, and team-focused."
We all are graduating MPA students (at this event,) we all are interested in being of service to the public good, and we all understand the need to work well with others in the real world and the classroom. In any organization, its people are its most valuable assets."
MPA program director and associate professor Catherine Horiuchi first asked Escobar to participate in the event. Escobar only knew a little bit about the NASPAA-Batten Simulation at the time but was interested in trying something unique. What captivated him the most was how it allowed him to be a part of something bigger.
This May, Escobar graduates with Pi Gamma Mu Honors and as a recipient of the School of Management Dean's Outstanding Public Service Award. He plans to continue pursuing public and nonprofit opportunities. Being named a 2018 NASPAA-Batten Student Simulation Competition champion encourages him in his goals.
"Our greatest challenges require leadership that is responsive to the public's interest and that works across sectors to be most effective," Escobar said. "Being part of this year's NASPAA-Batten Global Simulation winning team reinforces my belief in the power of thoughtful collaboration and strategic decision-making."